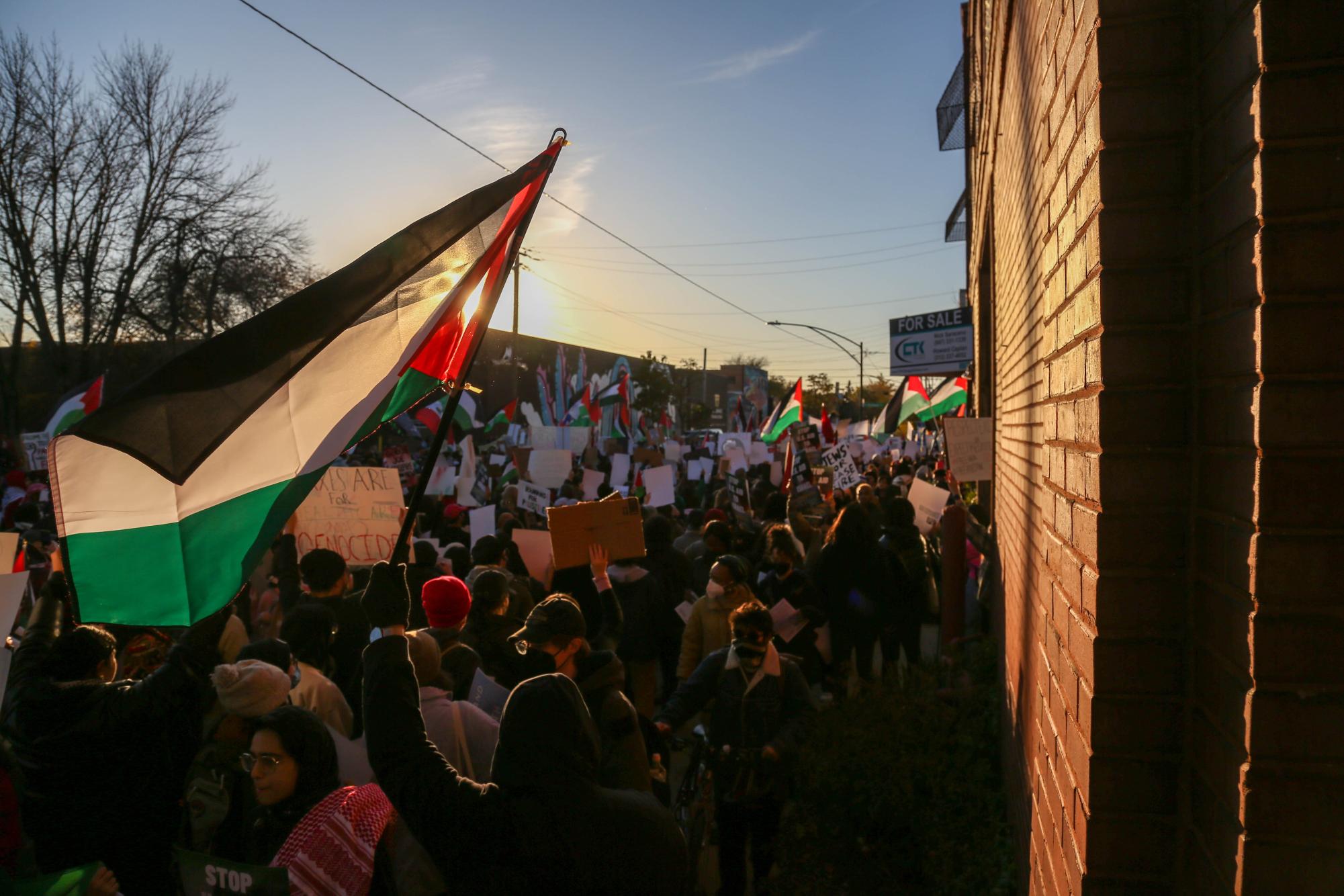 Several hundred people attended a pro-Palestinian rally in West Town on Nov. 9. where President Joe Biden was attending a private fundraising event nearby.
The protest was organized in response to Biden's presence in Chicago. Earlier in the day, Biden visited with the United Auto Workers in Belvidere in northern Illinois.
Many of those who attended the rally demanded that Biden call a ceasefire and end his support for Israeli Prime Minister Benjamin Netanyahu's bombardment in Gaza that has led to more than 10,000 deaths, according to the Gaza Health Ministry.
Israel declared war on Hamas after a surprise attack in Israel on Oct. 7 killed about 1,400. There are about 200 hostages still being held by Hamas.
Biden has requested a "humanitarian pause" but has ruled out a cease-fire. Israel agreed to a four-hour pause each day pause in order for civilians to flee to southern Gaza. The Israeli government has pushed back on longer pauses until the hostages are released.
Following many other protests across the country, the large crowd in Chicago stretched out along Armour Street near Hubbard Street, with people holding Palestinian flags and signs that said, "stop U.S. aid to Israel" and "how many dead kids is enough?" Others simply said, "fuck you, Joe Biden." Some attendees also gathered in prayer on the outskirts of the crowd.
The protest was organized by the US Palestinian Community Network. Members of the group and other pro-Palestine organizations gave speeches and lead chants condemning the war and the United States' role in it.
"We're here today to make sure that our voices are heard," said Hedaya Hasan, president of Columbia's Students for Justice in Palestine group. "We want [Joe Biden] to know he's not welcome here, and that we are very well aware of what he's doing and we hold him responsible. So, when elections come around next year, he cannot expect our support,"
A recent poll of Arab American voters found that support for Biden has dropped.
"It is incredibly disheartening and disappointing that time and time again in every single election in America Muslims or Palestinians or people from the Middle East in general will have to vote for someone who is actively committing awful war crimes in our home countries," said Hasan, who attended the rally.
With the next election a year away, other attendees at the rally also find themselves underrepresented by presidential candidates.
"I'm neither Democrat nor Republican," said Dunya Yasin, a resident of the south side of Chicago. "It's so hard to kind of find myself in American politics just because I feel like I'm never represented with any political leader and any administration."
Voters who previously supported Biden are strongly considering an alternative in the upcoming election. According to the Arab American Institute poll, 68% of Arab Americans support an immediate ceasefire.
"I've been a Democrat my entire life. I've been voting Democrat since I was able to vote, said Amna Haq of Chicago. "Republicans and Democrats, for me, are the exact same thing at this point. I'm going to vote but it's not going to be Democrat and it's not going to be Republican."
Many who attended the protest had personal ties to Palestine.
Yasin said her parents were refugees that came to the US from Palestine in the 80s. Currently, she has family members detained in Israel. "We don't have contact with my cousins," she said. "I feel like I'm neither here nor there, but my heart is aching, you know, I really feel emotional. The way I try to make my connection is through protests and through the community around me. So, I'm just here to support my family and support my people."
Yasin said this protest feels different than ones she attended in the past. "I would say there's a sort of element of sorrow, a deep, a very deep sorrow," she said. "Usually when I go to protests, I leave very inspired." Yasin said she has family members that are currently detained in Israel. "We don't have contact with my cousins," she said.
"This one affects me so close to home. I mean, these are my people," Yasin said. "I feel for everyone as if they were my brothers and sisters…seeing people come out, it makes me feel like you know, people do care."
Haq attended the rally to show her support for the people in Palestine. "It's something that my mother has been doing," she said. "It's something that my grandmother has been doing so even though I'm not Palestinian, it's been a part of my life since before I was even born."
"Today, I feel a little hopeless," Haq said. "Even despite being in a crowd and being around so many people like we're such a large crowd…I can't help feeling really sad and hopeless despite all of that."
Anusha Limdi from suburban Naperville brought a group of friends with her to the rally, "We're coming from all different faiths, all different ethnicities to stand together for this cause," she said.
Some attending the West Town rally were frustrated that this seems to be the only representation of their culture.
"I hope that I'm able to share my identity as more than trauma…Palestine and the culture is so beautiful, you know, and I wish I could just show people that it's more than genocide, that it's more than just killing," Yasin said.
The SJP chapter on Columbia's campus continues to encourage students to learn more about what is going on in the Middle East.
"Our group overall is dedicated to educating the campus on the history of Palestine and how that will lead to current events in Palestine and just educating people on how this will relate to current issues in Chicago," Hasan said.
"We want all our students to know that we have Students for Justice in Palestine on campus and we would love it if you became more involved," Hasan said. "…we're always open to educating people, we will never come for someone, we will never make you feel stupid for asking a question. Our job is to educate and to create change on campus through that way."