Pre- and post-Roe: Uncovering Columbia's curricular takes on abortion, from past to present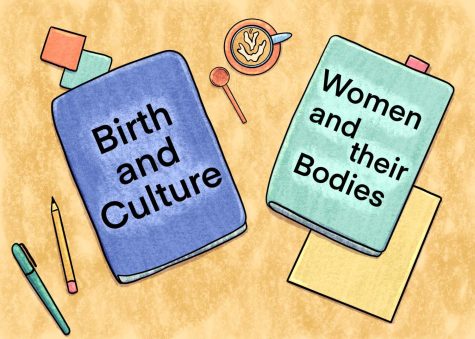 Ruth Leitman attended her first abortion rights protest outside an abortion clinic in Atlanta in 1988 during the Democratic National Convention. Abortion rights were always important to her, but she said the cause became personal when she had an abortion of her own a few years prior.
Leitman, who accompanies her filmmaking and photography career as an associate professor in the Cinema and Television Arts Department, also had a familial connection to abortion, as her great-grandmother had an abortion as well.
Leitman said her great-grandmother was the sole breadwinner of her family and left three children behind, including Leitman's grandmother, after dying from complications from a self-induced abortion.
Leitman said she has always felt committed to abortion advocacy.
"I felt really fortunate to have that choice, and I think it shaped where I am and where I led my life," Leitman said. "If I hadn't, I wouldn't have been able to pursue the career I've had as a filmmaker, and I was made very aware of how that changed my life."
Roe v. Wade was officially overturned on June 24, after weeks of protests and anticipation of the announcement after a leaked Supreme Court draft opinion from Politico on May 2.
Leitman said on the day of the leak, all her students wanted to do was talk about the news.
"When the memo was leaked, all of my classes came to a screeching halt," Leitman said. "My students did not want to talk about the issue at hand, their work or where they were on their projects; they all wanted to talk about abortion rights in this country."
Louis "Luchiano" Silverstein has a Ph.D. in philosophy from Northwestern University and worked at Columbia from 1969 until 2018. During his time at the school, Silverstein held many roles, including time as a dean of the college and chair of the Life Arts and Liberal Education Department. After Columbia underwent several periods of transition, Silverstein retired from the school as Distinguished Professor of Humanities.
Silverstein said during the '70s, Columbia was a college that was ahead of its time, especially considering its abortion rights curriculum. These classes included courses called "Women and Their Bodies" and "Birth and Culture," which were taught by two nurse midwives. The courses are no longer offered at the college.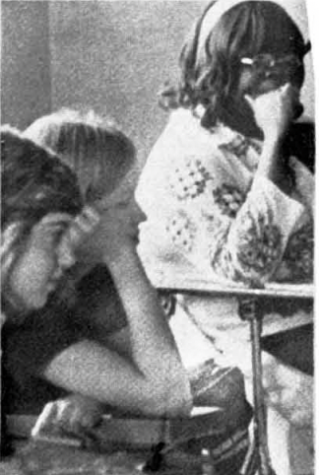 Silverstein said these classes discussed various elements of the reproductive process, including the socioeconomics behind birth control and abortion culture.
"The 'Women and Their Bodies' [course] included a section in part on abortion and birth control, and some students went on to become involved in creating a safe society in which abortion could be available to a larger number — safe abortion," Silverstein said. "Abortion has always been available — [but safe abortion was not readily available for] women that are lower-income … and women of color."
Silverstein said these classes also studied the history of birth control, the safest methods that were available and ways to go about seeking an abortion.
"Both preventing abortion and then also what to do if you get pregnant and if you want an abortion," Silverstein said. "These are classes that I don't think were taught anywhere [else] in Chicago area or anywhere else during that time."
In an email to the Chronicle, Silverstein said the original courses from the '70s were canceled after he was no longer chair of the department that oversaw them.
Robin Whatley, associate dean of the School of Liberal Arts and Sciences, said many existing courses at Columbia intersect with the topic of abortion in some capacity.
In a July 14 email to the Chronicle, Whatley said the instructors she has spoken with on the matter in the Humanities, History and Social Sciences and Science and Mathematics departments said discussions in some of their classes include reproductive rights and history, religion, politics, law, biological reproduction, pregnancy, contraception and abortion rights vs. anti-abortion deliberations and more.
Whatley said many classes incorporate abortion discussions into the curriculum during at least one week of the course. Whatley said these courses include "Biology of Human Reproduction," "Introduction to Women's, Gender and Sexuality Studies," "Women in U.S. Society, Religion and Gender," "Human Sexuality Seminar" and "Religion in U.S. Law and Politics." These classes are actively taught at Columbia, though some are offered solely in the spring.
Judith Arcana taught at Columbia for about five years during the mid-70s as a part-time professor, teaching "Women's Studies" courses when the subject was beginning to pop up at colleges around the country.
Arcana said while she taught at Columbia, she would create new Gender Studies courses and bring them to Silverstein for approval. Arcana said Silverstein would always give a "yes" to her new ideas.
Arcana also helped create classes regarding women's sexuality studies and developed and taught a course called "Our Bodies, Ourselves," which later fell under the umbrella term "Body Classes."
Arcana said her courses were not tied to the traditional classroom because she wanted her students to have a hands-on learning experience and have them get "dirt under their fingernails" in the learning process, rather than learning gender theory at a desk.
Arcana said one of the hands-on experiences she incorporated into her "Women and Their Bodies" classes was inviting students to her apartment to demonstrate how to use speculums, how to identify one's cervix and how to give a breast exam. Arcana said practices like inviting students into her home would not be appropriate now.
Prior to coming to Columbia, Arcana was a part of JANE, an underground organization that provided illegal abortion services in Chicago from 1969 to 1973 under the code name "Jane," when Roe v. Wade was decided by the Supreme Court.
Arcana joined JANE in the summer of 1970 after experiencing a pregnancy scare of her own.
Arcana said she was referred to JANE by a friend who was a medical student at the University of Illinois. She was told by the friend to call the clinic and ask for "Jane."
After finding out she was not pregnant and breathing a sigh of relief, Arcana called "Jane" back to tell her the news, and she ended up being recruited to join the organization and started working there the same year at age 27.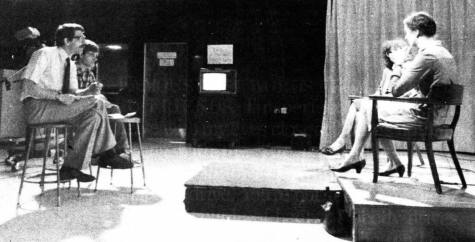 The workers at JANE, who were also called "Janes," held various jobs with the underground organization and performed tasks such as driving the women they were helping to facilities where they would receive their abortions, answering the phones and arranging appointments, counseling women and taking their information, along with attending weekly meetings.
"Every one of us was joining up for a different set of reasons; there was overlap of course. … I think the women who joined the service were people who thought … there was a disconnect between the real lives and needs of women and the way women were thought of and dealt with, both by the medical industry and by the culture at large," Arcana said.
Arcana said she and six other Janes were arrested in Chicago on the job in 1972 while driving a woman to receive her abortion services after being followed by police. By 1973, the charges against the Janes were dropped, as Roe v. Wade was passed.
Arcana said by the time JANE ended, it had evolved into a "complete" clinic that was self-maintained and organized.
Gabriela Díaz de Sabatés, assistant professor in the Humanities, History and Social Sciences Department, teaches both "Women in U.S. Society" and "Introduction to Women's, Gender and Sexuality Studies." Díaz de Sabatés said with the overturning of Roe v. Wade this summer, she is considering expanding the abortion conversation in her classrooms.
"Given the new developments, I am considering further expanding the discussion during the regular semesters. I just finished teaching my summer class, and the Supreme Court's decision on abortion happened exactly during the week when we were discussing reproductive rights, so we had the possibility to talk about it in a safe environment, where students were able to get concrete information, express their fears and frustrations, and have a needed conversation with one another," Díaz de Sabatés said in an email to Whatley, which was shared with the Chronicle. "Having historical information on Roe v. Wade really helped them understand the depth and implications of this new ruling for our society."
In an email to the Chronicle July 14, Senior Vice President and Provost Marcella David said she is not sure what a course on abortion education would look like, but said one interesting aspect of the Supreme Court's decision is the link to political activism, civic engagement and voting.
"By giving power to the states to make the determination about reproductive rights, the Court has put the spotlight on what is happening in state legislatures, as well as in the federal legislative process, to a lesser degree," said David, who received her J.D., magna cum laude, from the University of Michigan Law School and was most recently a visiting professor of law at Florida State University.
David said she wanted to highlight the college's Columbia Votes program, which was spearheaded by Communication Department Professor Sharon Bloyd-Peshkin and has "grown tremendously" over the past three years. The program has helped students register to vote and increased students' political awareness.
The description of Arcana's "Women and Their Bodies" class said the course explored the "oppression and exploitation [of women who] have been kept ignorant of their bodies and bodily functions and must [rely] upon an elite group of mostly men — gynecologists — for care and knowledge," according to the Columbia's course catalog circa spring 1976.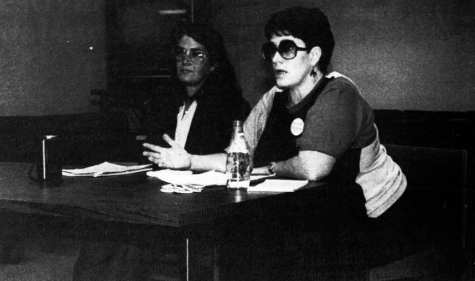 The catalog said the class discussed topics ranging from anatomy to physiology, pregnancy and childbirth, sensuality and sexual choices, contraception, abortion, rape, aging and menopause.
Arcana's class was largely made up of women, but some men also chose to sign up. The class was discussed in the CC Writer — the Chronicle's former name — which reported that many women took the class out of curiosity, instead of doing so to send a political message.
In 1973, the CC Writer wrote: "Women expressed the importance of being able to share and exchange facts, ideas and views with other women in an open atmosphere. Some said that taking the course has made them feel stronger, more certain of themselves as individuals and closer to other women."
The article said this course was a "crucial part of one of the greatest non-violent movements in the world," and that it was happening right at Columbia.
"It is important for people to control their lives," said Arcana, whose name was Judith Pildes at the time of the CC Writer's publication in 1973. "One way is to control their bodies, and you do that by learning all you can and sharing knowledge with others. Doing this is, for me, a step towards gaining a sense of liberation of the spirit."
According to Heidi Marshall, Columbia's head of Archives & Special Collections, the course "Women and Their Bodies" was taught "at least" through the 1979-1980 school year.
Jessica Meharry, director of Academic Diversity, Equity and Inclusion, said a class pertaining to abortion advocacy and education would "absolutely" fall under the category of the DEI umbrella, as long as it aligns with the rubric of DEI initiatives.
"The content [of an abortion education class] is there, assuming it is from the feminist perspective," Meharry said. "I could teach a class and walk up and stand up on the stage [and] lecture at you for three hours, [but] that wouldn't be a DEI class."
Meharry said the criteria for determining DEI courses includes examining the content and the form of the course, with the intent of instructors conducting a DEI class in a more student-centered and less lecture-based way. Meharry said DEI courses also take into account the structure of assignments and the work produced in the class and how students are assessed.
"[DEI courses] really ask people to decenter what we consider the traditional, Western, white perspective, and so, something like the abortion classes absolutely, I'm sure, would be considered that way, as they would decenter the white male, lawmaker perspective," Meharry said.
Meharry said oftentimes DEI courses include consideration of who has power over a given topic.
"I think about feminism and abortion rights as challenging who holds power … and challenging that," Meharry said. "These norms are biased, discriminatory, and in many cases have inequitable outcomes where some people have advantages over others, some people have power over others and the system perpetuates that."