POLITICO's virtual town hall series takes on the A, B, C's of racial inequities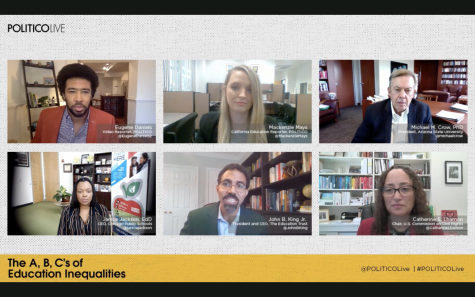 Appearing on screen sporting a purple button-down shirt and red dress coat, POLITICO video reporter Eugene Daniels said what some people likely consider old news: "Racial inequality permeates every aspect of American life."
On Thursday, Sept. 24, Daniels and Mackenzie Mays, an education reporter for POLITICO, co-moderated the virtual event "The A, B, C's of Education Inequalities," which was the first town hall of a series meant to discuss racial inequities in various sectors across the country.
"Numerous studies have documented significant racial disparities in access to and quality of education, health care, employment and most publicly, our criminal justice system," Daniels said. "These problems have long plagued the country since [its] founding, but the current wave of protests over police brutality and racial injustice have brought them to the forefront in a way that makes it harder for Americans to ignore."
To initiate the series, the event focused on inequalities in education.
Along with Daniels and May, the town hall event featured a panel of four guests: Janice Jackson, CEO of Chicago Public Schools; John B. King Jr., president and CEO of The Education Trust; Catherine E. Lhamon, chair of the U.S. Commission on Civil Rights; and Michael M. Crow, president of Arizona State University.
To kick it off, a short video segment put together by POLITICO's political video team addressed issues of racial equality within the American education system.
Because America's public school system is funded by property taxes, the amount of funding schools get depends on the economic standing of the community it is located in, according to a study by EdBuild used in the video. School districts serving people of color receive $23 billion less in funding annually than white school districts, despite having a similar number of students.
The ongoing coronavirus pandemic has only "exacerbated existing issues" of racial inequity in education, Daniels said.
King said because approximately 79% of white students have access to quality internet connections in comparison to 66% and 61% of Black and Latinx students, respectively, government funding for internet access and electronic devices would have better assisted students of color with attending school remotely during the pandemic.
Studies suggest Latinx and Black students, on average, have lost between nine and 10 months of learning, he said.
"We need Congress to step up with significant investment, and we need state and local leadership focused on making sure that kids get the learning they need," King said.
Viewers had the chance to participate in the town hall by submitting responses.
Daniels and Mays asked viewers to share their biggest concerns about the pandemic in relation to racial inequality in the U.S. Among concerns was food and housing insecurity for college students, as well as schools being less able to report instances of abuse at home.
Aside from the pandemic, the town hall touched on President Donald Trump threatening to withhold education funding from school districts who teach the 1619 project, an initiative designed by The New York Times Magazine in 2019 to educate students about the repercussions of slavery and Black Americans' monumental contributions to society.
King said Trump lives in a false version of American history that denies the existence and consequences of slavery and segregation.
Jackson said Chicago Public Schools was the first district in the nation to adopt a curriculum centered around the 1619 project. She said the positive aspects of the curriculum outweigh the negative feedback she has faced.
"For me, what was most powerful about 1619, as a former history teacher, is that it [is] a counter narrative," Jackson said.
With mass civil unrest surrounding issues of racism and police brutality, panelists also discussed the role of police officers in public schools and whether or not they should be removed.
Jackson said in response to criticism of police in schools following a series of protests against police brutality, CPS cut its funding for SRO's, or student resource officers. SRO's are meant to assist school administration in maintaining a safe and secure environment.
She said communities have become overly reliant on police when more resources are needed instead. During the Chicago Board of Education's live virtual meeting June 24, Jackson said other measures besides removing police have been used to end the the school-to-prison pipeline, including the elimination of the zero tolerance policy used to discipline students, revisions to the Student Code of Conduct and reforms to student resource officer programs, as reported by the Chronicle
However, Jackson said during Thursday's event that both SRO's and counselors are needed in some instances, as they can both play important and different roles within public schools when "done well."
"We didn't please everybody, but I think we were able to make significant changes to our SRO program while also taking into consideration the wishes of our communities," Jackson said.
Daniels said he hopes POLITICO's virtual town hall series will spur more thinking about racial inequality among viewers and their peers.
"These conversations are a place to start and continue all of the talk that we've been having for months," Daniels said. "I hope it starts conversations with you and your family and friends."