Protesters demand school board remove cops from CPS, but they will stay put for now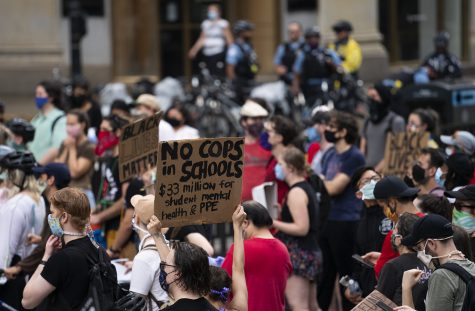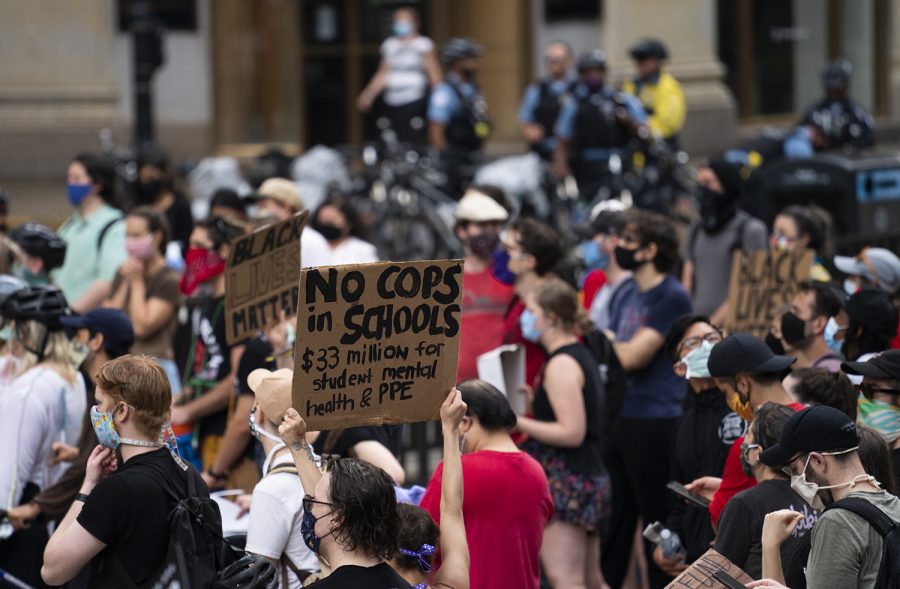 Shouts of "no justice, no peace, defund the police" echoed between buildings downtown as hundreds of activists, teachers, students, health care workers and Chicago residents marched demanding schools reopen safely "without cops or COVID-19."
The protest, organized by the Chicago Teachers Union, the Kenwood Oakland Community Organization, SEIU Local 73 and others, kicked-off at Federal Plaza at noon on Wednesday, June 24.
Following a parade with speakers and a live DJ remixing classic chants such as "get up, get down, Chicago is a union town" and "I say black lives, you say matter," some protesters walked with bikes and others rode through the streets in a large car caravan on the route to Daley Plaza, 50 W. Washington St.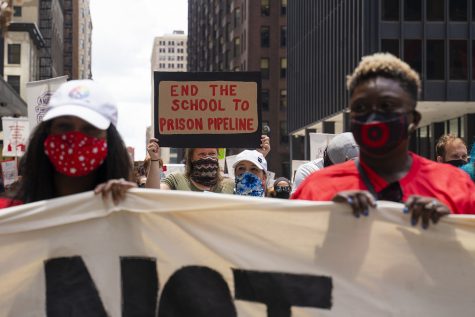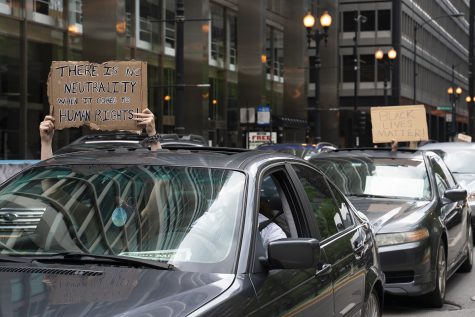 Protesters cheered for dancers and slam poets, using signs to shield themselves from rainfall as street medics handed out water and masks.
Jazan Northrop, a teacher at Harold Washington Elementary School who came to the protest with his dogs Lillith and Mordecai, said he was protesting to advocate the Chicago Public Schools' police budget be allocated toward other resources for students.
Northrop said he does not have police at his own school and believes it is safe without them.
While the protest took place, the Chicago Board of Education decided in a 4-3 vote to continue the public school district's $33 million contract with the Chicago Police Department, a decision that was widely condemned by students, teachers and activists.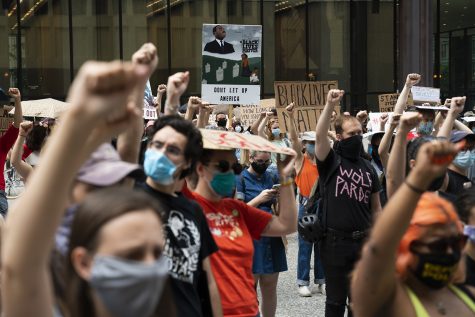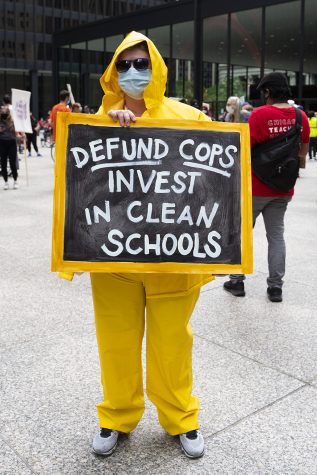 Rebekah Fenton, a physician who serves youth at hospitals around Chicago, said police officers in schools can be traumatizing for some students.
"We know that students need to be able to do their best, and we're already limiting that by having cops in schools, [which] in longer term can lead to physical and mental health problems. School should be a place of healing, not harm, and that's why we're here today," Fenton said.
Jitu Brown, national director of the Journey For Justice, read aloud the group's demands for Mayor Lori Lightfoot and Chicago Public Schools.
"We are demanding all police out of Chicago Public Schools," he said. "We are demanding PPE for all. We are demanding that every school with over 70% free and reduced lunch becomes a sustainable community school. We are demanding that we want a teacher to student ratio of one to 15. … We are demanding a nurse in every school."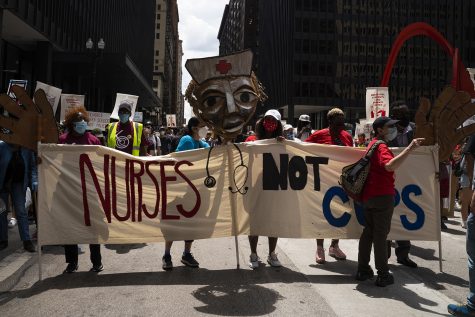 During the Chicago Board of Education's live virtual meeting Wednesday, June 24, the Chicago Teachers Union President Jesse Sharkey, SEIU Local 37 president Dian Palmer and several alderpersons joined to advocate for the termination of the contract.
Some, including Ald. Christopher Taliaferro (29th Ward), a former Chicago police officer, argued police should be kept in public schools to "provide a safe environment" for students, citing school shootings and gang violence as major reasons for police presence.
During the meeting, Janice Jackson, Chicago Public Schools chief executive officer, said other measures besides removing police have been used to end the the school-to-prison pipeline, such as the elimination of the zero tolerance policy used to discipline students, revisions to the Student Code of Conduct and reforms to student resource officer programs.
She said if any local school councils in the district do not want police in their school, the board will affirm that decision and remove the officers.
But the Chicago Teachers Union Vice President Stacy Davis Gates, who attended the protest, said local school councils do not have the ability to cancel contracts with the Chicago Police Department and the assertion is "disingenuous."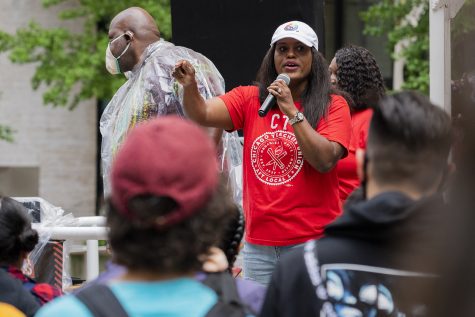 Brown said in a Tuesday, June 23 CTU press conference police officers do not make schools safer because Black students are disproportionately suspended and arrested.
According to a 2017 study by the Sargent Shriver National Center on Poverty Law, Black children in Chicago Public Schools accounted for more than 60% of law enforcement referrals and school-related arrests, despite being only 40% of the student population that school year.
A Chalkbeat analysis using the Citizens Police Data Report of police officers serving in Chicago schools during the past school year showed 96% had misconduct allegations against them, ranging from traffic violations to use of excessive force.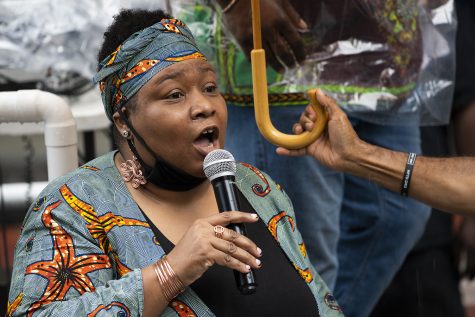 During the protest's press conference, Laurentio Howard, whose child attended Marshall Metropolitan High School, said his daughter is still traumatized from being punched, tased and pushed down a flight of stairs by school police officers for using her cell phone in 2019.
Brown said students should be treated as people who will inherit the future, rather than as criminals.
"What if it was your child?" Brown said. "Would you be satisfied with a system that puts handcuffs on a fifth grader? 'How do we keep the school safe' is reframed to 'How do we finally do right by Black and Brown children?'"
A recent report from the American Civil Liberties Union found 1.7 million students are in schools with police but no counselors; 3 million students are in schools with police but no nurses; 6 million students are in schools with police but no psychologists; and 10 million students are in schools with police but no social workers.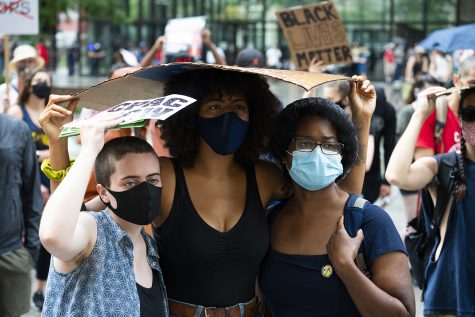 Dennis Kosuth, a nurse in the Chicago Public Schools district, said in the June 23 press conference there are minimal resources in the system to meet the health needs of students⁠—this past quarter he was assigned to six different schools at once. He said this is especially problematic in the middle of a pandemic.
Ald. Byron Sigcho-Lopez (25th Ward) said taking police out of schools should be a "no brainer." At the protest, he called for support from people of color across different generations to push for alternative resources to de-escalate violence and keep students safe.
Although the Chicago Board of Education voted not to terminate Chicago Public Schools' contract with the Chicago Police Department, organizations have said they will keep pushing for change, and there will be more opportunities to reconsider the decision in the future.
"When they try to divide us, we have to fight harder," Sigcho-Lopez said. "There is no tomorrow, there is no the day after. The time is now for unity, solidarity, justice, for all of us. Today we fight because tomorrow we win."