Pilsen's annual Mole de Mayo Festival returns after two years of the pandemic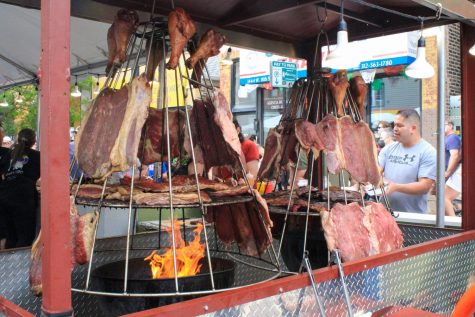 Pilsen's main boulevard was packed with local residents and people from across the city who were surrounded by sounds of salsa, cumbia, Latin indie and bachata music at every corner along 18th Street for the Mole de Mayo Festival. Kids wore Mexican wrestling masks while sitting on the shoulders of their parents as the Mexican flag waved at booths serving authentic Mexican food and beverages.
Marking the 13th year since it began, Pilsen's annual Mole de Mayo Festival returned after the event had been hosted virtually for the past two years in response to the COVID-19 pandemic.
The three-day-long festival — held last Friday through Sunday — celebrated Mexican culture and the Pilsen neighborhood through food, live music and artistry, along West 18th Street from South Ashland Avenue to South Blue Island Avenue.
A highlight of the festival was its live wrestling matches, known as lucha libre, performed by Galli Lucha Libre, a wrestling organization from Villa Park.
"Wrestling in front of a big crowd, in general, is fun, but you get a crowd that is just so into it … it was a blast. I wish I could do it again," said Codie Thompson, one of the wrestlers with Galli Lucha Libre.
Mole de Mayo strives to raise money for local businesses and this year they fundraised for the Resiliency Fund provided by the Economic Strategies Development Corporation, Mole de Mayo's primary sponsor and host. The development corporation is designed to award grants for Pilsen businesses to provide financial relief amid the pandemic.
"Because our community was really hard hit by the pandemic … some of our businesses had to close because there was no sales and they really had to make a hard decision," said Salvador Cerna, director of community outreach and engagement at ESDC. "Those who have been around … still need the help, so events like Mole de Mayo are driving people from the outside to come in and shop in our neighborhood."
Mole, the staple food of the festival, is a traditional Mexican dish often made by mixing chili peppers, chocolate and other spices and nuts as a marinade, and derives from the Nahuatl word mōlli meaning sauce.
This year, 15 mole vendors competed to win either Best Mole de Mayo, decided by the festival's sponsors, or Best Mole People's Choice, determined by votes from festivalgoers.
Announced on Sunday, this year's winner of Mole de Mayo's Best Mole was Yvolina's Tamales, located in Pilsen at 814 W. 18th St., with El Campeon coming in second and Antojitos Landa in third. The winner of the 2022 Best Mole People's Choice was Super Pollo & Taqueria, located in Belmont Cragin at 4614 W. Diversey Ave.
In collaboration with Pilsen muralist Salvador Vega, ESDC unveiled a new art installation called "PILSEN" with individual five-foot letters built from wood and hand-painted by the artist spelling the neighborhood's name at Mole de Mayo for their upcoming Pilsen: Barrio Mágico initiative.
The inspiration for these projects comes from designated cities in Mexico known as "Pueblos Mágicos," translated to Magical Towns, known for being areas of great cultural significance and preserved traditional historic architecture. The towns also have similar art installations that spell out their town's name.
Cerna's hope is for this art installation to become a permanent fixture somewhere in Pilsen.
"I have worked most of my life in Pilsen and so I believe that Pilsen is magical," Cerna said. "We have wonderful restaurants where people can be transported to Mexico just because of their flavors … those are things that are magical and can transport you to the present, to the past [and] to the future. That's what we're trying to do with these letters."