A small crowd of about seven striking part-time instructors handed out leaflets with the union's position outside the Student Center on Saturday, Nov. 11 during an Open House for prospective students and their families. 
The striking faculty – and one student supporter with them– talked to the Chronicle about what was at stake for them in the now two-week-old strike.
John Otterbacher, a part-time instructor from the Cinema and Television Arts Department,  is one of the 584 part-time professors at the college. Otterbacher used to teach full-time at Flashpoint Chicago "for years," before it closed in 2020. 
He said cost-cutting measures that were taken at Flashpoint Chicago are similar to the measures taken at Columbia.
 "You can't say that's the only reason it doesn't exist, but it's not a great sign," Otterbacher said. "There's a lot of ways to cut costs [but] I think the last thing you do is cut the things that affect the students."
Hundreds of classes taught by part-time faculty have been canceled each day.
Otterbacher is teaching three courses this fall – two for fine arts students and one for graduate students. The graduate course had a cap of 15 students and the fine arts courses were smaller and at capacity, with eight students.
He is currently scheduled to teach one camera course in the spring. It is full with eight students and has two students on a waitlist.
"The biggest impact for me on the strike has been talking to all the students and getting emails from them asking if they can get into my classes or having conversations with them about the BFA," Otterbacher said. "They come to find out they can't afford the BFA so they can't take the classes that I'm teaching."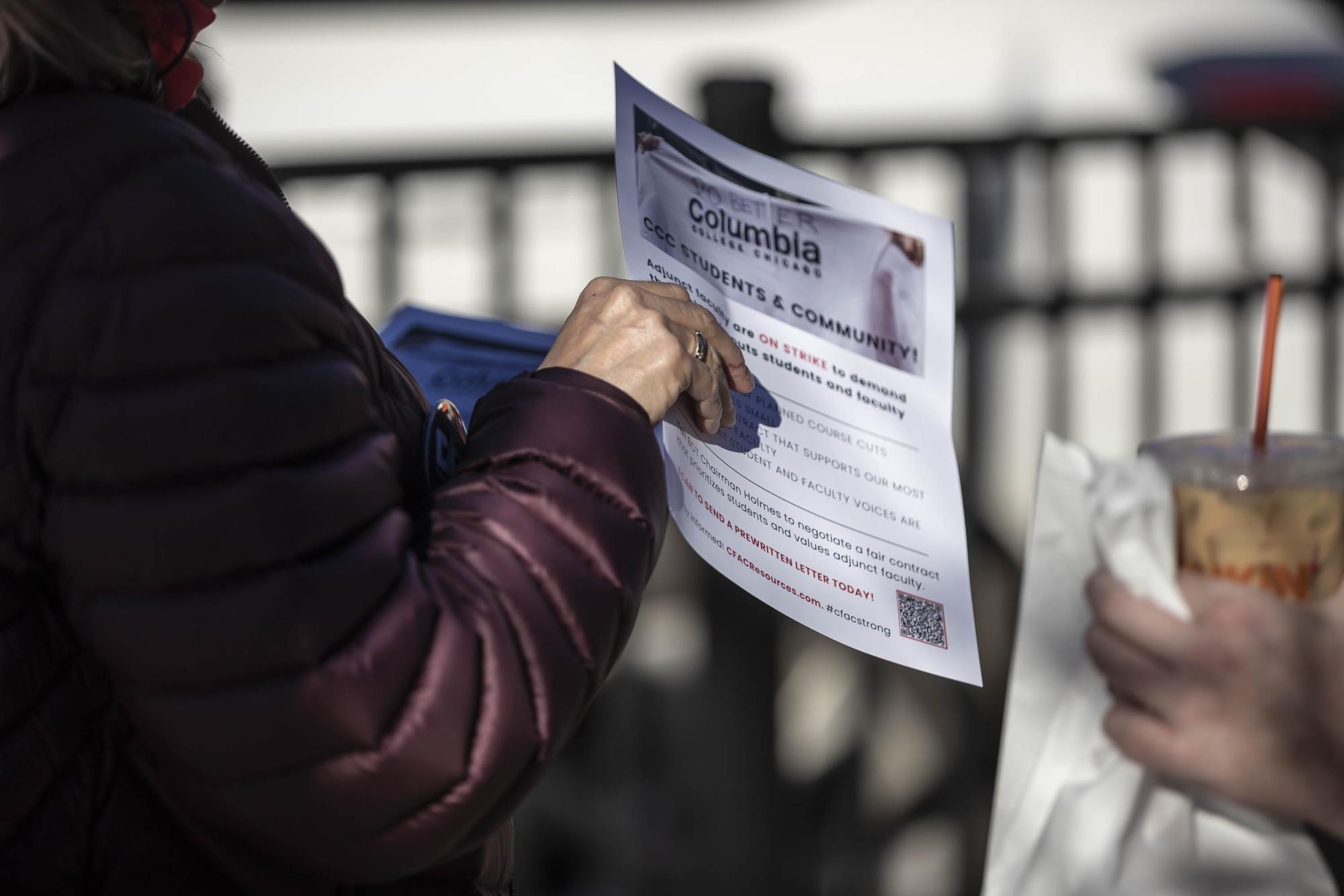 Laura Sturm, a part-time instructor in the Theatre Department, is teaching four classes this semester and has one for Spring 2024. 
This fall, two of her foundation theatre classes have course caps of 24, and neither are full. One has 19 students and the other has 10. An "Introduction to Auditioning" class is nearly full, with 17 of 18 seats filled. Her fourth class, a 500-level graduate class, has only five students.
She said a lot of her students are trying to register but are not able to get the classes they need to graduate. 
Students have said they "can't afford to pay for an extra semester to stay here because I can't get the classes I need to graduate,'" Sturm said. "It's unbelievable. They're not just cutting low enrollment-classes, they're cutting classes that people need."
Joe Janes, a part-time comedy instructor, said he hasn't had a chance to talk to any of his students but has seen a few on the picket line. 
"Their concerns are that they won't be able to graduate on time, and that it's going to be difficult for them to get the training that they want the education they came here for," Janes said. 
In an email to students sent on Saturday, Nov. 11, Senior Vice President and Provost Marcella David said students would be able to graduate on time. 
"If it is a required course and you are on the path to graduation, we will work with you to keep you on track," she wrote in the email. "However we need to make difficult choices about where to direct finite resources, and we have chosen to focus those resources on additional sections of required courses instead of some elective offerings." 
Sturm said part-time faculty teach 60% of the classes at Columbia. 
"We're the core of the school, and we're working professionals," she said. "We're helping to network."
For a show she's currently doing, one of her students is the intimacy choreographer and helped the student get the job by introducing her to the director. Sturm said as part-time faculty, "that's what we do." 
Columbia "has been strong for like 150 years, and it really breaks my heart to see them doing that to this institution," Strum said. "They're just trying to destroy it and I don't understand why."
David and other campus leaders have said the college is shifting some teaching to full-time faculty where it can. In her email on Saturday, David said students have been told the experience of working with part-time faculty is the "true" Columbia experience, and that "the implication being that our full-time faculty are not engaged in industry-leading creative practice." The college has 221 full-time faculty.
"That is far from the truth," David wrote. "We have award-winning full-time faculty – and you should read that literally: Grammy, Pulitzer, MacArthur, NSA grants, Fulbright, these accolades, and more are all represented on our full-time faculty."
Elizabeth Yokas, a part-time instructor in the English and Creative Writing Department, has been teaching at the college since 1995. 
"Really drastic changes started around 2012 with prioritization," she said. "The basis of prioritization was that Columbia was different from other colleges and they wanted to make it different than other colleges. The point that we were different is what made us vibrant and a wildly successful college."
Yokas said that is why DEI efforts, in her estimation, have been "abysmal."
"They're led by people who don't get it," she said. "We fought against those changes."
She said President and CEO Kwang-Wu Kim promised things would slow things down, but instead they ramped up. 
"Right now they're going to cut more classes, raise caps," she said. "We advertise small classes. This is all the things that attract students here. We're asking to be listened to because we know that these changes that they're proposing for class, we've already seen the turmoil it's causing for students. And it's time to put them first. Stop looking at everybody like they're a dollar sign."
Many of the class sizes that have gone up significantly have been lecture courses, as the Chronicle previously reported. 
Rise Sanders-Weir, a film and television part-time instructor, said she has 12 students in her current class. 
Sanders-Weir is teaching "Legal and Financial Standards," a class she has taught for four semesters. According to the course catalog it has 10 students enrolled, with a course cap of 15. 
She said she works to give her students feedback in her classes and talks through their work with them. 
"What I've learned is it's not enough for them to turn in assignments and me just to give them feedback on Canvas because a lot of the mistakes that they make in the assignments need to be taught through a class as a whole," Sanders-Weir said. "The larger the class size, the less we're able to do that kind of individualized learning."
Heather Young, a first-year audio arts major, stood with the part-time instructors. 
"I'm here in solidarity with teachers who deserve to have their rights respected and deserve to be compensated for their work," she said. 
She said she was able to register for all of the Spring 2024 classes she needed, "but I know that many people who registered after me got the short end of the stick." 
This story has been updated.