'Oops': 14 adjuncts were overpaid by the college. Now, they have to pay it back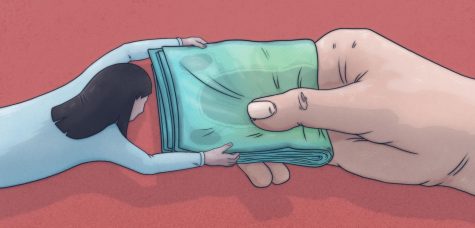 One unassuming day, Kayli Plotner picked up the phone when she realized a Chicago number had been trying to reach her. It was a payroll officer from Columbia who told her she was overpaid in the Fall 2019 semester, and she now owed the college approximately $1,000.
"They were just like 'Oops, sorry we overpaid you,'" said Plotner, an adjunct faculty member in the Communication Department. "It was irritating to be told a mistake that was not mine was now my financial burden."
Plotner was one of 14 adjuncts across departments who were overpaid during the Fall 2019 semester, according to Diana Vallera, part-time faculty union president and an adjunct faculty member in the Photography Department.
By the time she learned of the error in December, Plotner had moved from Chicago to Denver for a new job, missing a letter mailed from the college alerting her to the overpayment. Because she was not teaching during the Spring 2020 semester, she also had not been checking her Columbia email. Once she discovered the issue, she said she was told by payroll she would not be assigned courses at Columbia again until she paid back the excess funds.
"It plays into how strange and unorthodox this entire thing has been to where they accidentally overpay me, and now it's my responsibility to pay it back, even though I had no idea it was happening," Plotner said.
According to a Feb. 28 email sent to Plotner from payroll, if she had paid before Jan. 8, she owed the net pay of $977. However, since she discovered the issue later, she now owes the gross pay of $1,226 "since wages were paid in a subsequent year of 2019," the email stated.
"It really added to the stress of normal life to be told you have a thousand-dollar bill floating around out there," Plotner said. "I just moved, I just started a new job, I just got all of my finances back to where they were before I moved, because moving across the country is extremely expensive, and it was really frustrating."
Although Lambrini Lukidis, associate vice president of Strategic Communications and External Relations, confirmed 14 adjuncts were overpaid, she said, to her knowledge, no statements were made on whether adjuncts would not be rehired or assigned classes based on their repayment.
Lukidis attributed the overpayment to human error, calling it a "regrettable and unfortunate mistake" for which the college is working with individuals who have either paid in lump sum or set up a repayment plan.
Besides double-checking for accuracy, Lukidis did not know of any safeguards being implemented at this time. She added that if the reverse were to occur—an employee being underpaid—they would need to reach out to payroll to correct the error.
"
It was irritating to be told a mistake that was not mine was now my financial burden."
— Kayli Plotner
A Wednesday, Jan. 29 email sent to faculty and staff from Jerry Tarrer, senior vice president of business affairs and CFO—sent around the same time Plotner found out she was overpaid—summarized Columbia's Employee Overpayment Policy.
"Overpayment occurs when compensation that is not owed to the employee is paid in error," the email read. "Any overpayment represents a legal debt owed to the College, which it has a duty and obligation to recover. Employees are responsible for reviewing their paychecks for accuracy. Employees, departments and Human Resources must report overpayment of wages [or] salary immediately to the Controller's Office."
Plotner did not notice she was being overpaid because her biweekly paychecks differed only slightly compared to what she should have been making, adding up throughout the semester.
For assistance in setting up a repayment plan, Plotner reached out to Vallera, whom she said was extremely "helpful" and "empathetic" throughout the process.
Vallera said she was disappointed she did not hear from the college about 14 adjuncts being overpaid because the union could have helped. When the college provided her a list showing how many were affected and how much each cost—overpayments ranged from $500 to $3,000—Vallera said she saw it as a legitimate concern.
At the same time, Vallera said the college was "quick and responsive" and she "didn't have to argue" when she told them Plotner would need to set up a repayment plan because the debt would cause financial hardship.
"They made a mistake and we have to be responsible as faculty to pay that back, but they have to make all the accommodations to be able to pay that back," Vallera said.
Although Vallera was not told why the overpayment occurred—adding that there was "no rhyme or reason" to those affected—she said past errors have usually been fixed quickly.
Jennifer Sadler, chair of the Faculty Senate's Faculty Affairs Committee and assistant professor in the Business and Entrepreneurship Department, said she has not heard of this issue happening with full-time faculty, but if it did occur, faculty would also be required to repay the college.
Sadler said the college can always be looking into how to improve its payroll system and suggested standardizing the deduction of money from future paychecks when overpayment occurs.
"
Our faculty have to be valued, and part of that value is through fair pay."
— Diana Vallera
"I can understand that that would be a financial burden for anybody to have to pay back, especially given that adjuncts are usually paid quite significantly less than full-time faculty are," Sadler said.
To prevent this from happening to adjuncts in the future, Vallera advised adjuncts look at the union's pay scale, make sure paycheck amounts are accurate and seek help from the union if in doubt.
According to the union's contract, the standard compensation rates for a three-credit course range from $4,600 to $5,600.
With the assistance of the Dean of the School of Media Arts Eric Freedman, Plotner worked with payroll to establish a payment plan where approximately $200 each pay period will be deducted from her paychecks when she next teaches an online course at the college in Fall 2020.
Despite the frustration, Plotner plans to return to Columbia because of her personal connection to the people here.
"There's a special kind of grit to being a student at Columbia in the journalism department because it's pretty intense," Plotner said. "Having those kinds of students and that kind of faculty will be what would bring me back as an adjunct."
In the meantime, Vallera said she hopes this issue does not impact other adjuncts' decision to return to the college.
"To me, it's about how the college values the part-time faculty," Vallera said. "When we see the president of the school is making a salary increase of 40% and the part-time faculty still have no health insurance—not even access, nothing—and we're still living paycheck by paycheck, we still have part-time faculty in assisted living … our faculty have to be valued, and part of that value is through fair pay."