One of America's largest gaming arcades in Chicago reopens in Phase 4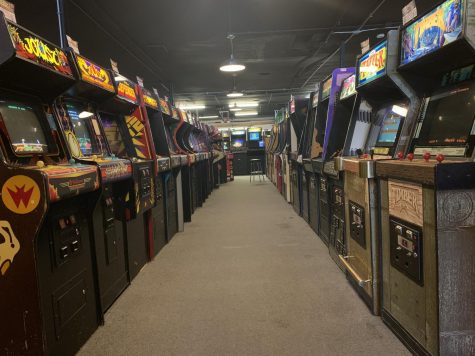 Rows of vintage '80s arcade games sat silently with glowing screens that read "continue?" at the once packed Galloping Ghost Arcade.
As one of the largest arcades in the U.S., Galloping Ghost Arcade, 9415 Ogden Ave. in Brookfield, Illinois, normally hosts nearly 500 people at a time. But due to concerns surrounding the coronavirus pandemic, the arcade decided to bring the gaming experience to people's homes.
Owner Doc Mack and his staff have managed to stay engaged with players who are anxious to come back to the arcade by livestreaming their weekly Monday mystery game events, where they debut new arcade cabinets, box-like structures that hold arcade machines, coming to Galloping Ghost on Facebook and Twitch.
With Illinois now in phase four of its five–phase reopening plan, Galloping Ghost reopened its physical doors June 20, but is still holding livestreams for those not quite ready to return.
Mack said not a lot has changed for the arcade because it has always maintained the "highest level of sanitation for machines," including wiping down the glass and control panels of arcade machines with disinfectant.
"[Social distancing] shouldn't be an issue due to the lower [customer] numbers that we're seeing," Mack said.
He said the arcade's staff will monitor how many customers come in, recommend two cabinet spacing between players and offer customers face masks and gloves when they walk in.
The safety restrictions at the arcade are in line with recommendations from the American Amusement Machine Association, based in Elk Grove, Illinois, which has a COVID-19 section on its website. The association has also lobbied to make sure arcades are allowed to reopen along with other businesses.
Chris Blucher, an electrician at Energize Electric in Laurel, Maryland, is a record holder at the arcade. Blucher is known as "Fat Chris" in the arcade scene and first visited Galloping Ghost as a Christmas gift for his son in January 2018.
"You have to walk through and take everything in first and that right there is a feat easily accomplished if you have plenty of time," he said.
Blucher said he was first taken back to his youth seeing games he played as a child and appreciated Mack's hospitality in giving him and his son a bag of Galloping Ghost merchandise for visiting from Maryland.
"It almost brought me to tears because here's this guy who doesn't know me from Beat Street," he said. "It was breathtaking because nobody has ever treated me like that as a first-time patron of their business."
Blucher said he visits twice year to play at Galloping Ghost and came to the arcade's reopening June 20 because it was something he "wouldn't miss for the world."
Since opening with 130 arcade machines in 2010, Galloping Ghost now has 774 arcade machines with games like "Joust," "Final Fight," "Out Run" and "Primal Rage 2." The arcade has expanded to their fifth building with more expansions planned.
The arcade has purchased arcade cabinets from all over the U.S., imported boards from Japan and restored and recreated games.
"It's been [a] slow process," Mack said. "It was never the intent to be the largest arcade in the world, just something that happened over time."

The arcade has a $20 door fee where people can play on arcade machines with no limit during its shortened hours from 11 a.m. to 10 p.m., without having to scrounge for quarters.
Mack said Galloping Ghost has helped more than 30 independent arcades open in the U.S., Japan and Spain, and are currently in communication with 175 arcades trying to open worldwide.
Any problems an adult has disappear while they are at Galloping Ghost, Blucher said.
When Blucher can not make the 700-plus mile drive from Laurel, Maryland, to the arcade to maintain his "Revolution X" record score, he buys pizzas for staff and fans at the arcade to show his appreciation.
"When you go to Galloping Ghost, it's such a happy place," Blucher said. "Doc Mack [is] making the world a better place one arcade machine at a time."