'No bees, no food': Chicagoans are abuzz about saving bees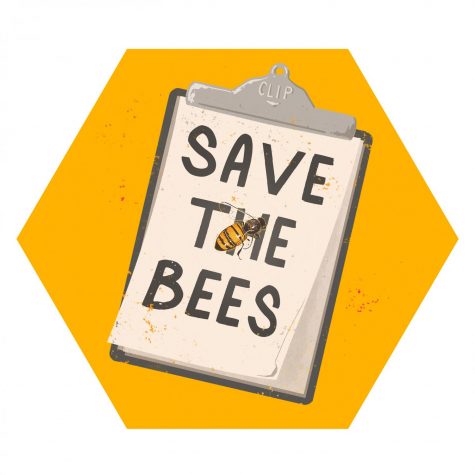 The honey bee population is being killed off at an unsustainable rate, with beekeepers reporting a 30% loss in their colonies annually. Activist organizations in the Chicagoland area are trying to change that through prevention and preservation, fighting all fronts of the battle.
Environment Illinois and the Fund for the Public Interest launched a campaign to ban harmful pesticides called neonicotinoids, or "neonics," that are partially responsible for killing the bee population.
The target message is simple: "No bees, no food."
Banning pesticides
Bees are at the forefront of pollination, pollinating nearly one in every three bites of food humans take, according to Midwest Pesticide Action Center. Canvassers for the organization seek to spread information to Chicagoans on threats to the bee population, such as pesticides.
"[Pesticide use] seems like something we can have a little more control over. People like to think about the issues, and rightfully so, they feel like they can play a role in changing," said Emily Minor, an associate professor of biological sciences at the University of Illinois at Chicago. "Globally, one of the biggest causes of decline of species is lack of habitat."
Restoring bee habitats
There are spaces in Chicago being carved out specifically for bee habitats. Uncommon Ground, a local bar and restaurant, has a certified-organic rooftop farm at its Edgewater location, 1401 W. Devon Ave., to which two hives were added in April 2008.
Chicago residents have few restrictions on owning beehives within city limits. Any resident can have up to five hives for honey bees on their property, as long as they are registered through the Illinois Department of Agriculture.
Allison Glovak-Webb—a 2011 Columbia photography alumna who works as farm director for Uncommon Ground—said the hives serve a dual purpose: to collect excess honey and to "bring the plight of bees into the conversation."
Uncommon Ground offers free tours of both the rooftop farm and beehives June through September. These tours are a chance for someone like Glovak-Webb to open up a discussion about pesticide use and the climate crisis. Uncommon Ground also offers summer internships for college students, she added.
Increased protection of bees, however, does not mean all is well in the hive.
"We have gotten 30–60 [pounds of honey] per hive in years past, but in recent years they have been struggling a lot more," Glovak-Webb said. "We only take honey if they have more than enough, and that has not been the case for some time."
Bill Whitney, owner and operator of City Bee Savers, a self-described "honey bee-saving company, said saving the bees is a "multi-pronged issue."
Whitney cites habitat loss as an issue, but also emphasized the increased pathogens in the environment, which weaken the bee's immune system. Another aspect is the hindrance of parasites, namely the Varroa destructor.
Getting Chicagoans involved
Whitney has witnessed the downfall of the population over recent years, which is why City Bee Savers offer multiple programs that get the Chicagoland area involved in beekeeping and bee saving. It even offers classes year-round to show the livelihood of bees throughout all four seasons.
For nearly three years City Bee Savers has offered a "Bee Buddy" program in which people can sponsor, name and receive honey from their beehive that equals their initial monetary investment. City Bee Savers' main initiative is distributing queen bees throughout the Chicago area. The queens raised are genetically capable of overcoming the parasites that threaten beehives.
For people who may not want to be one-on-one with bees, Whitney said there is still much that can be done. By planting indigenous flowers, plants and trees, people can help feed bees.
"It takes a lot of resources," he said. "Bees have to eat, just like us, every single day. They need 90 pounds of honey to make it through the winter."
It is not just about the honey bee
Whitney, Minor and Glovak-Webb all urge people to stop thinking of the honey bee alone and focus on the other species that are being impacted.
"We have a plethora of native bee species in North America and they are equally at risk, if not more so, than honey bees," Glovak-Webb said. "Honey bees have been here just under 400 years, and they are not part of our natural ecosystem."
Additionally, Minor said people must widen the scope to include more pollinating insects.
"It's not just honey bees," she said. "[We should] care about all of the other plants on the planet that we don't eat but are providing the base of the food chain for our planet."