New Social Justice Initiative joins college's call for change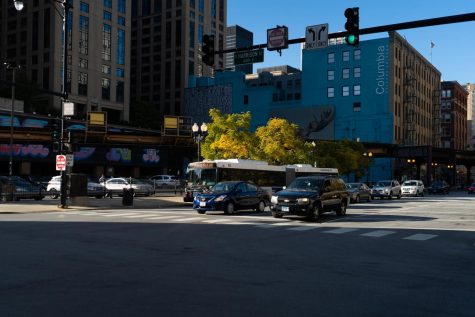 Two weeks after Columbia announced its new Social Justice Initiative, student leaders said they are willing to give it a chance, applauding the college for encouraging its administration to connect with organizations on campus and in the surrounding community as it rolls out the new program.
"I'm interested to see what social justice looks like for [those involved] and how [they are] going to be actively serving the communities they're in," said Kin Marie, senior marketing major and president of the Black Student Union.
As reported by the Chronicle Jan. 19, the initial announcement outlined the new initiative and its three programs, including in-depth conversations among faculty; staff and students; events involving guest panel discussions; and collegewide collaborative projects, which will include project committees.
This comes after the college's previous announcement on Oct. 8, 2020, regarding the already established Antiracism Transformation Team (ArTT), which is tasked with leading anti-racism efforts on campus.
"ArTT is tasked with dismantling systems like white supremacy and white power structures within the college as a microcosm that reflects the outside world," said Isaiah Moore, senior cultural studies and television double major and the president of the Student Organization Council.
Keisha Cowen, senior director of Campus Communications and SJI steering committee member, said the difference between ArTT and SJI is that ArTT will include the "redistribution of institutional power," establishing clear accountability and recommending financial priorities and equitable support for those across the campus.
SJI will focus on implementing social change within the college's academic and creative spaces with "conversations and academic exploration of significant topics to coursework and creative practice," Cowen said.
Though they did not know about SJI before its announcement, Moore, who is also an ArTT fellow, said they hope SJI works with student organizations to create these programs and expand its committees to include more students, faculty and staff from around the college.
The Office of Academic Diversity Equity and Inclusion announced on Friday, Feb. 5 the names of the 24 members who have been selected to serve under ArTT. The list can be found on Columbia's website.
The three major elements of SJI include: A Social Justice Dialogue, using the CCC Engage platform to initiate conversations collegewide; Perspectives Conversations, which will have campus leaders engage in conversations "around social justice and national events"; and Creative Approaches to Social Justice, which will include three programs to help discern student work and development.
The SJI programs are: Anti-Racist Narratives and Practices: Stories of Art and Industry, The Power of the Creative Voice in Advancing Social Change and Activism Now. These programs, sponsored by all three of Columbia's schools, will have panel discussions and opportunities for students to link their passion for change into their course assignments or projects.
"What I wanted to see for students of color at this college is our voices being just as heard as anybody else's, and I'm seeing from the college that they are taking that initiative," said Leah Tolliver, junior film and television major and founder and co-president of Soul Sisters, a student support group and safe space for Black women.
When SJI was first announced, Tolliver said she was confused about what its goals were, but understood its possibilities to bring positive change to campus and more recognition for students across the college.
Tolliver said she would like to see more showcases and workshops dedicated to different social justice movements like the Black Lives Matter Movement, while ensuring students of color feel safe and heard by the college.
"I think a lot of times people neglect the fact that there's a communal aspect, there's research, [there are] conversations, there's collaboration, there's what is the actual and direct issues [that] we could be targeting … and how do we actually help and serve them and act as a source of community and protection for these people?" Marie said.
Marie, who is from the South Shore neighborhood of Chicago, has had experience working with organizations around the city and said she thinks SJI should collaborate with groups that are already working in the realm of social justice, including Kumba Lynx, Fortune House, Black Girls Break Bread, Assata's Daughters and BYP100.
She added that student organizations that identify with cultural groups like the Black Student Union or the Latino Alliance are often the place where students look first when finding spaces to join on campus.
"I and many other people that came to Columbia around the same time as me wanted to be more involved in school and wanted to come to Columbia because of the Black Student Union," Marie said. "So if this is really an initiative that is happening, how do you collaborate with the organizations and people that you know already exist on campus that are already doing active work to create spaces?"
Cowen said SJI panel discussions and forums will be held online and open to the entire campus, but if pandemic conditions in the spring permit it, there may be on-campus elements added.
She said project committees for the first phase of these programs are still being developed and specific details on how these programs will roll out are not currently available.
Opportunities for students, faculty and staff to volunteer for a project committee will be announced on the SJI website.