Musician, deacon and teacher Martez Rucker remembered lovingly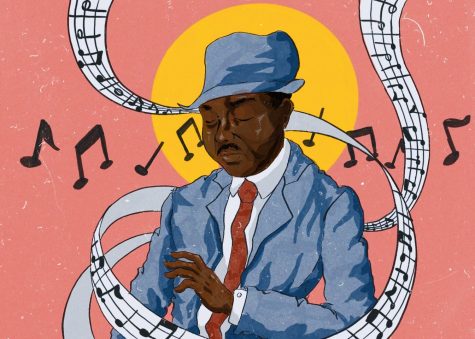 Acclaimed jazz musician, vocalist and educator Martez Rucker, 37, was known to be a quiet gentleman and leader in Columbia's Music Department who could take any ensemble and make it better.
"I call it creating a silk purse out of a sow's ear," said Bobbi Wilsyn, private lessons teacher and former coordinator for voice studies in the Music Department. "It means that he could take anything, any music and any voices and beautify it."
Rucker, known for donning a suit, tie and hat everywhere he went, died peacefully on Jan. 30 at The Israel of God's Church, W.H.A., 3737 W. 18th St.
Mesha Rucker, Martez's wife, said the day felt like any other, with Martez dropping her off at work and taking their son to stay with family, later going to The Israel of God's Church, W.H.A., on 18th Street, where he was a deacon, to help clean and set up for Sunday mass.
After not hearing from her husband for a while, Mesha said she called a friend who lives near the church to see what was going on, and they later found him sitting on a bench, unresponsive.
"He looked like he sat down on the bench and drifted away," Mesha said. "He went away peacefully in a place that he loved … that made him into the man he was."
Having known Rucker for most of her life, Mesha said the two knew each other because they went to the same church and would often visit sister churches in other states as a congregation. During those visits, she said he would write notes and leave them at her hotel door every night.
Mesha said his interest in her went on for about two years until she finally agreed to go on a date on Nov. 24, 2012. Two years later, they were married.
"I'm honored to have known such a great man; I'm honored to have been his wife; and it was the best time that I've ever had in my life," said Mesha.
Rucker, who graduated from Columbia with a bachelor's degree in music in 2007, also graduated with a master's degree in music performance from Western Michigan University in 2010 before he came back to work at Columbia in 2012.
Since then, he became a member of the Music Department's voice, piano and jazz faculty and directed the Jazz/Pop Choir, the a cappella ensemble Breakaway and the award-winning vocal jazz ensemble ChicagoVox.
Outside of the college, he was also an active member of the Jazz Education Network and the American Choral Directors Association and focused his passion for music toward community outreach programs like Changing Worlds, Urban Missions, the Neighborhood Writing Alliance, the Jazz Alive program of the Chicago Jazz Philharmonic and the Music Moves program at the Old Town School of Folk Music.
"I think he's one of those people who restores hope in humanity, somebody that has his heart in the right place but also knows how to use his art and profound humanity to make all of us feel better," said Sebastian Huydts, interim chair of the Music Department. "It was an essential part of who he was."
Huydts, who knew Rucker both as a student and a colleague, said he first met Rucker in his music theory course in 2002 and immediately recognized his harmonic abilities. He later offered Rucker assignments on the side to help develop his skills and would also let him perform in weekly keyboard forums in the Music Department.
Even after Rucker graduated from Western Michigan University, Huydts said they always kept in contact with each other, and when Columbia needed someone to teach piano, he was one of the first candidates Huydts reached out to for the job.
"He carried himself with a lot of dignity, and he brought a real focus when he was working," said Donald McCaslin, acclaimed saxophonist and composer. "No matter what obstacle came up, people missing or somebody [couldn't] be there or a forgotten chart, he just kept moving ahead."
McCaslin, who first met Rucker as a student at Western Michigan University, said the two got to work closely together when McCaslin came to Columbia for two different artist residency programs and performed with Rucker's ensembles at The Jazz Showcase, 806 S. Plymouth Court.
Others like Wycliffe Gordon, acclaimed bandleader and jazz trombonist, also worked with Rucker and recalled a night at The Jazz Showcase where Rucker had to change his set last minute and cut two songs, but handled the situation calmly and with grace.
"He was a gentleman," Gordon said. "He was always the team player [for] what was going to be best for the performance … and he was always willing to make the adjustment with a smile."
Rucker is survived by his wife Mesha, his son Samuel, and his mother Cynthium Johnson-Woodfolk. There is a GoFundMe page with more information for those wishing to support his family during this time.
This story was revised with additional details Feb. 20 at 10 p.m.