Music lovers reflect on ticket price increases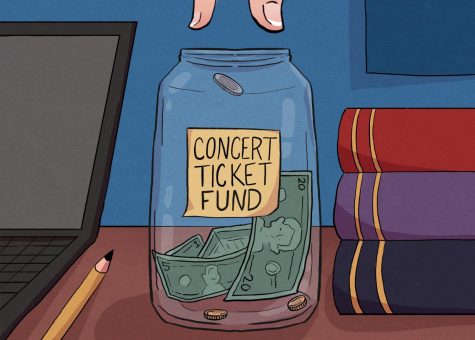 DEI ISSUE
---
With festival season approaching, Chicago is seeing an exciting buzz around concerts and popular artists. These artists are coming to tour iconic venues such as the Salt Shed and Aragon Ballroom. But the experience comes with a cost – and a pretty hefty one.
Justice Petersen, a senior journalism major who write for Chicago Music Guide and Fever Dream Zine, has seen flyers from the 70s advertising concert tickets for less than$10.
In 1993, Nirvana's frontman Kurt Cobain had a harsh reaction to artists increasing their ticket prices to $50-75 while he only charged around $20.
Since the Ticketmaster and Live Nation merger in 2010, the companies control over 70% of the live events and ticketing industries. For years, the world's largest concert ticket vendor has faced backlash from heartbroken fans due to the website crashing, fans being forced to wait in long queues and its additional fees and convenience charges.
"Seeing concerts is like self-care for me," Petersen said. "If concert ticket prices keep getting more expensive, soon they're [concert goers] not going to be able to go to any concerts because all their money has to go to college."
From Petersen's extensive background with concert coverage, she observes that fewer people will attend the concerts if prices continue to increase because everyone has a limit to how much they're willing to spend. She says it becomes an accessibility issue for both artists and concert goers.
"If you make these tickets so expensive, it's almost like you're only catering to the super rich," Petersen said. "That's not fair because there's tons of young 21-year-old kids who want to see their favorite band, and who's to say that they shouldn't have access to that? I've seen some nosebleeds that are almost like $100 and you can be like a mile away from your favorite artist and that's not fair."
Associate Editor at Creem Magazine, Grace Scott shared her thoughts about the increased ticket prices and what it effects it has on art.
"I feel like the cost to go and see those artists play is so high that it feels counterintuitive to the whole nature and ideology of the art in the first place," Scott said.
Ticketmaster and Live Nation are considered a monopoly by many, including The Judiciary Committee as Live Nation's president, Joe Berchtold faced bipartisan criticism during a Senate hearing over the merger and handling of Taylor Swift's Eras Tour.
Mazie Hummel-Logee, a freshman photojournalism student, bought Taylor Swift merchandise that came with an early-access code. She expected to have an easier time purchasing tickets, but that was far from the case.
"I sat on the couch for eight hours," Hummel-Logee said. "Just listening to my Zoom lectures and staring at a non-moving line as it told me there were 2000+ people in front of me."
Ticketmaster announced that it received 3.5 billion system requests on the day of presale access; two million tickets were sold on that Tuesday.
Hummel-Logee said she has purchased through Ticketmaster before, but the process has never been as challenging as it was to buy Taylor Swift tickets for the Eras Tour.
Artists are starting to take action, Maggie Rogers chose to do her pre-sale 'the old-fashioned way' by opening box offices at the venues, while Robert Smith of The Cure fought to lower the ticket fees and canceled 7,000 tickets sold to bots.
It's really hard to rationalize paying that much money to even see an amazing band like The Cure," Scott said. "A lot of folks still wanted to go, but when you're choosing between your rent and going to see a concert, it's going to be [paying] rent."
Lexi Tsengouras, junior cultural studies major, experienced an increase in ticket fees for Harry Styles' Love On Tour where additional fees were over $100. Moving forward, Tsengouras would want to see a breakdown of the fees in the check-out cart, or an option where users can donate some fees to a local charity.
"It puts a class system in place and a hierarchy of who has money and who can afford to go to the most shows," Tsengouras said. "It's no longer something that everybody can enjoy without spending a ton of money."
Gianna Armey, a senior social media and digital strategies major, said bigger musicians trying to take action and finding creative solutions to prevent scalping and handling fees "almost" gives her hope.
"These big artists are aware of these issues for their fans," Armey said. "To see them speaking out and trying to take action against it, it's really nice to see because I feel like people just wouldn't typically want to think about the Ticketmaster issue…But seeing them speak out on it gives me some hope that maybe eventually something can change."