Motown music project taps alumna to help find artists to mix things up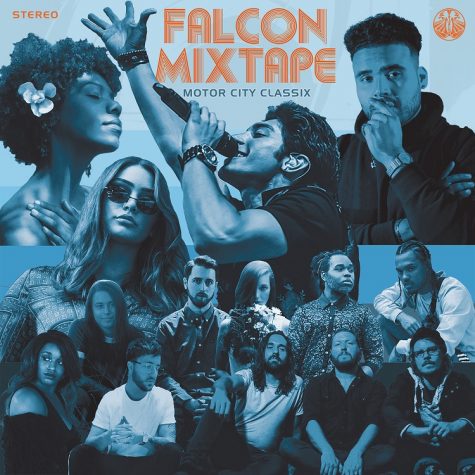 A rendition of the classic Mary Wells song "My Guy" is revisioned more than 50 years after its original release through a powerful queer narrative, and it was all made possible through the "Falcon Mixtape: Motor City Classix" project.
Chicago artist Thair Thompson said it's the first time he's had the opportunity to be part of a project this size, and he's especially grateful for the chance to cover "My Guy."
"This song is really special for me. … I get to reinterpret [it] from a queer perspective," Thompson said. "My narrative is represented and that is really powerful." 

Spearheaded by Terry Tompkins, assistant professor and program director for music business at Hofstra University, the project "Falcon Mixtape: Motor City Classix," is a collection of covers of Motown classics by independent artists from across the U.S. All participating artists are featured in the project's cover art, conforming their individual talents into one.
The Falcon Program—a pool of college artists and repertoire scouting teams, alongside student-run record labels—drove the project in partnership with Sony/ATV Music Publishing and Reservoir Media.
As part of the Music and Entertainment Industry Educators Association, the project was brought to the attention of Jerry Brindisi, associate chair for business and entrepreneurship, and he was able to present the opportunity to his students. He said when looking for students to take on the responsibility of a project like this, they need to be a "good fit," meaning they align with the position, show interest and are reliable. 2018 Columbia music business and management graduate Nicole Berry hit all of those marks.
Berry's job as an A&R scout consisted of scouting local artists in the Chicago music scene who would be the perfect fit to cover Motown classics—an upbeat, often pop-influenced style of rhythm and blues. As a then-intern for the local music venue Bourbon on Division, 2050 W. Division St., finding local artists was an easy task for Berry.
She discovered Joe Cardigan, who covered "Dancing Machine" by The Jackson 5 after she saw his R&B-styled performance at Bourbon. Berry brought Thompson on-board through connections at Columbia.
Thompson—who studied jazz and was in an alternative R&B band called Astro Samurai—said taking a step in the Motown direction felt right for him because he has been singing that form of music his whole life. His only challenge, he said, was trying to put a pop spin on it.
Berry has since formed her own company, Unbothered, where she currently manages seven DJs. She said going to Columbia changed her life because of the connections she made while enrolled.
"I was getting a lot of s–t for being a woman in the industry," Berry said, which is what inspired the name of her company. "That's another thing I love about Columbia, I was really surprised by how many women are in the program. … That really gave me the confidence to go out there and be like, 'I'm going to do it anyway.'"
Berry said having to prove herself in the industry pushed her to work even harder. Especially with a focus on DJs, Berry said it is a niche that is made up mostly of men and she struggled getting people to take her seriously, but said it is all about "trying to change the conversation."
"I went into music management because I have no musical talent. It's almost embarrassing. So seeing that was really cool," she said. "I have so much respect for these musicians. I can't even imagine where they would come up with that kind of stuff. So that was really humbling for me to see."
The project is set to release Wednesday, Nov. 13 on all music streaming platforms with 11 covers from local artists in Chicago; Louisville, Kentucky; San Francisco; New York; Philadelphia; Portland, Oregon; Houston; and Missoula, Montana.