Michael Towns remembered by family, friends, faculty and students 'keeping his dream alive'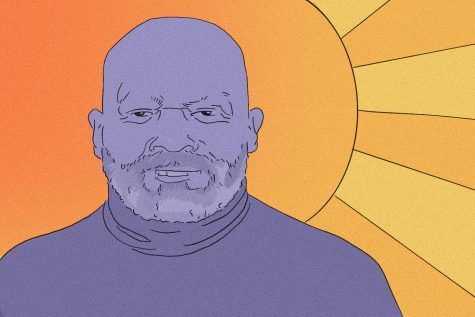 Genuine, devoted and intelligent, Michael Towns, an adjunct faculty member in the Business and Entrepreneurship Department, touched many souls in the Columbia community and beyond.
Towns died due to complications with bronchitis on Feb. 25 at age 55.
An email statement sent to faculty and staff on March 2 from Rosita Sands, dean of the School of Fine and Performing Arts, commemorated Towns' legacy and quoted his own words.
"The hardest thing to do is to find someone who understands a problem like it is their very own. Once you start believing in the power people have to change the world, everything becomes clear," said the email quoting Towns.
Towns earned his bachelor's degree in finance and financial management services from DePaul University in 1988 and a master's degree in business administration from the University of Chicago in 1992. He joined the college in 2016 and was in the process of earning his doctorate degree in business at DePaul University before his death.
Towns loved to learn, a sentiment echoed by his loved ones.
Joy Burrell Towns, a family caregiver and leather crafter, said her favorite memory with her husband was dancing with him to the music he loved, which was anything from Biggie Smalls to Carole King and Frank Sinatra.
"He was also one of those guys who walks around the house singing made-up songs, silly, ridiculous made-up songs; it's great," Burrell Towns said. "I think I'm gonna miss that a lot. I think I miss that already."
The two met 25 years ago and got married in 2004 at the Newberry Library in Chicago, 60 W. Walton St. Burrell Towns said she knew he was the one because he was smart, kind, considerate and loved her cooking, his favorite meal being black beans with rice, fish, chopped green onions and tomatoes.
Some of his personal hobbies included thinking, smoking cigars with a little scotch and listening to books on tape when he wasn't listening to music. Burrell Towns said her husband loved teaching, and even as a kid his uncle called him "professor."
Monika Jaiswal-Oliver, academic manager in the Business and Entrepreneurship Department, worked closely with Towns and knew him for five years. She said he was someone you could rely on and was always positive.
Mondays were the days when the two would have early morning coffee talks in the faculty lounge before Towns' 9 a.m. class, where they would talk about what was happening in the news, in their classes and their own personal goals.
"His closing line would [always] be, 'Take care, and keep your dream alive,'" Jaiswal-Oliver said.
Jaiswal-Oliver said many faculty members, including her, are still grieving the news of his death.
"For all of us, it's a huge loss," Jaiswal-Oliver said. "A huge loss to our community, for our students, and it takes time to find somebody who is very dedicated."
Towns was a part of the department's Curriculum Committee and taught multiple classes a semester, reaching many students.
In Fall 2021, Jaiswal-Oliver said there was a faculty member who had to pull out of teaching the course "Self Management and Freelancing" at the last minute, and Towns stepped in. One of his former students in this class, Osa Obaseki, a senior radio major, said Towns was one of his favorite teachers.
Obaseki described Towns as enthusiastic, encouraging and an understanding teacher who created good class discussions and provided helpful analogies from his journey as an entrepreneur.
"I am a Black student, an African-American student, and he is an African-American instructor as well, so we identify as far as our backgrounds, culturally and historically in this country, so I was able to relate to him rather than my other instructors at the college," Obaseki said.
His last communication with Towns was in January when Obaseki emailed him asking for guidance on his next steps after college. He said Towns replied saying he would review Obasecki's documents for him and give any recommendations he may need.
Obaseki learned from Towns that to be a good freelancer, you have to communicate. He also said Towns made him see himself as a freelance artist and helped him understand what that means.
"One day, one of the final weeks [of class], I remember he was like, 'Okay, so now all of you know how to go out and become millionaires, right?'" Obsecki said.
Joan Sullivan, president and CEO of Kingdom Records, a gospel music label, knew Towns when he was an undergrad at DePaul University because he was her first intern when she worked at the First National Bank of Chicago.
"Mike was just very intelligent, just like a genius. I mean, he was really amazing," Sullivan said. "And I saw something in him even then, and we worked well together."
Sullivan and Towns became business partners when Towns was the CFO at Kingdom Records in 2004 and later became a partner with Sullivan at Urban Ideas Partners in 2012, which counsels artists and companies.
Sullivan said they were not just business partners, they were family.
"He was a wonderful person and somebody that left a great impression upon people, and Mike is going to be greatly missed by a lot of people," Sullivan said.
Aside from his personal hobbies, teaching commitments and many entrepreneurial accomplishments, Towns also owned a restaurant called "Culture Food & Entertainment" in Homewood, Illinois, located at 18031 Dixie Highway, that combined two of his favorite things: live music and food. Towns also volunteered for the United Way and was on the Mayor's Commission for Human Relations.
Diana Vallera adjunct faculty member in the Photography Department and president of the part-time faculty union, or CFAC, said soon after Towns joined the college, he expressed interest in getting involved with the union, where he became the CFAC publicity chair and a member of the Steering Committee.
Vallera said Towns was integral to their work as a union, saying he was a powerful storyteller, an ethical leader and marvelous with words. The Steering Committee looked up to him, she said.
"He was not afraid at all to speak up in a way that was eloquent, but very clear that it wasn't acceptable what was happening, and he wasn't afraid to do it," Vallera said. "Everything he did was principled in a way around equity and fairness."
A memorial service took place on Sunday, March 19 at the church Towns and his wife attended, St. Paul & the Redeemer Episcopal church, 4945 S. Dorchester Ave., where Towns was also on the anti-racism committee.
"[I] can't imagine life being without him. It's going to be different. Really, totally different. It's going to be difficult, but we thank God for the time that he was here," Sullivan said.
Towns is survived by his wife, Joy Burrell Towns; his mother, Pearlie Mae King; his sister, Janie "Tiny" King; and his bulldog, Winston.