#MeToo movement founder Tarana Burke talks about taking control of the narrative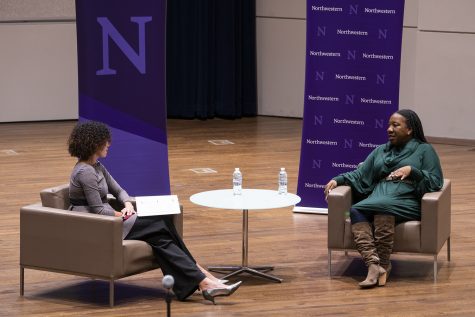 When social justice activist Tarana Burke first coined the term "me, too" in the 2000s, it was not intended to raise global awareness for victims of sexual assault.
"It was about creating empowerment for the young people we were working with," Burke said. "It was connecting survivors together … so we knew that we didn't exist in a vacuum and that we weren't alone. The vision was always for it to be this rallying cry among survivors."
During her keynote address for Northwestern University's Martin Luther King Jr. Dream Week, held Wednesday, Jan. 15 to Tuesday, Jan. 28, Burke spoke about her experience after the #MeToo movement went viral on social media in 2017, the mark of sexual violence on the black community and the importance of survivors as leaders going forward.
Hundreds attended Burke's Monday, Jan. 27 address at Northwestern Pritzker School of Law's Thorne Auditorium, 375 E. Chicago Ave.
A rape survivor herself, Burke's career in activism spans over 25 years and centers on empowering women of color, youth leadership and victims of sexual violence.
In 2017, Time magazine named Burke one of "The Silence Breakers," and in 2018, Burke was listed as one of The Root's 100 most influential African Americans. That same year, Burke launched the MeToo movement website, which provides professional resources for sexual assault survivors and advocates to find the local or national help they need.
Currently, Burke serves as senior director of Girls for Gender Equity in Brooklyn, New York, and supports sexual assault survivors through public speaking events across the country.
Burke said the #MeToo movement is not something that can be hijacked by rich, privileged white women or tweets, news articles and TV broadcasts.
"Don't buy what the media is feeding you as a movement," Burke said. "We create the movement. … We get to change the narrative."
Avery Dews, a graduate journalism student at Northwestern University, said while sexual assault often goes unreported and is a daily struggle for many, the media tends to focus more on white women.
"Trauma just shows up differently for women of color, and people don't listen to them," he said. "A lot of women of color learn very early that what happened to them is second  to  something else—
and that they don't want to get anybody in trouble, or they don't want the attention because it's negative."
It is difficult to get people to rally around and acknowledge sexual violence as a social justice issue equal to gun violence, which is something else that causes harm to the black community, Burke said.
Maywood resident Rhonda Sherrod decided to attend Burke's address while researching events honoring King. She said speaking with Burke after the event gave her the courage to continue working on the publication of her own book for survivors of childhood sexual abuse.
"Dr. King said injustice anywhere is a threat to justice everywhere," she said. "Seeing [sexual assault] as a social justice issue is something that has to come to fruition. … You're talking about violating people's bodies and the subsequent mental trauma that people suffer."
Burke pointed to R&B musician R. Kelly, currently awaiting trial on numerous sexual assault charges in the federal Metropolitan Correctional Center in Chicago, as a sore on the black community for targeting black girls.
"Shouldn't we want to excommunicate the folks who are causing harm to our community?" Burke said. "Don't you want to say to the world, 'This not what black men do'? He is not representative of blackness. I don't know black men like R. Kelly."
Overall, Burke said she is hopeful for the sustainability of the #MeToo movement because of the shifting culture surrounding trauma survivors.
"As long as survivors recognize that you are not the sum total of the things that happened to you, that there is power in the fact that you are surviving every day, then we can do something with that," Burke said.