Lollapalooza increases green initiatives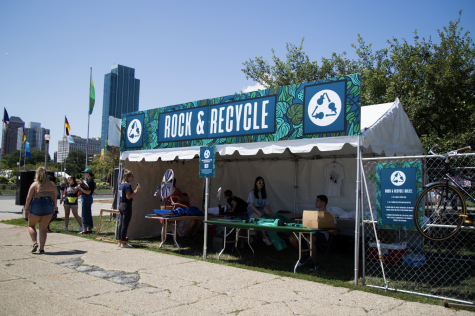 Empty beer cups, water bottles, paper plates and napkins are some of the many pieces of trash found on the Lollapalooza grounds. With more than 100,000 people expected to be in attendance at the festival each day, sustainability efforts are going beyond picking up trash.
After receiving the Illinois Sustainability Award in 2017, the festival's efforts to ensure an eco-friendly event have grown.
Through partnerships with organizations including Rock the Earth and the Love Hope Strength Foundation, Lollapalooza is taking on green initiatives with a number of water refill stations located across the festival grounds, bike information and maintenance assistance available and an abundance of recycling and composting bins and informational signage as part of the Rock & Recycle program.
Emily Sorlie, guest services manager for C3 Presents—the concert promotion, event production and artist management company running Lollapalooza—said the company strives to leave the park in better shape after the festival than before it began.
"[We want] to engage and educate our fans on how to fight and reduce food waste on-site, which is often overlooked at many of the different festivals and events," Sorlie said.
Composting and recycling
A 2018 Lollapalooza Environmental Impact Report found the festival's waste diversion efforts—with the help of attendees, staff and Love Hope Strength Foundation ambassadors—resulted in 145.6 tons of recycled and composted material. In comparison, a 2017 environmental impact report on the Coachella Music Festival in Indio, California, said the festival produced 107 tons of solid waste each day, with only 20% of it recycled.

This year, C3 Presents is focusing on increasing composting efforts on-site.
Rock the Earth, partnering with the Institute of Environmental Sustainability, joined the festival for the first time in order to expand the Divert It! Campaign—the on-site waste ambassadors program that assists attendees with recycling and composting. As part of the festival's composting commitment, all vendor cups at the festival are now compostable.
Each year, sustainability guidelines are sent out to all vendors, which includes a ban on styrofoam, plastic bags and individual packets of condiments, Sorlie said.
Getting young people involved
Farid Mosher, crowd services and community outreach manager for C3, said with the company's new partnership with Rock the Earth, college students are welcome to be part of the initiative through volunteering.
Loyola University has had a major presence when it comes to sustainability at the festival since 2018 when the university began advising promoters on additional steps Lollapalooza could take to reduce waste and increase recycling and composting, which will go into effect this year, according to Aaron Durnbaugh, director of sustainability at Loyola.
Between 40 and 60 Loyola students are hired as team members each year in a program called "Loyola-palooza." This year, the initiative has been expanded as part of a partnership with the League of Conservation Voters' Rock the Earth program.
One of Loyola's limited student-run businesses, ChainLinks, is also continuing to partner with the festival and offers bike valet service as well as bike parking on Michigan Avenue. The program encourages guests to get to the festival in a green way and offset carbon emissions.
Ana Nunez, Rock the Earth volunteer and a Loyola journalism and 2019 international studies graduate, began volunteering with the organization last year after signing up though Loyola's sustainability program. She said she wanted to be a volunteer because of the promotion of sustainability efforts at the university.
Along with other volunteers, Nunez stands next to the composting, recycling and trash bins throughout the day at the festival to help guide attendees in where to put their waste materials. As more people show up, it can get difficult to keep track of where they put their waste, but she said most attendees she comes in contact with are already eco-conscious about where they distribute the materials.
Post-festival clean-up
While there is continuous work being done on-site throughout the span of the festival weekend, the efforts for a clean park exceed the four days. Once the festival is over, Sorlie said sustainability efforts continue through waste haul partnerships where unused materials including food, furniture and signage are donated to local charities and businesses in need.
C3 also works alongside the city of Chicago, the park foundation recreation department and waste hauling partners to ensure the park is completely cleaned after the festival.
"Festivals make a lot of waste, and we are trying to be as proactive as possible, as opposed to being reactive," Sorlie said.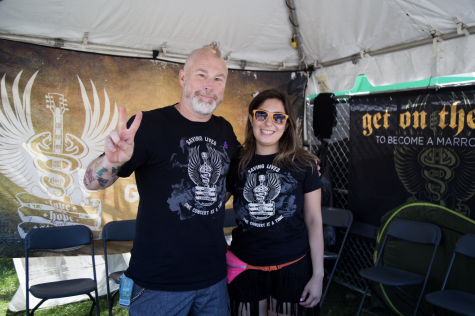 Room for improvement
Ryan Eggleston, an 18-year-old attendee from Indiana, said he consciously tries to look for recycling bins and that people his age generally care about sustainability practices. This year was his second time attending Lollapalooza, and he said he has not noticed many people taking the initiative to recycle when bins start to overflow.
Maggie Hesler, 19, from Valparaiso, Indiana, said she appreciates the festival's efforts to maintain a green event, from the refillable water stations to the variety of waste bins on-site.
Hesler said one way the festival could improve its efforts is to put up more signage or arrows for where the recycling bins are located.
"I want to see people care about recycling, care about the space that they're in," Hesler said. "A lot of people my age, college-aged, they care."