Lens on Lightfoot: Chicago journalists discuss civilian oversight with the mayor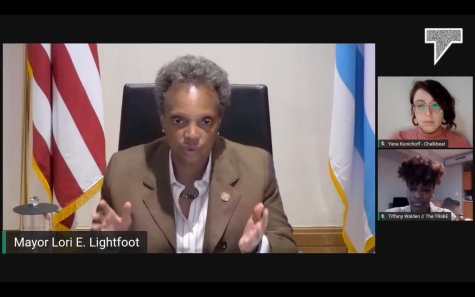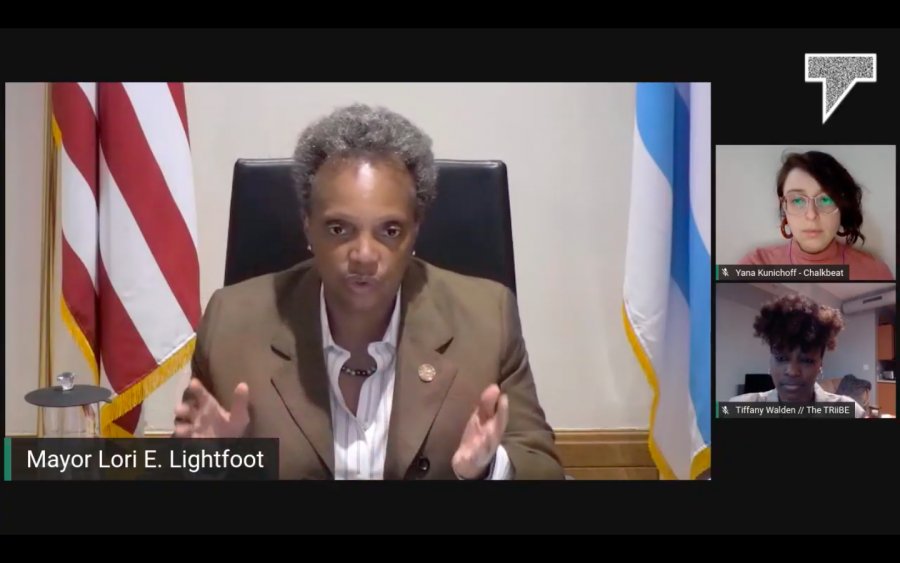 Chicago Mayor Lori Lightfoot wants to create a civilian oversight plan for the city's police system—and she wants it done fast.
"We've waited too long," said Lightfoot. "The time is now for us to act. We can't wait anymore."
Lightfoot aired this and other grievances in a virtual town hall Tuesday, Sept. 29, co-hosted by the TRiiBE—which describes itself as "a digital media platform showcasing innovative content to reshape the narrative of Black Chicago"—and the Institute for Nonprofit News. The town hall featured reporters and editors from seven local publications who comprise the "Lens On Lightfoot" project.
Kick-started in November 2019, the project is a yearlong endeavor that aims to closely examine the Lightfoot administration and evaluate to what extent campaign promises have been fulfilled. The project is set to wrap up on Oct. 31, 2020.
Since the beginning of her campaign for mayor, Lightfoot has been a supporter of the Grassroots Alliance for Police Accountability (GAPA), but has recently changed her tone. Alex Nitkin, a reporter for the Daily Line, said the ordinance would have increased civilian oversight of the police and was supposed to see a City Council vote, but never did.
"There were remaining issues that we had been waiting for a long time for them to come to us with the proposal, and they've just never done it. So,we're moving on from GAPA," Lightfoot said. "It's unfortunate that GAPA has not come forward to us with a concrete proposal that solves some of these outstanding issues."
Lightfoot said she would not commit to a specific plan for civilian oversight of the police, like the Civilian Police Accountability Council (CPAC) ordinance, which was originally proposed in 2016 but rejected in 2018. However, a new version was introduced in October 2019 and is currently under review by the Public Safety Committee of the Chicago City Council.
Instead, Lightfoot said she wants to work with the city to create a new plan that builds off the ideas presented in GAPA.
"I expect to work with [alderpeople] to propose an alternative form of civilian oversight that we will introduce in either October or November," Lightfoot said.
She said both police and purveyors of violence and unrest in the city need to be held accountable, recounting an incident during unrest in the city earlier in the summer in which a police officer lost his eye.
"I just want to make sure that we have a balanced approach and a balanced narrative, because there's a lot of challenges that we are all facing, and the only way through is forward by uniting together and not dividing us along different lines," Lightfoot said.
After the town hall during the journalists' public discussion, Matt Harvey, a general assignment reporter for the TRiiBE, said Lightfoot did not appear to give serious consideration to any of the ideas presented.
"[The demands of protesters] aren't necessarily things that this 'progressive' mayor cares about—at least not to a degree that she's willing to make any real significant, radical change," Harvey said.
Lightfoot also said a decision will be made soon regarding the method of instruction Chicago Public Schools will implement in November.
"Our primary focus is on making sure that we keep our entire school community safe. And we're going to be guided by the public health guidance," Lightfoot said.
Yana Kunichoff, a reporter for Chalkbeat Chicago, pointed out that as guidelines for restaurants and other businesses around the city have eased, many parents will count on schools to reopen.
"There's no comparison between bars, restaurants and a school setting. In the school setting, we've got to look at the entire school community and focus on what is going to make sure that every single member of that school community is safe," Lightfoot said.
When Kunichoff asked about CPS' Chicago Connected program, which aims to provide free internet access to CPS students, Lightfoot said while progress has been made, the program has not yet reached its goal of having 60,000 households signed up.
"We're not where we want it to be. And I think part of the difficulty is, even though it's free, it's about making sure that families feel safe in signing up," Lightfoot said. "Currently, we have over 25,000 households that are signed up, and that is the equivalent of almost 38,000 students towards our goal of 60,000 households at 100,000 students."
Lightfoot concluded with an emphasis on the importance of having spaceslike this town hall for open discussion.
"I think it's important for us to continue to engage with each other, to open dialogue and to ask the hard questions," Lightfoot said.