Lamont Robinson elected as 4th Ward alderperson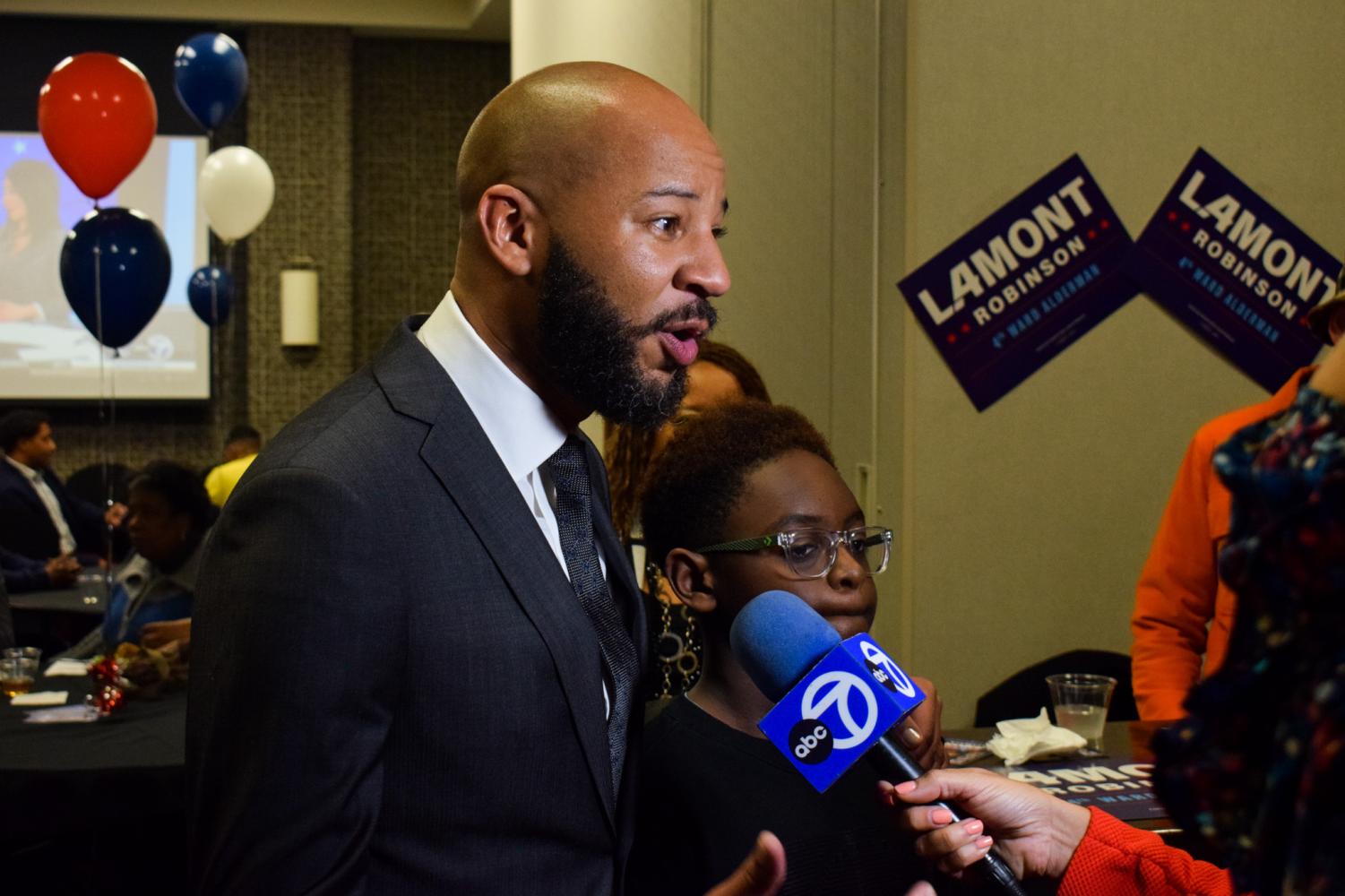 2023 ELECTION
---
Illinois State Rep. Lamont Robinson will serve as the next alderperson for the 4th Ward. He will replace Ald. Sophia King who lost her bid for mayor in the February primary. Robinson will be the first openly gay Black man on the Chicago City Council. 
"So friends and family, tomorrow starts a new day in the 4th Ward to continue to build on the seeds that have been planted, and to water some new seeds," Robinson said during his speech to a crowd of supporters. 
Unofficial results from the Chicago Board of Elections show that with 89% of precincts reporting, Robinson garnered 66% of votes, while Prentice Butler got 33%. Butler has yet to concede the race. 
Bronzeville resident Marla Blair said that Robinson is a "truly dedicated" public servant. Since 2019, Robinson has served as state representative for the 5th House district, a narrow band that runs north of the city, through the Loop and then south to the Greater Grand Crossing area.
"He actually cares about moving the 4th Ward forward," Blair said. "He's done great work as a state representative and I know that he'll bring that same energy [and] passion to the ward." 
Butler entered the runoff by a narrow margin and was supported by primary candidates Tracey Y. Bey, Khari Humphries, Ebony Lucas and Helen West. Lucas is suing Robinson and Cook County President Toni Preckwinkle for alleged defamation stemming from a campaign mailer.
Robinson faced accusations that he exaggerated his role in saving Mercy Hospital from closure back in 2020. 
Cook County Commissioner Bill Lowry said Mercy Hospital was an example of Robinson's leadership, and that Robinson is a "hard worker" who will bring resources to the area.
"During his time in Springfield he brought back a lot of resources for this area, including the 4th Ward. Those relationships remain and he'll continue to service the community even though now he'll be working as our alderman," Lowry said. 
Robinson had previously been endorsed by Cook County Board President Toni Preckwinkle. 
"We worked with Lamont Robinson from the beginning, circulated petitions for him, of course, and this is a great night," Preckwinkle said. "I'm proud of his hard work and I look forward to working with him."
Robinson told the Chronicle that he will address crime and homelessness. In his victory speech, Robinson said the 4th Ward needs affordable housing for all. 
"We need to be able to make sure that we have affordable housing for people that want to purchase homes, like teachers, officers, firefighters and entrepreneurs. Homes are $400,000," Robinson said.
Robinson told the Chronicle he will meet with Columbia faculty, administration and students. 
"I want my office to be a one-stop shop, if students are needing assistance, whether that be something at the city level or the federal level, that they can reach out to my office," he said.
Ruth Johnson, Elizabeth Rymut, Olivia Cohen, K'Von Jackson, Addison Annis and John McGowan contributed to this report.