Candidates for 4th Ward Alderman want to address crime, housing, education in South Loop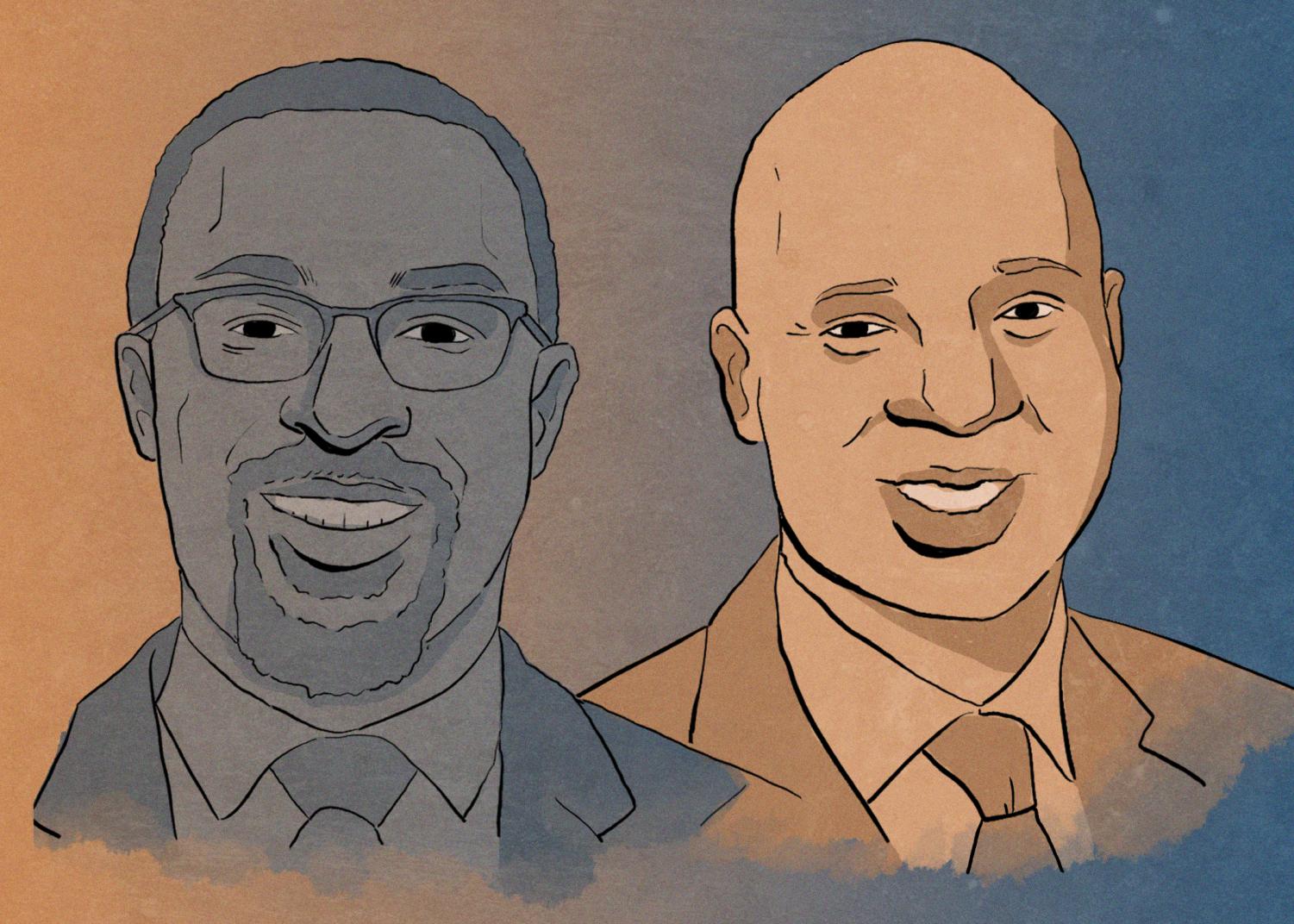 2023 ELECTION
---
A new 4th Ward alderman will be elected next month in the April 4 runoff election.
Every four years, the city elects 50 alderpersons, each representing a different ward, to make up the City Council. The alderperson is responsible for representing their community's interests, and they do this through distributing the wards annual budget from the city, as well as voting on laws, grants and more.
Columbia is in the 4th Ward, which contain parts of the South Loop, Bronzeville, Oakland and Kenwood. In February, an aldermanic forum put on by South Loop Neighbors allowed 4th Ward alderperson candidates a chance to discuss concerns of South Loop residents.
Lamont Robinson and Prentice Butler are the two 4th Ward candidates facing off in the runoff election.
The race has been contentious. Four of the candidates who didn't make the run-off — and one candidate who was removed from the ballot — endorsed Butler for alderperson. One of the former candidates also is suing Robinson for alleged defamation stemming from a campaign mailer.
"Although they might not be supporting me, I look forward to working with each of them as I become alderman of the 4th Ward," Robinson told the Chronicle.
Meet the candidates
Robinson has been a state representative since 2019. An insurance agent, he is the owner of The Robinson and Caban Insurance Group. He is the first LGBTQ African-American person to serve in the Illinois legislature. 
Butler is Sophia King's chief of staff, the outgoing 4th Ward alderwoman who lost her bid for mayor in February. Prior to that, he was a legal assistant at a Chicago bankruptcy law firm.
He is also on the board for several not-for-profits like New Leaders Council Chicago, SOUL (South-Siders Organized for Unity and Liberation), 100 Black Men of Chicago and more.
The Chronicle asked a series of questions to both candidates on the topics of crime, housing and education in the South Loop area.
Crime in the South Loop is a concern for some Columbia students. How will you address this as Alderman?
Robinson said he wants to:
Meet with students of Columbia.
Work with Columbia's public safety department to determine how more resources can be provided, such as "making sure that the cameras that are on Columbia buildings are connected to the city of Chicago's OEMC."
Send officers to areas that have a high propensity for crime, like the Roosevelt and State Street corridor.
Bring together the Chicago Police Department, the commander in the area, students, faculty and Public Safety Department.
"We can't go back to the '90s where we're locking up folks. We have to have a holistic approach around public safety," he said.
Butler said he wants to:
Provide extra security on CTA platforms and trains, "especially at Roosevelt and Wabash/State.
Install extra cameras in the area.
Listen to the constituents of the community about their needs.
"I've already got a list of cameras that have been ordered by both commanders of the First and Second district," he said. "I've given a list of cameras to the South Loop Advisory Council; we try to work in partnership about some of those issues."
Housing can be difficult to access, especially for college students who are living on a budget. How would you address housing accessibility and affordability in the South Loop and in Chicago?
Robinson said he wants to make sure there are set-asides for affordable housing.
"That's something that other areas have done and we need to follow that same type of leadership in the South Loop and Printers Row," he said.
Butler said he has worked on affordable housing projects in the South Loop, including at 1140 Wabash and Jeddah Tower.
"Anytime there's new construction, I always advocate for affordable housing in those developments," he said. "We believe that people should have a fair chance to live in this community, there should be a diversity of options in the 4th Ward to make sure you can find a home and call it home for as long as you'd like in this community."
The South Loop is home to many of Chicago's unhoused individuals. How do you plan to address this?
Robinson said he will work with his colleagues in the Illinois General Assembly and City Council to put funding together for the unhoused and organizations that are working with the unhoused.
"The governor has a plan of attack to make sure that no one in our state is unhoused and trying to make sure that we bring that support to the 4th Ward," he said.
Butler said he has had experience with an encampment on Harrison street where he outsourced the Department of Family Support Services.
He said they were able to find housing for the homeless in the first district, and provided them access to drug counselors for those dealing with substance abuse issues.
"I don't want to throw people to the wind like they're animals. These are human beings," Butler said.
How would you ensure a line of communication between young people and college students in your ward and yourself to assure that you are addressing the needs of young people?
Robinson said he will:
Have regular public meetings, social events and send out information to the South Loop community, and come to meet with students, faculty and administration at Columbia.
Make sure people know how to engage with Robinson via their phone, email, and or the city of Chicago app.
"I think far too often, folks don't know how to reach out to their Alderman or any of their elected officials. But I want my office to be a one-stop shop, if students are needing assistance, whether that be something at the city level or the federal level, that they can reach out to my office," he said.
Butler said he will:
Expand the Youth Advisory Council.
Have quarterly meetings with the youth in the community.
"I think you have a lot of great ideas, and public officials, we need to harness that more than we do right now."
A large number of Columbia students were born and raised in Chicago and have attended Chicago Public Schools. Public schools are under-attended and underserved. Do you have a plan for addressing this issue in the Fourth Ward?
Robinson said he will:
Meet with the principal and the administration at each school to make sure that they have the resources they need.
Make sure schools are clean and have an aesthetic exterior.
Collaborate with institutions like Columbia and the University of Chicago to have students volunteer at CPS schools.
Butler said he supports the addition of a new South Loop High School. He would also expand Jones College Prep into vacant lots in the South Loop to make space for more students.
Many Chicago students are finding the burden of student loans particularly impactful right now. If Biden's student loan pet plan were to not make it through the courts, how would you support people that are struggling with loans?
Robinson said he will engage with students.
"It is maybe us all going to the US Capitol to demand that we support our students. Also taking a ride down in Springfield with students, engaging with our legislators to figure out what we could do at the state level as well," he said.
Butler said he likes the idea of housing programs that offer student debt relief for first-time homeowners.
He also would advocate for the city to provide loan forgiveness programs for teachers, firefighters, police and other essential workers.
"We have all this money being paid for student loans, for tuition and you'd think that's enough to provide you a good quality of life, but it's not. And it's somebody that's 42 years old and still has student loan debt, it's a cautionary tale," he said.
Is there anything else that Columbia students should know about you before making their way to the polling booth in April?
Robinson said he was an educator at City College of Chicago teaching entrepreneurship, business marketing, business management and college success.
"As an educator, I understand the importance of education," Robinson said.
Butler said he has family connections through a godmother who taught at Columbia and a cousin who attended.
He was there for the dedication of the student center "which we advocated for," he said.
Butler said he wants to continue to support Columbia.
"I want to make sure we engage each other in the arts. I would love to talk about innovative ways we can talk about how the students at Columbia can get involved in a substantive way in the art scene here to South Loop, and the entire city of Chicago," he said.