'Just the beginning': Youth strike for climate justice
From kindergarteners to college students, youth were at the helm of Chicago's Sept. 20 march in the global climate strike to demand climate justice from leaders.
"This isn't a one day event … this is just the beginning," said Kyrsten Jovita Bilkey, a Sunrise Movement Chicago member and campaign coordinator for environmental advocacy group Greenpeace USA.
Around 150 countries participated in the global strike, with another strike planned for Sept. 27. The climate strike was inspired by 16-year-old Swedish climate activist Greta Thunberg, who began skipping school every Friday since August 2018 to strike outside the Swedish Parliament in an attempt to inspire political action against the crisis.
Thunberg is currently in Washington, D.C., where she has addressed the U.S. Congress and participated in strikes outside the White House, after sailing to New York on a zero-emissions sailboat.
Many Chicago businesses and groups participated in the Friday strike that spanned from Grant Park to Federal Plaza, including Lush Cosmetics and the Field Museum.
Staff and volunteers for the Field Museum were on the frontlines of the strike to advocate for science and climate solutions; inspired by Thunberg, Lush Cosmetics shut down all U.S. and Canadian stores to participate in the strike for global action.
"Everyone needs to be doing this," Bilkey said. "People should be supporting these companies and places that are really standing with the youth, taking our side of this crisis that we're in."
A group of roughly 50 Columbia students also assembled to strike.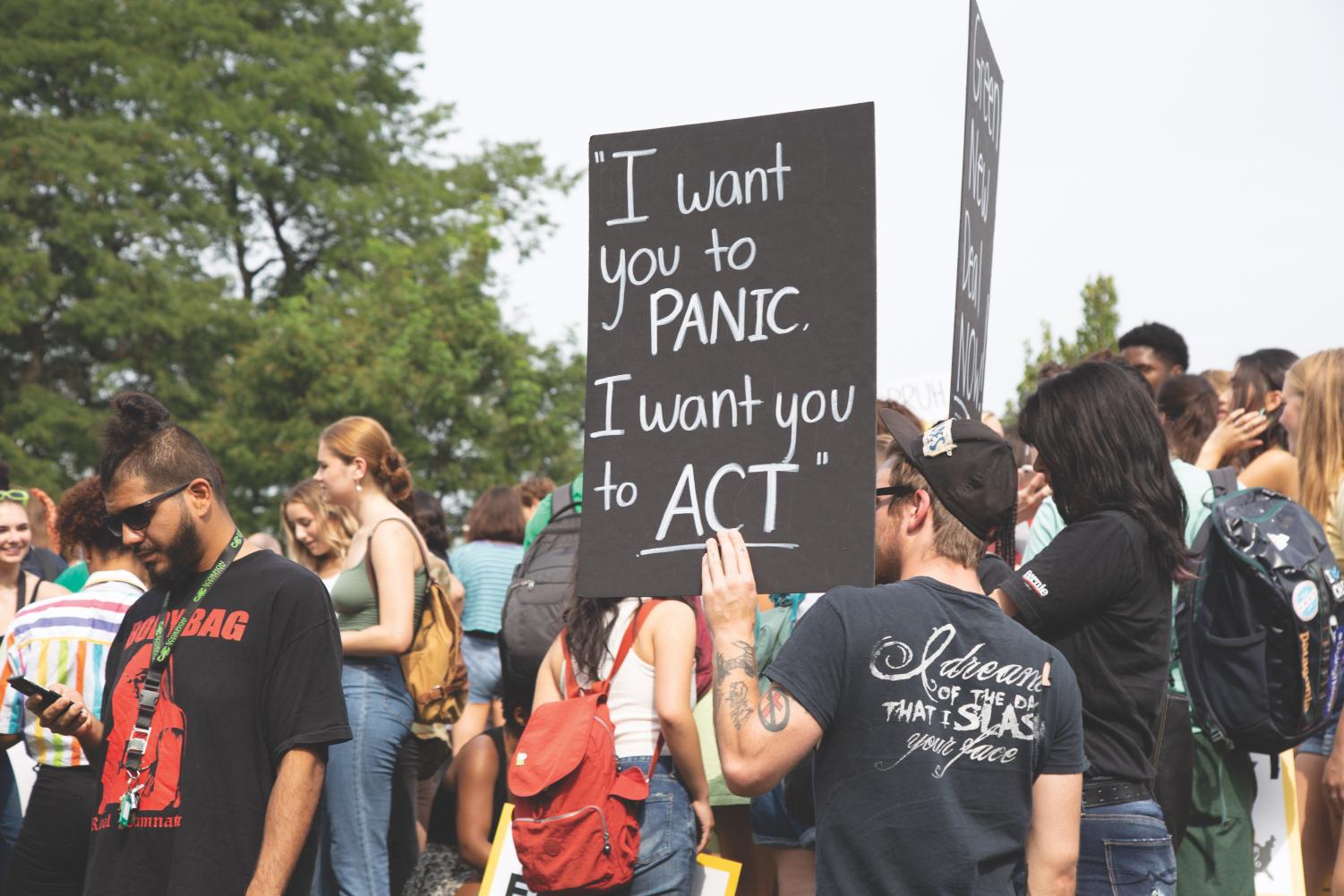 Violet Gomez, junior music major and environmental studies minor, organized the Columbia group—noticing no one else on campus was—by distributing flyers and posting about the strike on the Columbia app.
In New York City, the New York Public Schools system announced it would allow more than 1 million students to skip classes to participate in the strike.
"People of our generation now are more and more about trying to be more sustainable," Gomez said. "It's the coolest thing in the entire world that [New York City] has decided that this is an issue that deserves attention, so we're going to go ahead and excuse these students. … It's really cool that these people who are the next generation of voters to get to participate … in voicing their opinions."
In Chicago, the Sunrise Movement sent letters requesting Chicago Public Schools do the same for Chicago students to participate in the strike, Bilkey said.
However, CPS sent out an announcement to CPS principals saying students will not receive excused absences for the strike as allowed in New York City.
"At CPS, we respect and support our students' desire to voice their opinions and participate in the wider conversations taking place about important social issues," said CPS CEO Janice Jackson and Chief Education Officer LaTanya McDade in the announcement. "However, providing a high-quality education and ensuring your child's safety is our top priority, and we must ensure students do not miss out on valuable instruction time."
Mayor Lori Lightfoot did not participate in the strike, although she did host a Thursday town hall at George Washington High School in the 10th Ward, one of the most polluted wards in the city, where she promised to create an office of the environment to address pollution and environmental issues.
"These kids are courageous enough to be putting their education on the line. … Institutions should be accommodating and, if not, then it really questions which side [they're] on," Bilkey said. "I'm hoping adults, being so complacent in downtown doing their everyday lives, will be so inspired by these children out here on the streets that they finally wake up to the climate crisis and be adults and take action."
It was not just youth taking to the streets, either. Robert Lamont, an 83-year-old member of Veterans for Peace, was one of many supporting the climate strike.
"Believe the science, not the politics," Lamont said.
Bonnie Petersen, a 72-year-old longtime environmentalist and member of Indivisible Chicago, an anti-Trump community group, was part of the security team to keep students participating in the strike safe.
"Adults haven't done enough," Peterson said. "I have children and grandchildren that I want to see [have] clean water, clean air, uncontaminated foods and parks to go to, so that's why I'm here."
With the 2020 election on the horizon, Bilkey and Gomez said the climate strike is instrumental in bringing awareness to the climate plans of presidential candidates such as Sen. Bernie Sanders (I-Vt.), Sen. Elizabeth Warren (D-Mass.) and Sen. Cory Booker (D-N.J.), as well as informing state and federal legislative climate action with Congress' Green New Deal and Illinois' Clean Energy Jobs Act.
"We need this magic number—3.5% of the population needed to strike and have mass non-co-operation like a strike to achieve social change … and disturb the masses of society to shut down and cause the government to pay attention to the people," Bilkey said. "We are going to keep [striking] until we reach the goal that we need, until we have a climate leader."
Additional reporting by Camilla Forte.