Jim DeRogatis receives Lifetime Achievement Award: 'I'm not quite dead yet'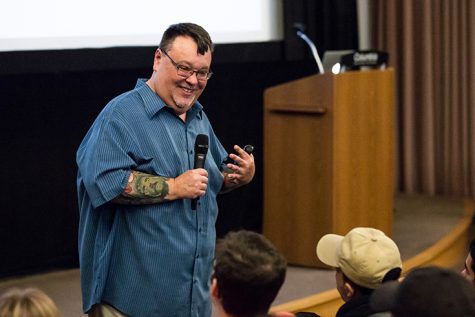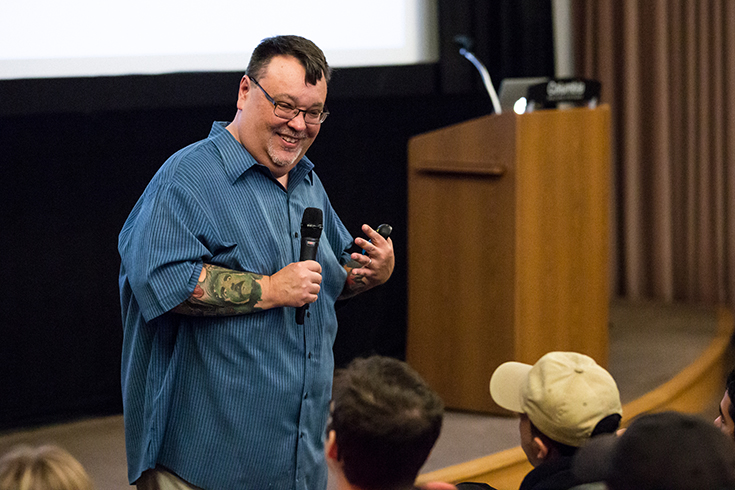 After receiving a Lifetime Achievement Award, all Jim DeRogatis had on his mind was the next story he planned to write, the latest episode of Sound Opinions and the next great album to be released. 
"I don't know if you've ever seen 'Monty Python and the Holy Grail,'" DeRogatis said. "But you know, 'I'm not quite dead yet.'" 
DeRogatis does not pay much attention to awards, but having the Chicago Headline Club highlight his achievements through the 2020 Peter Lisagor Awards is quite an honor, he said. 
"Jim DeRogatis' work speaks for itself—he's not only been a champion of music and musicians, but also a key investigative voice in the industry. We were honored to spotlight Jim's body of work with this Lifetime Achievement Award," said Robert K. Elder, president of the Chicago Headline Club.
Along with being an associate professor of instruction in Columbia's English and Creative Writing Department, DeRogatis is the co-host of the music radio talk show Sound Opinions on Chicago Public Media WBEZ 91.5 FM. He was a pop music critic for 15 years at the Chicago Sun-Times and has written for publications like Rolling Stone magazine, the New Yorker and Buzzfeed, among others. 
Though nominated in part for the nearly 19 years of reporting on sexual abuse claims against R&B singer R. Kelly—which resulted in his book "Soulless: The Case Against R. Kelly"—DeRogatis said the credit for his award goes to the "brave, young women who spoke out." 
"They stopped R. Kelly; I simply amplified their voices, and did all the rest of the work," DeRogatis said. 
DeRogatis' success as a journalist and a critic comes as no surprise considering how he got his start. As an eager 17-year-old in Jersey City, New Jersey, who had driven his high school journalism teacher crazy with countless questions about investigative reporting and journalism as literature, he was assigned to interview a hero in his chosen field to "shut him up." 
As a heavy reader and admirer of journalist and music critic Leslie "Lester" Conway Bangs, DeRogatis spent an entire day with him in his New York apartment in 1982 discussing music and criticism, just two weeks before Bangs died.
"That day changed my life," DeRogatis said. "That day is why I became a music journalist and critic. That day is why I teach at Columbia."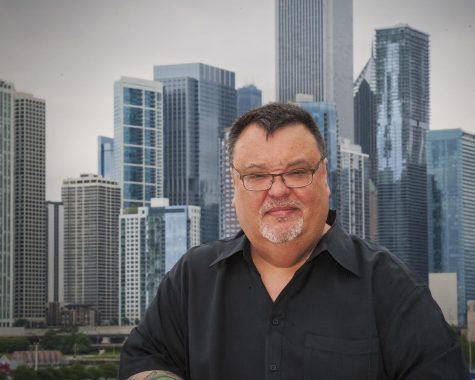 DeRogatis later wrote a biography of his hero: "Let it Blurt: The Life and Times of Lester Bangs, America's Greatest Rock Critic." His experience and book would later "become fodder for" the 2000 film "Almost Famous," according to the Chicago Tribune.
Cait Kegley, a junior creative writing major, has taken DeRogatis' "Seminar in Literature: Journalism as Literature" and "Reviewing the Arts" courses. She said his teaching style is both intriguing and honest. 
Aside from the significant work DeRogatis has done in journalism and criticism, Kegley said he effectively teaches classes with "interesting and engaging content," and has proved he is dedicated to helping students and telling stories. 
Colin Lenburg, a senior cinema art and science major who has taken three of DeRogatis' classes, said he and DeRogatis are both opinionated and loud, thus "two peas from the same pod." 
"This was actually very recently … he said 'The most talented people are those that are willing to be generous and those that are willing to help others grow,' and that always stuck with me," Lenburg said. "He helped me, he mentored me through college. … I couldn't thank him enough." 
Pegeen Reichert Powell, chair of the English and Creative Writing Department, said DeRogatis' time at Columbia has been characterized by his concern for students, his devotion to teaching and his big laugh. 
"While it is important for students to see achievements like this … it's more important that students in English and Creative Writing see Jim's uncompromising commitment to strong writing and thoughtful arguments, and they see that when Jim responds carefully to his students' writing," Reichert Powell said. 
After graduating from New York University in 1986 with a journalism degree, DeRogatis spent 10 years working as an investigative reporter in New Jersey while writing about music on the side. He said the skills he learned in hard news enhanced his work in music criticism.
DeRogatis is a drummer in a band and attends as many performances as he can. He also played music on college radio. He said great critics are "first and foremost fans of the art form they are writing about." 
As a co-host for the Sound Opinions radio show and podcast, DeRogatis converses with co-host Greg Kot, a former music critic for the Chicago Tribune, about musical genres, history, artists and albums.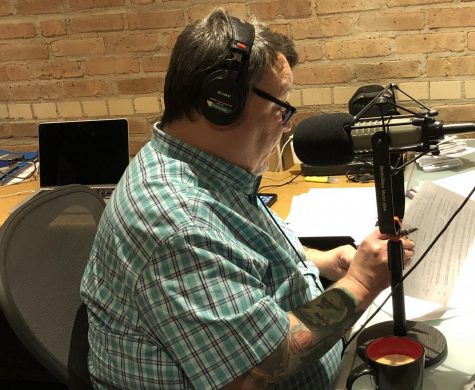 In the early 1990s, DeRogatis and Kot were immersed in covering Chicago's music scene, often attending the same shows. Kot said their personalities are "certainly different," which is why their show works so well. 
"The conversations we have on radio are basically extensions of how we talk to each other about music when we aren't on the air, from years of sitting or standing next to each other at concerts or grabbing coffee at a diner," Kot said. "We're not radio pros. We started as newspaper critics. As writers, we aimed to start a conversation with our readers." 
Kot said while DeRogatis is a good music critic, he is also a good reporter—which is a rare combination in music journalism. 
A piece of advice DeRogatis gives his students is to always be "voraciously curious," which he said has assisted him in his writing. 
"Expertise comes with time, but expertise matters about 1% and 99% is passion. I have a passion for this art form, to tell these stories, to listen to this music," DeRogatis said.
This story was updated Thursday, May 21 at 2:45 p.m. with additional details.