Isaiah Sharkey delivers 'magical' performance in Columbia residency concert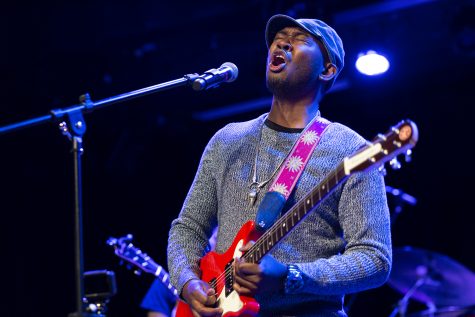 In a dimly lit concert hall on the south end of Columbia's campus, 29-year-old musical virtuoso Isaiah Sharkey played his guitar for a packed room with passion and vigor.
As a 4-year-old boy growing up in the Cabrini Rowhouses, a public housing development on Chicago's Near North Side, Sharkey was quickly introduced to his family's business––music.
When Sharkey was 14, he recorded and released his first album, "Skyliner," in 2005 in collaboration with his brothers and his father, Michael Sharkey. Isaiah Sharkey's versatility came through the album with a lyrical improvisational style reminiscent of jazz guitarists such as Wes Montgomery and George Benson.
Since then, Sharkey has worked with artists such as Paul Simon, Chris Martin and Lupe Fiasco, and won a Grammy in 2015 for his guitar work on D'Angelo's album, "Black Messiah."
With a line of accomplishments following him, Sharkey visited Columbia's Music Department to share his journey with burgeoning artists through the artist-in-residence program, which brings internationally-renowned musicians to the college to spend a week engaging in workshops, master classes and recording sessions with music majors.
Sharkey spent the week of Feb. 24-28 lending industry and life advice to Columbia's music students. He said his desire to give back stems from watching aspiring artists grow.
"Being a lover of music, I always want to share ideas that might be useful for others," Sharkey said. "You like to see the students growing; it's a good thing."
Bill Boris, coordinator of Fretboard Studies and associate chair of the Music Department, said one of the main objectives of the program is to provide students with real world experience while still being in school.
"The students get a feeling of playing with somebody that's on the highest level possible," Boris said, "playing with somebody like that, and also what it feels like to prepare for [a show] and being relaxed about it."
Jett Lucas, a junior jazz guitar major, said Sharkey was gracious and approachable, and that working with him during rehearsal was a smooth and easy process.
"We immediately connected and we talked like we'd known each other for a long time," Lucas said. "Compared to other artists-in-residence, he's been the easiest to work with."
Throughout the week, Sharkey rehearsed with five Columbia music ensembles and their work was performed at the residency concert, which took place Friday, Feb. 28 at Columbia's Music Center, 1014 S. Michigan Ave. During the first set, Sharkey played with the Recording and Performance Ensemble, even performing an original composition of his song "Heaven," where his humming guitar chords and silky vocals filled the room.
During his set with the American Roots Ensemble, Sharkey played his own rendition of "Manic Depression" by Jimi Hendrix, where his heavy, weighted guitar lines provided a stark contrast to "Heaven."
Those in attendance were appreciative of the experience, including senior music major Shannan Moore, whose favorite groups were the R&B and Guitar ensembles. She said she was "blown away" by the artists Columbia brings in through the program.
"It's amazing that Columbia can bring in such talented people," Moore said. "We get to work with people who are in the field and know what they're talking about."
Lorin Cleveland, a senior music business major who is a vocalist with the Fusion Ensemble, said Sharkey is a natural on-stage and that it is easy to tell if someone feels connected to their instrument. With Sharkey, she said, "it's magical."
"It makes me happy that in the midst of all of the things going on in the world, there's still young people that love music," Sharkey said. "It's a positive thing, especially in Chicago."