Illinois coalition of faculty and staff demand remote college instruction for fall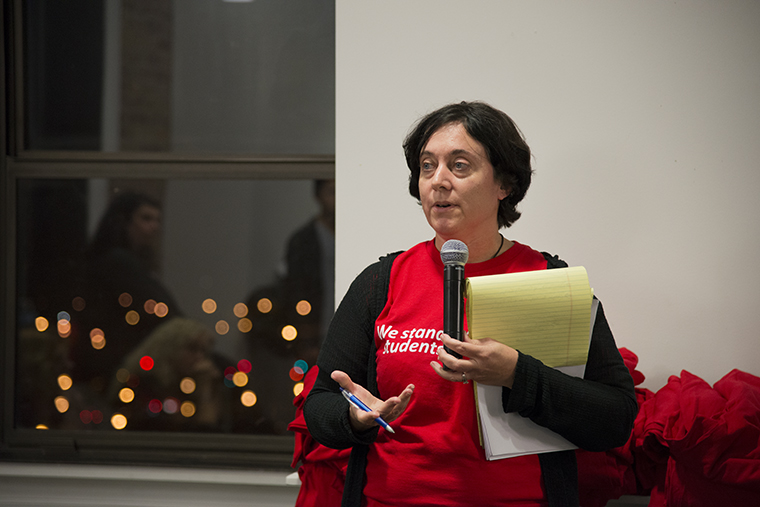 Unionized faculty and staff from various public and private Illinois colleges and universities throughout the state—including Columbia​'s part-time faculty union—are demanding an entirely remote-learning platform "with few exceptions" for the Fall 2020 semester.
During a Thursday, July 23 press conference, members of the Illinois Federation of Teachers, or IFT, a coalition of higher education unions representing thousands of faculty, staff and graduate workers, provided a list of demands including strictly remote-learning until the coronavirus pandemic is properly understood, extended health insurance and more collaboration in the decision making process among faculty, staff and administrators.
IFT released a joint statement formally demanding learning begin remotely in the fall for all Illinois colleges and universities.
"The novel coronavirus and global pandemic have created hardships for students, faculty, and staff and continue to financially harm our institutions. … We know the safest option is to limit direct and sustained face-to-face contact," the statement said. "Further, faculty and employees alone should decide whether they are able to teach or work remotely without interference from the institution."
Those a part of IFT and the groups issuing the joint statement included faculty and staff from schools including Columbia; the University of Illinois campuses in Urbana-Champaign, Chicago and Springfield; Northern, Northeastern, Eastern, Western and Southern Illinois universities; the University of Chicago; Chicago State University; private schools including Loyola, Roosevelt and St. Xavier; City Colleges and other regional community colleges; as well as additional labor unions and educational associations.
Diana Vallera, president of CFAC, Columbia's part-time faculty union, and adjunct faculty member in the Photography Department, helped bring the coalition together. She said while different institutions in Illinois range in size and resources, they all share the same concerns for the health and safety of students, faculty and staff.
Vallera said, in regards to Columbia specifically, the college's current plan for the Fall 2020 semester falls short of what was promised and does not properly follow the Centers for Disease Control and Prevention's guidelines.
While the college is enforcing face masks and social distancing and strongly encouraging hand washing through highly visible signage and repeated email communications, Vallera said it fails to address the installment of proper air filters and ventilation, which she said is an issue for many of the older Columbia buildings.
"The defaults must be that the classes being offered in the fall have to be remote," Vallera said. "None of us want that. We are all very disappointed, but we have to put health and safety before economic reasons [and] before policies or political reasons."
In the joint statement, IFT faculty and staff spoke about key issues with reopening campuses for in-person learning, including another potential outbreak of the coronavirus, students not practicing social distancing, health care access for employees and proper ventilation systems in older buildings.
During the press conference, IFT members said faculty and staff have often been left out of conversations pertaining to a safe return to campus and have been limited on the input they are allowed to give.
Vallera said students, faculty and staff all need to be aware of what they are dealing with when returning to campus and that there is a "lack of moral leadership" with colleges—including Columbia—not being transparent about these issues.
"The students, faculty [and] staff should have agency over their own health," Vallera said.
In a Friday, July 24 email to the Chronicle, the college said it has "developed a comprehensive plan to re-open, promoting the health and safety of those on campus, informed by guidance from health authorities."
The statement from the college said the mix of remote and in-person instruction is designed to give students and families the best options suited for their needs and goals.
In its statement, IFT also released a data-based document for best practices and a summary of practices for an eventual safe reopening of campuses.
These included requiring social distancing, PPE, proper hand hygiene and reasonable accommodations for employees who are at high-risk, as well as developing special plans for students, faculty and staff in vulnerable populations and recognizing precautions required for hands-on instruction in some courses like music, dance and labs.
In determining best practices for a safe return to campuses, Vallera said the IFT consulted with three scientists to create a science-based approach for returning.
In its email statement, the college said it continues to monitor health data and government guidance and may modify plans accordingly.
IFT said in its statement that the mode of instruction should solely be a faculty member's choice and all courses should be remote except for those that must have a face-to-face component, which must have a risk assessment of the classroom environment.
It added that faculty assigned to courses with a face-to-face component should be able to opt-out without employment repercussions.
After IFT released its statement and demands, Vallera said Columbia needs to thoroughly look at its courses and narrow down which ones need to be in-person, then put together a manageable list for students to choose from at their own will, followed by a risk assessment in every classroom.
In its email statement, the college said it encourages employees who do not want to return to campus for in-person instruction to discuss it with their academic departments.
It said if an employee has or may have a condition listed by the CDC as putting them at higher risk, they should contact the human resources office to request an accommodation under the Americans with Disabilities Act.
Vallera said IFT is planning to hold a virtual town hall in the next few weeks, which will be open to all faculty, staff, students and their families, with a panel of experts and a scientist to provide safety information. More information on the town hall will be provided soon.
"[This] is going to take time; we are going to have to look at it, [but] I am prepared to do it … the school needs to make that kind of commitment," Vallera said.
This story has been updated to further clarify that from Columbia, only CFAC, the part-time faculty union, signed the joint statement and participated in the press conference.