Identity, race, responsibility and empathy: Columbia theatre students set to perform 'Blood at the Root'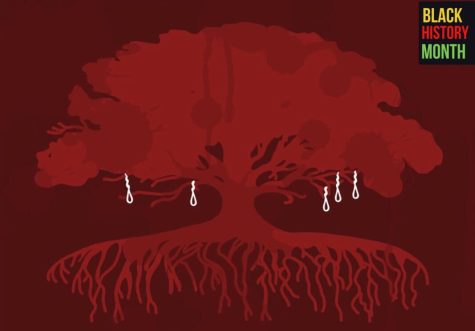 Throughout her four years at Columbia, Ashley Keys, a senior theatre major, has had few opportunities to partake in theatre productions that highlight Black voices at Columbia. Now, in her last semester at the school, she is directing one herself.
Keys is the director of the Columbia play "Blood at the Root," based on the true story of the "Jena Six," a group of Black high school students who were accused of assaulting a white classmate in 2006 at Jena High School, located in Jena, Louisiana. Keys originally selected and directed the play over Zoom last school year, but chose to direct it again in person because she said it was important to show.
This time around, the play will be performed at Columbia's Getz Theatre Center, located at 72 E. 11th St. The show will run March 8 through 10, and tickets will be free.
"This play, to me, is really special and important, but I think it is something we still see happening today," Keys said. "We see a lot of young Black teenage boys coming in and out of prison, and we [still] have the school to prison pipeline issues, so I thought it was really important that we talk about these issues. … I thought this was a story that not only needed to be told but needed to be heard by our community on campus."
Keys said during her time at Columbia, Black stories have not been prioritized, especially within the Theatre Department.
"[The Theatre Department has] gotten better at this the last couple of years, but it still is not where we need it to be," Keys said. "I really wanted to have a show that is by a Black playwright, while also showcasing our Black actors as well, which we don't see a lot on stage."
Luke Comfort-Cohen, a first-year acting major, said when sitting down with the full cast to discuss the play for the first time, one word that kept coming up was "responsibility."
"Both from a space of professionalism and understanding the weight that we are carrying on our shoulders, I think at our very first rehearsal, we all went around the table read and said how we felt about the play, and the word that kept coming up was 'responsibility,'" Comfort-Cohen said. "We all feel such a tremendous responsibility to get this right. … There is no room for failure because we are carrying such an important message."
Miranda Starke, a first-year acting major, who is portraying "Toria" in "Blood at the Root," agreed with Comfort-Cohen.
"[This role] has helped me grow as a person and become more empathetic to things that I haven't had to experience because I am white," Starke said. "[This play] has given Black History Month a new meaning to me, because I've been able to understand a story that really is about a racially-charged subject and how important it is to understand the history and the weight of the situation of the Jena Six trial."
Jory Holmes, a sophomore acting major, said he has related to the play since high school. Holmes said the play is not only about racial divisions, but it also discusses identity and seeing issues from the other perspective.
"I think this show will definitely leave people questioning everything that they thought they were or who they are, and [it] will really make you wonder how really 'woke' or how much you really know about yourself in life," Holmes said. "It will leave you questioning society, for sure."
Holmes said through portraying the character Justin, the play has taught him to question the status quo in society and allowed him to get in touch with who he is as a person.
"Being an African-American man in today's world is hard, and it is challenging," Holmes said. "This show has taught me how to live life for you and also how to stand up, to take a stand and how to take a stand and when to go against the grain and say 'hey, this is not right,' … no matter what anyone else thinks."
Holmes said "Blood at the Root" has allowed him to realize the layers and complexity of life.
"When I was first introduced to this play, I saw things so surface level; I saw things very much as one thing," Holmes said. "But this has allowed me to see that life, people, politics, school, it's like an onion; there are so many layers it to it, and to people, period."