Guest Column: It's showtime, folks—Oscar 2020 Best Picture predictions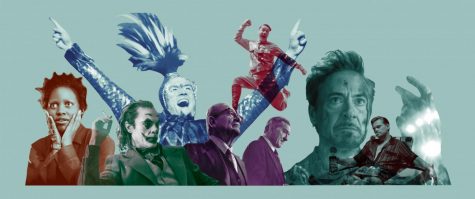 It's that glitzy time of year again when actors and directors are traveling the globe, doing junket after junket for their press tours to promote their latest films, all while trying to keep their names at the forefront of Oscars Academy voters' minds. It may seem like overexposure to some, but such is the fuel that powers the Hollywood machine.
As always, one of the most coveted awards that can be received in the world of entertainment is the Academy Award for Best Picture. This year, the 92nd recipient will be announced Feb. 9, 2020. The nominees will be announced on Jan. 13. The exact number of nominations in the category varies each year but typically rings in around eight or nine. Because spots are so limited, conversations for possible Best Picture nominees tend to begin quite early.
Some could argue that this year's guessing game began as early as March—nearly an entire year before the ceremony—when writer and director Jordan Peele unveiled his highly-anticipated sophomore feature, "Us."
The problem with releasing films early in the year—or even amid an array of punchy summer blockbusters—is it can become easy for a film to be forgotten or overshadowed by last-minute contenders that typically arrive during the holiday season.
Films released between September and December are considered prime real estate as Academy voters begin gearing up for the awards season and are typically thinking about the most recent films they've seen.
Here is a list of top contenders for the 2019 Academy Awards Best Picture Nominees:
1. "Once Upon a Time … In Hollywood" (2019)
Quentin Tarantino's ninth film—which did well in its late-July release—is high on the list for many critics. Part fiction, part fact, Tarantino's almost-biopic is practically guaranteed Oscar bait.
2. "Joker" (2019)
Also considered a top contender is Todd Phillips' "Joker," which delivers a brutally emotional origin story for the infamous Batman villain. The film is carried by the phenomenal performance of Joaquin Phoenix in the title role—one that is worthy of its own Oscar nomination for Best Actor.
3. "Jojo Rabbit" (2019)
Slowly but surely growing into the hearts of critics is Taika Waititi's World War II-set dramedy "Jojo Rabbit." Equal parts drama and satire, in a way that only Waititi could pull-off, this film may seem a bit controversial to the Academy due to its satirical inclusion of Adolf Hitler, played none other than by Waititi himself, but this storyline may yet be saved by its heartwarming underlying message.
4. "The Irishman" (2019)
Clocking in at nearly 3 1/2 hours, Martin Scorsese reels in his audience by reuniting some of cinema's greatest legends on the big screen: Joe Pesci, Robert De Niro, Al Pacino and Harvey Keitel in a true story surrounding the death of Jimmy Hoffa.
5. "Avengers: Endgame" (2019)
Possibly making a push for a victory lap after the successful nomination of last year's "Black Panther" is Marvel Studios' "Avengers: Endgame." Though one of the least-likely films to win if it gets nominated, a Best Picture nod for the highest-grossing film of all time would be a nice way to culminate 10 years of the Marvel cinematic universe.
6. "Rocketman" (2019)
Though Taron Egerton's performance has been praised and may be nominated in the Best Actor category, the film itself was met with mixed reviews and may fall victim to its late-spring release date if the studio does not push hard on the campaign trail toward the award ceremony.
Other festival favorites that could wrangle a nomination include, but are not limited to: "A Beautiful Day in The Neighborhood," "Ford v. Ferrari," "Marriage Story" and "The Report." Lower on the list of possible contenders are indie darlings such as A24's "The Lighthouse," Olivia Wilde's directorial debut "Booksmart," and Rian Johnson's whodunnit flick "Knives Out."
What do you think? What are your favorite films of the year? Are there any films that you think should be added or removed from the list? Write to the Chronicle to let us know.
Kaleena Steakle is a junior filmmaking major. Though originally hailing from the Chicagoland area, she has spent the last 12 years living in Texas and is happy to be back in her hometown. She writes this column in the hopes of getting students interested and excited about movies by learning to view them critically.