From Squishmallows to fundraising: Support for Highland Park community continues in creative ways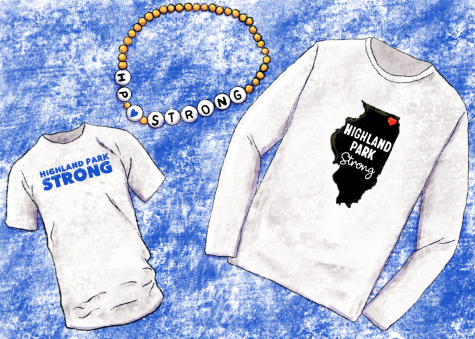 Northbrook native and frequent Highland Park visitor Kimberly Steres noticed children at the local counseling center were handed fidget toys and Squishmallows for comfort after the tragic July 4 shooting that killed seven people and wounded dozens of others.
Steres, who runs Kidtoure Designs, a personalized clothing business, saw their need for more support and donated four bags of the popular, soft plush toys Squishmallows and a bag of fidget toys to the children seeking counseling. She said her donation was needed, and each of her bags were fully distributed in one day.
"Three different times I've donated Squishmallows, and I'm happy that they're going to someone who needs them," Steres said. "It's great to see how people are really coming together and helping those who need it."
Many from Highland Park and the surrounding areas have gathered through online platforms such as the Facebook group "Stronger Highland Park" to share their "Highland Park Strong" fundraising items for sale as well as GoFundMe pages that support the victims' families. They are also sharing resources to help survivors find support groups.
"I have a business for custom kids' clothing and accessories," Steres said. "I thought, 'Hey, there's [a lot] of logos out there, let's do a shirt and donate 100% of the profits to the victims, their families, those affected by the parade and anyone who needs help.'"
Steres has raised more than $3,000 by selling around 500 shirts.
Deerfield native and PuttArt owner Beth Linderman used her skills to make "Highland Park Strong" notepads to fundraise.
"Everybody's taking their skills and whatever they're good at, and they're trying to help," Linderman said. "I know counselors who are going to offer services; social workers, teachers, clothing companies, everybody was trying to do something to give back and help in some way."
Linderman has sold more than 800 notepads, raising over $7,000 for the Highland Park Community Foundation.
The Highland Park Community Foundation will distribute money to the victims' families and organizations that offer support and resources to those affected by the shooting.
Dr. Anna Basov, clinical director and one of the psychologists at the Center for Psychology and Wellness, spoke to the Chronicle about a free group therapy service for those who were impacted by the shooting.
"We are a behavioral health, mental health practice," Basov said. "We typically see individual clients, but in light of the tragic events in Highland Park, we've decided to use our experience to try to support the members of the community in a group format."
The group therapy is intended to be a closed group, meaning everyone in that group starts and ends at the same time. Basov also explained the value of going into a group setting while coping with the tragedy.
"It's an extremely therapeutic and healing environment to be able to go through difficulties and feel like you're not alone and be connected and supported by other people who are like-minded, who've seen and experienced the same thing," Basov said.
Susan Imus, a professor in the Dance Department and former chair of the Creative Arts Therapies Department, spoke about ways to use art to cope with trauma.
"[People] feel a lack of control," Imus said. "Research has proven that making things through our dance, music, poetry, etc. assists people [with] internalizing a locus of control, and what that means is that the person becomes empowered by knowing that they can do something, that they're not totally helpless and that I can make something, [and] I can therefore choose to change what I'm making."
While fundraising, resource gathering and support continues locally, Highland Park Mayor Nancy Rotering visited Washington, D.C., on July 20 to testify in a Senate Judiciary Committee hearing. Rotering spoke about the victims' stories and pleaded for immediate federal policy changes focused on banning military-style assault weapons.
As Highland Park tries to heal from the tragedy, Linderman said her takeaway is seeing the community come together after such a horrific incident.
"I'm just very impressed by everybody," Linderman said. "There isn't any certain thing that stands out. I'm just very impressed. I think our communities are great ones, and it's great that everybody's doing this to help come together."