From Chicago to Honolulu: a photojournalist travels in the age of the coronavirus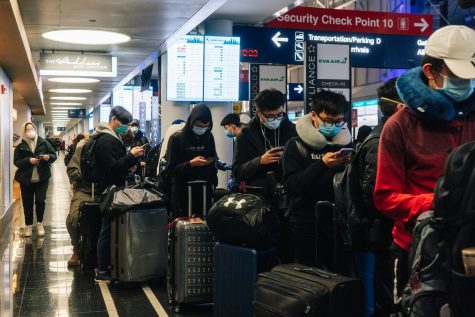 When Columbia's Photography Department announced classes would be online for the remainder of the semester, I was crushed and cried on my couch for an hour because there was no reason for me to stay in Chicago anymore.
Where should I go? Where is home? That has been a struggle for me, as it is for many students.
As someone not from Chicago, no matter where I decide home is, the only way to get there is by plane.
So, after peeling myself off the couch, I decided I would return to Hawaii, where I spent two years of college. Hawaii is like a second home to me, and besides, Hawaii is only half a world away from Chicago, compared to Taiwan. In the future, I might go back to Taiwan if the pandemic becomes more serious, but for now I remain in Hawaii.
On March 18, before I checked in for my flight to Los Angeles, where I had a layover, I decided to go to the international terminal of O'Hare International Airport to discover the situation. To my surprise, the terminal was mostly empty, except for a handful of students lined up, wearing masks and gloves as they checked in for the only direct flight from Chicago to Taipei, Taiwan.
As airlines suspended flights to China until April and reduced their flights to Japan and Korea, the flight to Taipei was one of the few flights Chinese students could still take to get home.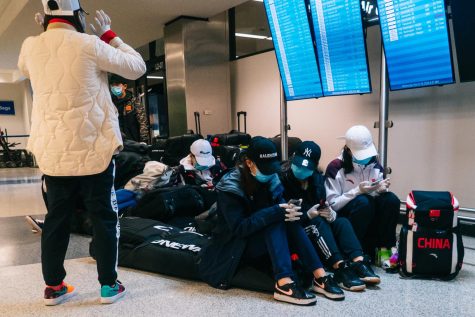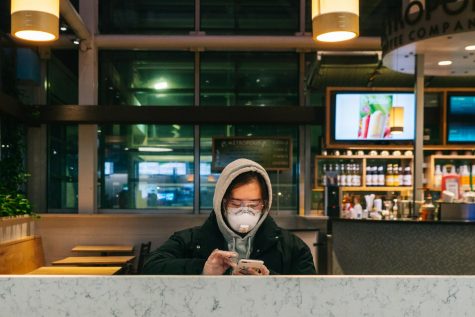 I was not the only international student from Columbia trying to return home.
Wei Lun Chen, a first-year cinema art and science-creative producing MFA candidate, and three other Columbia students from Taiwan took a direct flight to Taipei.
"Everyone was very well prepared for the plane," Chen said. "What we prepared was masks—a lot of masks—and then a pair of goggles and a raincoat."
I have never been afraid of the coronavirus. Rather, I am mad at how it impacts me, my friends, my family and the rest of the world.
Still, I bought a box of medical masks from my roommate who purchased it two months ago to be prepared for when the outbreak exploded. I, myself, decided to wear a mask on the flights, not only to protect myself but, more importantly, to protect others.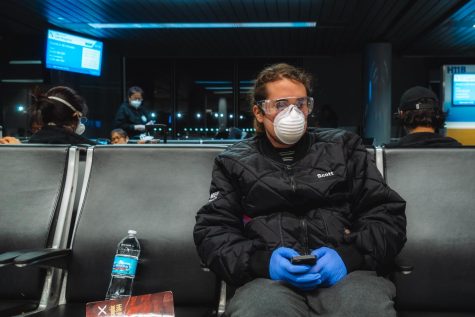 As soon as I arrived at the gate for my flight to Los Angeles, a passenger who was fully equipped in blue gloves, clear goggles and a mask was waiting to board and caught my eye. The passenger, Theo Hornbacher, a second-year painting and drawing major at the School of the Art Institute of Chicago, was also forced to move out of his dorm on short notice, like many Columbia students.
"People had to leave a lot of stuff," Hornbacher said. "A lot of stuff has been lost, basically."
Hornbacher was flying to Los Angeles to reunite with his family in California.
"I don't know if a mask or gloves actually helps or not, but you know, I'm just trying to stay clean," Hornbacher said.
On the same flight to Los Angeles, I met Nicolas Gil, a sophomore from Ventura College in California, who wore a respirator during the flight. I looked on from my seat as another passenger—who changed his seat from one away from Gil to the spot directly in front of him—used hand sanitizer to wipe down the chair. The woman who sat one seat away from me requested to do the same thing, moving an empty row in front of me. In the end, because the flight was half empty, most of the passengers sat one seat apart from another or had an entire row to themselves.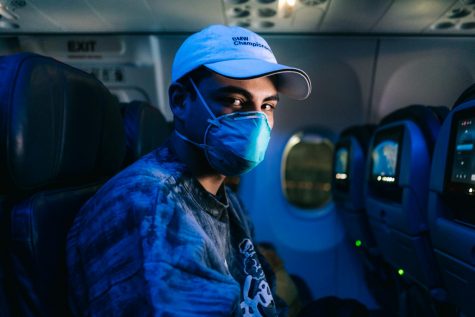 There were more passengers wearing masks on the plane than I thought. I slowly began to be more cautious every time I heard someone cough. I even used my own blanket to cover my face during the flight.
I ended up spending a night in the Los Angeles International Airport, waiting on standby for a flight to Honolulu. Sitting with not much to do for nine hours, I walked through five different terminals and found that many passengers were also wearing masks, even while sleeping—especially passengers who came from New York City, which has become the epicenter of the coronavirus pandemic in the U.S. with more than 102,000 confirmed cases in the state as of press time, with most cases occurring in the city, according to the New York State Department of Health.

Eventually, I boarded another half-empty flight from Los Angeles to Honolulu. Because it was so empty, the 11 standby passengers, including myself, were upgraded to first class. Although this was my first time flying first class, my emotions were far from excited. As a significant other of an employee from Hawaiian Airlines, I began to worry when I saw half of the flight was empty because of what it meant for their financial stability.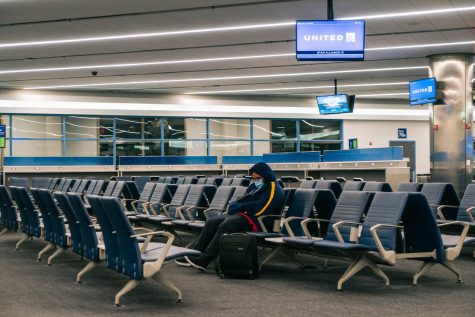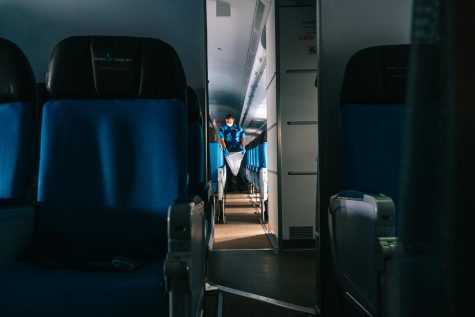 Sitting in first class, the passenger on my left brought a whole bottle of wipes to wipe down the entire seat, and a passenger on my right wore a face mask during the entirety of the eight-hour flight, even while sleeping.
Two days after arriving in Hawaii, I returned to the airport to complete my mission of documenting the near-empty airports and worrisome travelers trying to return home. Incidentally, it was the day before the governor of Hawaii announced a "stay-at-home" order, just like Illinois has.
Honolulu was expecting students on spring break and travelers from Japan, which are both major sources of tourism. Like many spring break hot spots across the globe, the coronavirus outbreak has hurt Hawaii's tourism, according to the Department of Business, Economic Development and Tourism.
It was then that, wearing face masks and gloves as they headed into the airport, I met Lisa Oliva and her daughter, who were visiting their family in Hawaii but had to cut their trip short.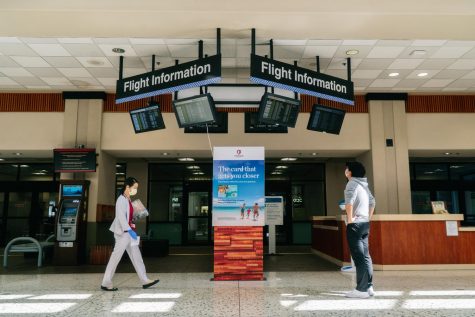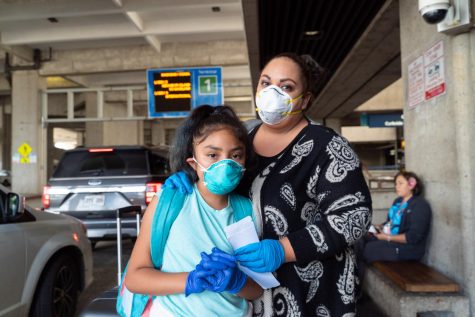 "We were supposed to be here until Monday, but we are leaving today, just in fear of our flight being canceled," Oliva said.
Unlike Oliva and her daughter, I do not know when I will return to Chicago, as United Airlines and Hawaiian Airlines have announced the cancellation of many of their long, direct flights, which will determine when and whether I can go back to Chicago.
At the same time, my family wants me to return to Taiwan. But because of the high risk of bringing back the virus to my young nephew and grandma who has blood cancer, I have pushed back against returning.
For now, staying in Hawaii is my only choice.