From campus to the city: College students can make or break food waste epidemic
Isabella Bryant has been eating out a few times per week—more than she cares to admit—because she is constantly on the go.
"I don't like doing it," said Bryant, a senior creative writing major. "I was raised where you don't throw food away because someone else could have eaten it—you have to save it for later or even reuse it for something else."
Bryant is not alone in this struggle. With hectic class and work schedules and the close proximity of restaurants, college students are a prime perpetrator of the growing food waste epidemic, ultimately contributing to food deserts and the climate crisis.
According to the U.S. Food and Drug Administration, between 30–40% of food goes to waste.
In a Tuesday, March 3 panel by POLITICO, held at Loyola University, 16 E. Pearson St., food experts spoke on how the food system is affecting the environment and what individuals can do to combat this.
Rick Bayless—chef and owner of the Chicago restaurant Frontera Grill, and known for his series on PBS Mexico: One Plate at a Time—said during the panel that a large contributor to college students' food waste is a lack of knowledge on how to cook. As a result, they turn to food delivery, much of which ends up being thrown away.
"If they were more versed in being able to turn this stuff in the refrigerator into a meal, then they would do it more regularly and throw out much less food," Bayless said.
Rodger Cooley, executive director of the Chicago Food Policy Action Council and panelist, said in an interview with the Chronicle there are many ways for students to embrace more sustainable food consumption given the recent heightened awareness of the climate crisis.
"Across the board, the explosion of interest and sensitivity and ways of thinking about [sustainability] has really grown dramatically," Cooley said. "Certainly, younger folks are really seeing [different ways] to think about sustainability much more holistically."
On an individual level, he said students can "make it part of the culture" to share excess food.
Although food waste is an issue for college students, so is food insecurity. An April 2019 study by Temple University's Hope Center for College, Community and Justice found approximately 45% of student respondents were food insecure in the past 30 days, or did not have access to food on a regular basis.
When it comes to addressing waste, Cooley said students can also push their universities to be more innovative when it comes to handling waste, collecting compost or making sure there are reusable containers accessible to students.
"[Try] pushing the campus to make it as easy as possible for folks to manage their food waste so it's not just being thrown away," Cooley said.
Bryant, who has been turning to meal prep as a way to cut down on her personal food waste, recommended the college instate a system where excess food would go to financially-struggling students.
"I know that students sometimes have a hard time accessing food," Bryant said. "If we could feed students that might have trouble getting their own lunch, it would really help."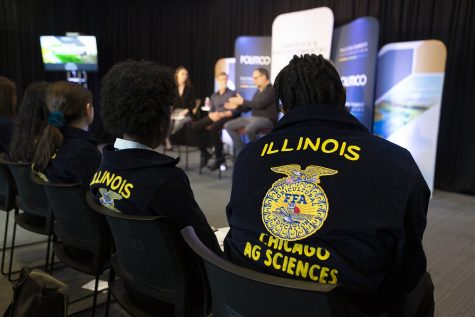 At Columbia, the University Center offers portable, reusable to-go containers for students to transport food from the cafeteria. The Center also uses in-house biodegradable digesters to reduce food waste by breaking it down and digesting it as wastewater through a sewer line. Additionally, the college collects compost material across campus through Lakeshore Recycling Systems, as reported Sept. 16, 2019, by the Chronicle.
Cooley said one of the biggest issues facing food waste is how it is managed at the city-wide level. Households looking to compost have minimal options—either compost materials individually in the backyard, or pay for compost removal services. Instead, Cooley said Mayor Lori Lightfoot should consider partnering with local community groups to make food waste management a priority at the neighborhood level.
Bayless said another contributor to food waste is "weekend feast culture" in America, which encourages people to ingest large portions of food, especially meat, on the weekend. As a chef, Bayless does not dissuade anyone from enjoying a celebratory 16-oz steak on the weekend but does encourage going meatless as much as possible on weekdays.
"What motivates me the most is a delicious meal in front of me," Bayless said. "The motivation for me has always been to do the next right thing because it's good for me as a human being, my guests in my restaurant as human beings and us as beings here on this planet."
Additional reporting by Paige Barnes.