Confusion surrounding composting initiatives at college, University Center
September 16, 2019
During New Student Convocation, student orientation leaders, along with the college's Sustainability Assistant Christian Williams, stood next to three composting and five recycling bins to ensure those in attendance were distributing their food and utensil waste in the correct bins.
Williams said it is important to help students and faculty with what materials to compost because not many people know which items are compostable.
After events such as Convocation, Williams said he collects all of the compost material and stores it in a room on campus, and a company comes to pick it up at the end of the week.
Just as students and faculty are sometimes confused about which recycling bins are the best fit for their refuse, the Columbia community as a whole is still struggling to understand how composting and recycling fits into campus life.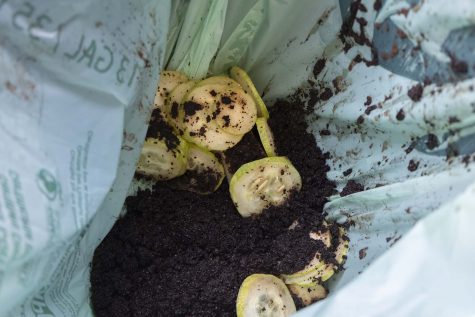 UNIVERSITY CENTER
As an intern, senior advertising major Briana Kennedy said she was required to collect leftover food waste at the cafeteria located in the University Center, 525 S. State St. But she said her team did not compost or recycle what was collected at the end of the day.
"I think we just threw it away," Kennedy said. "It was a marketing effort, and the main issue was [that] it was marketing first and environmental consciousness second."
In 2017, Kennedy was a marketing intern with the cafeteria's foodservice provider Chartwells Higher Education.
Kennedy would set up a table in front of the tray collector and scrape the excess food into buckets. The buckets would then be put on scales for students to see how many pounds of wasted food was collected throughout the day.
"I do not have specific details on [Kennedy's statements], and we no longer have any interns on campus," said Meredith Rosenberg, director of brand voice and digital strategy at Chartwells, a separate entity that works with The University Center. "I can confirm that all materials are 100% composted by this digester."
The cafeteria has an in-house biodegradable digester, according to a Chartwells flyer sent to The Chronicle by Rosenberg. Once the food is broken down, it is discharged as wastewater through a standard sewer line, avoiding the landfill entirely.
"Technically, this is aerobic digestion, not composting," said Jonathan Scheffel, owner of Chicago-based Healthy Soil Compost, a hybrid hauling solution to organic waste.
Biodegradable digesters are an alternate method of reducing food waste from going into landfills, and the process can also conserve water, Scheffel said.
However, it does not eliminate or limit carbon like composting does, he said. Carbon is one of the main contributors to greenhouse gas emissions.
Director of Operations and Administration Sarah McGing stressed that because the University Center is separate from the college, "their composting, trash and recycling is managed within that building" while the college "has a completely separate program."
THE COLLEGE
Five years ago, Columbia was awarded as a Silver Level Partner for its composting efforts with the nonprofit We Compost, a free recognition program as part of the Illinois Food Scrap Coalition. Columbia demonstrated a significant commitment to food scrap diversion in 2014 by composting post-consumer food waste, IFSC founding board member Jennifer Nelson said at the time.
The college belonged to the Alliance for a Greener South Loop when the group was first founded 10 years ago. The Alliance encourages the public to work and live greener by putting together projects such as community gardens and air quality monitoring.
Co-founder of the Alliance and community activist Gail Merritt said she noticed the college's gradual lack of participation in the alliance a few years ago.
Merritt said the person at Columbia in charge of organizing and project planning with the Alliance was former Senior Director of Marketing Brenda Berman. Once Berman left the college in 2014, Merritt said the work was done with the Alliance discontinued.
Through her work representing institutional marketing and communications on Columbia's Sustainability Taskforce, Berman became the college's point of contact for the Alliance, Berman said.
According to McGing, the taskforce is no longer part of the college.
"There really was a culture of sustainability [when I worked at the college], with initiatives including curricular integration, greenhouse gas inventories, recycling, water bottle stations, composting, encouraging green transit and so on," Berman said.
Berman saw a decline in sustainability priority at the college between 2010 and 2013, and was disheartened to witness it become less important to the college with fewer events and programs put in place.
"[The] dramatically shrinking enrollment and a new administration led to the elimination of many brand-building activities," Berman said.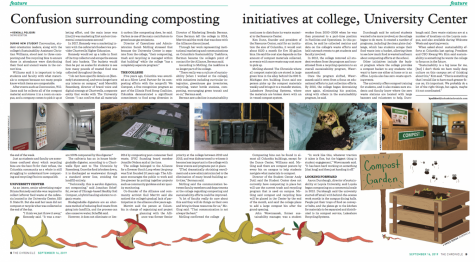 McGing said the communication between faculty members and departments at the college regarding composting and sustainability efforts could be improved.
"A lot of faculty really do care about this and they will do things on their own and bring in these resources for us," McGing said. "That communication is not always the best."
McGing confirmed the college continues to distribute its waste material to the Resource Center.
Ken Dunn, founder and president of the Resource Center, said for an institution the size of Columbia, it would cost about $120 a month for five 32-gallon bins. He said the cost also depends on the amount of compost materials collected, so events with more waste may cost more to pick up.
McGing showed The Chronicle where all compost materials are stored in large green bins in the alley behind the 600 S. Michigan Ave. building. Dunn said one person picks up the compost materials weekly and brings it to a transfer station, Lakeshore Recycling Systems, where the materials are broken down with an in-vessel compost system.
Composting bins can be found in almost all Columbia buildings, except for  the Dance Center, Williams said. McGing said there are compost posters by every bin on campus to help students navigate what materials to compost.
Director of the Student Center Andy Dutil said the Student Center does not currently have composting in place but will use the current trash and recycling program that is used on campus. McGing said compost and recycling bins will be placed in the Center by the end of the month, and said the college plans to add a large compost bin after the grand opening.
John Wawrzaszek, former sustainability manager, was a student worker from 2000–2008 when he was then promoted to a part-time position in Facilities and Operations. In this position, he said he collected metrics and data on the college's waste efforts and held outreach events to get students and faculty involved.
In 2012, the college removed all student workers from the program and transitioned from a recycling operation to an overall sustainability program, Wawrzaszek said.
Once the program shifted, Wawrzaszek said it went from a focus on educational efforts to just collection efforts. By 2015, the college began downsizing once again, eliminating his position, along with others in the sustainability program, he said.
"In work like this, whatever traction it takes is fine, but the biggest thing is student engagement," Wawrzaszek said. "It has been hard working on something [that long] and then just handing it off."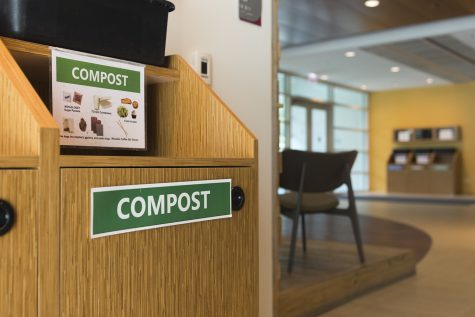 LOOKING FORWARD
Aaron Durnbaugh, director of sustainability at Loyola University, said Loyola began composting on a commercial scale in 2012. Durnbaugh said the university started off small with behind-the-scenes work mostly in the campus dining halls. People put their trays of food on conveyor belts, and the plates go to the kitchen for materials to be separated and distributed to its compost service, Lakeshore
Recycling Systems.
Durnbaugh said he noticed students wanted to be more involved, so the college began to do more. It created a number of programs, including the clean plate challenge, which has students scrape their food waste into a bucket, allowing them to see how much food is wasted and learn about composting efforts at the school.
Other initiatives include the bucket program where the college provides a compost bucket to any students who want to have one either at home or in an office. Loyola also has zero-waste sporting events.
The university offers compost training for students, and it also makes sure students and faculty know where the zero waste stations are located with large banners and volunteers to help, Durnbaugh said. Zero waste stations are at a number of locations on the Loyola campus, and also available during Welcome Week and sporting events.
When asked about  sustainability efforts at Columbia last spring, President and CEO Kwang-Wu Kim said sustainability is something he wants the college to focus on in the future.
"Sustainability is a big issue for me, [but] I don't think we have really deep culture on this campus yet of thinking about this," Kim said. "That is something that I would like to have much greater focus on; it's important. We probably do a lot of the right things, but again, maybe it's not coordinated."