Field Museum honors museum's first African American taxidermist Carl Cotton
Walking through the Field Museum, visitors can catch sight of a bird wading through the stalks of a marsh, a snapping turtle ready to take its first breath of air and a monkey ready to jump to the next branch. These are just a few of the animals who have come to life due to the work of taxidermist Carl Cotton.
Beginning in 1947, Cotton worked for 25 years at the Field Museum, 1400 S. Lake Shore Drive. Unbeknownst to many, he was the museum's first African American taxidermist.
This February, Cotton is recognized in honor of Black History Month for his contributions of creating life-like animal figures and exhibits for the Field Museum. It is also the museum's first time officially celebrating Black History Month, said Tori Lee, the exhibit's developer.
It took Cotton, who grew up in Washington Park on the South Side, seven years to land a position at the museum after initially writing the director of the museum for a position in the taxidermy department. After being hired, he was promoted to staff taxidermist five years later.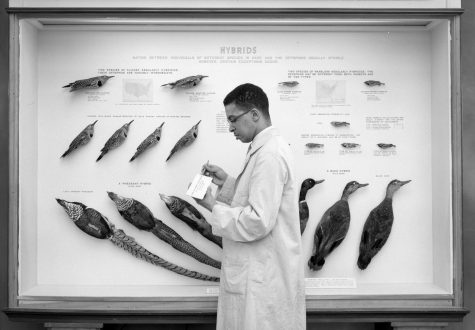 Lee said it is important for the Field Museum to recognize the long tradition of black history at the museum and to highlight people working behind-the-scenes who often go unacknowledged.
Lee first came across a photo of Cotton when Reda Brooks, the museum's exhibitions budget coordinator, showed her a picture of him working on the "Marsh Birds of the Upper Nile" diorama in a book celebrating the museum's 125th anniversary.
"I saw it and I knew there had to be a bigger story there," Lee said. "I really felt like we could highlight him for Black History Month. And then it kind of grew and grew."
Working to piece together his career, Lee began asking around to see if anyone had information about Cotton's time at the museum, as well as trying to connect with Cotton's family to build his story.
Lee said it was challenging to sort through the museum's archives and the interviews she had with his family and friends after connecting with them through a Twitter post. However, driven by a "grassroots movement," it became a human story driven by human experience.
"It's easy to find stuff about kings and pharaohs and people who held a lot of power in life," Lee said. "It's harder to find stuff about people who are just doing good, daily work."
Approximately 20 exhibitions currently have items Cotton has worked on, but she said there are many unaccounted for that have been relocated or dismantled.
Cotton's legacy is seen by thousands of people each year. Lee said she wants visitors to learn about the person behind the animals and exhibits they love to see at the museum.
"I want people to come to the exhibit and identify with different parts of this man's story," Lee said. "This is someone who was driven by a passion, by something he loved and it led him into spheres that were typically not open to him at the time."