Feel zero guilt after shopping at zero-waste, vegan pop-up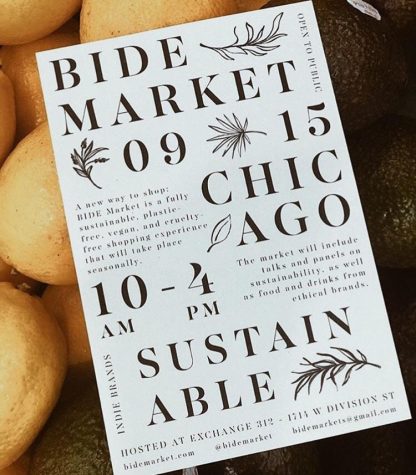 BIDE Market is the newest, one-time pop-up shop coming to Wicker Park, becoming Chicago's first sustainable, plastic-free, vegan and cruelty-free pop-up market.
The free market will take place Sept. 15 from 10 a.m. to 4 p.m. inside Exchange 312, 1714 W. Division St., and will feature 20 different vendors selling products ranging from makeup to jewelry to textiles. In order to participate, each vendor must follow BIDE's strict sustainability code.
Each vendor was carefully selected based on responses in their application forms, social media presence and being an environmentally-conscientious business, said Parisa Morris, creator of BIDE Market and founder of Town and Anchor, an all-natural makeup company.
For textile companies, using wool or silk ruled out being vegan-friendly. Some makeup companies violated sustainability codes by using lanolin, milk or honey. Or, some companies may have sustainably-made products but use wasteful packaging.
Additionally, the event will include guided meditations, sound healing and panel discussions.
Morris said she wanted to create a space where customers could shop knowing everything was eco-conscientious.
Before BIDE, Morris would go to various markets to get exposure for Town and Anchor since her small business did not have a storefront.
Although there were a lot of brands available, Morris said it was difficult to find places that would have a variety of eco-friendly brands under the same roof.
"I would spend so much time concentrating on the buzz words of my company, like we're organic, we're natural, we're sustainable," Morris said. "I lost a lot of chances to build relationships with our customers."
Now with BIDE, Morris gets to focus on her customers including their lifestyle, geographic location and health issues. For example, she may discuss a particular client's dermatology issues before recommending specific skincare products.
Meghan Navoy, owner and designer of Rosemarine Textiles, said in a Sept. 11 email to The Chronicle that she wants to source fabrics with complete transparency; however, the lack of transparency in the textile industry when growing, processing and weaving is the most difficult part about operating a sustainable textile business.
"In my business and my personal life, committing to environmental sustainability and ethical practices are very important," said Navoy who has been living a zero-waste lifestyle for the past six years. "BIDE was a great fit in that way."
Lindsay Lewis, founder of Lindsay Lewis Jewelry, a jewelry brand that uses recycled brass and ethically sourced stones, said in a Sept. 10 email to The Chronicle that she wanted to be part of the BIDE mission because sustainability is a pressing topic and BIDE is paving the way for change.
"It's exciting. I've always wanted a market to call my own, but I really wanted a market that I would be proud to be a part of," Morris said.
Morris was inspired to name the market BIDE after looking up synonyms for sustainability. She found the word "bide" is derived from "sustain" in German.
"Bide simply means 'to stay,'" Morris said. "I really liked the word bide because it really compliments the whole community aspect of what we're trying to create. We want people to stay with us and work together."