Fans and artists braved the rainy weather during the early afternoon of Lollapalooza Day Three. A range of artists,  including R&B band Thee Sacred Souls, pop group Los Aptos and R&B artist/rapper Hoosh performed across a muddy Grant Park.
Hoosh was the first to perform on the Coinbase stage for the third day of the festival. He said he enjoys playing at large festivals like Lollapalooza, though "it gives you a different vibe," than indoor performances, he told the Chronicle. 
"There's something about being outside that I like a lot. Kind of more calm, grounded. I just feel like that when I'm around nature," he said.
Hoosh prepared for his set with lots of vocal warmups and even practiced performing his whole set, something he said he likes to do when he has the time before a performance. His pre-show preparations are thorough and generally take place during most of the day, he said.
"I like to get some sort of cardio in the morning and then I like to go into my vocal warmup slash routine," Hoosh said.
Kicking off the day at the BMI stage, Los Aptos, known as "the pioneers of sad sierreño," excited the crowd with their sounds of Regional Mexican music, with a combination of alternative rock and bedroom pop. 
This is their first time playing a full set at the festival. Last year, Los Aptos were guests for Danny Lux.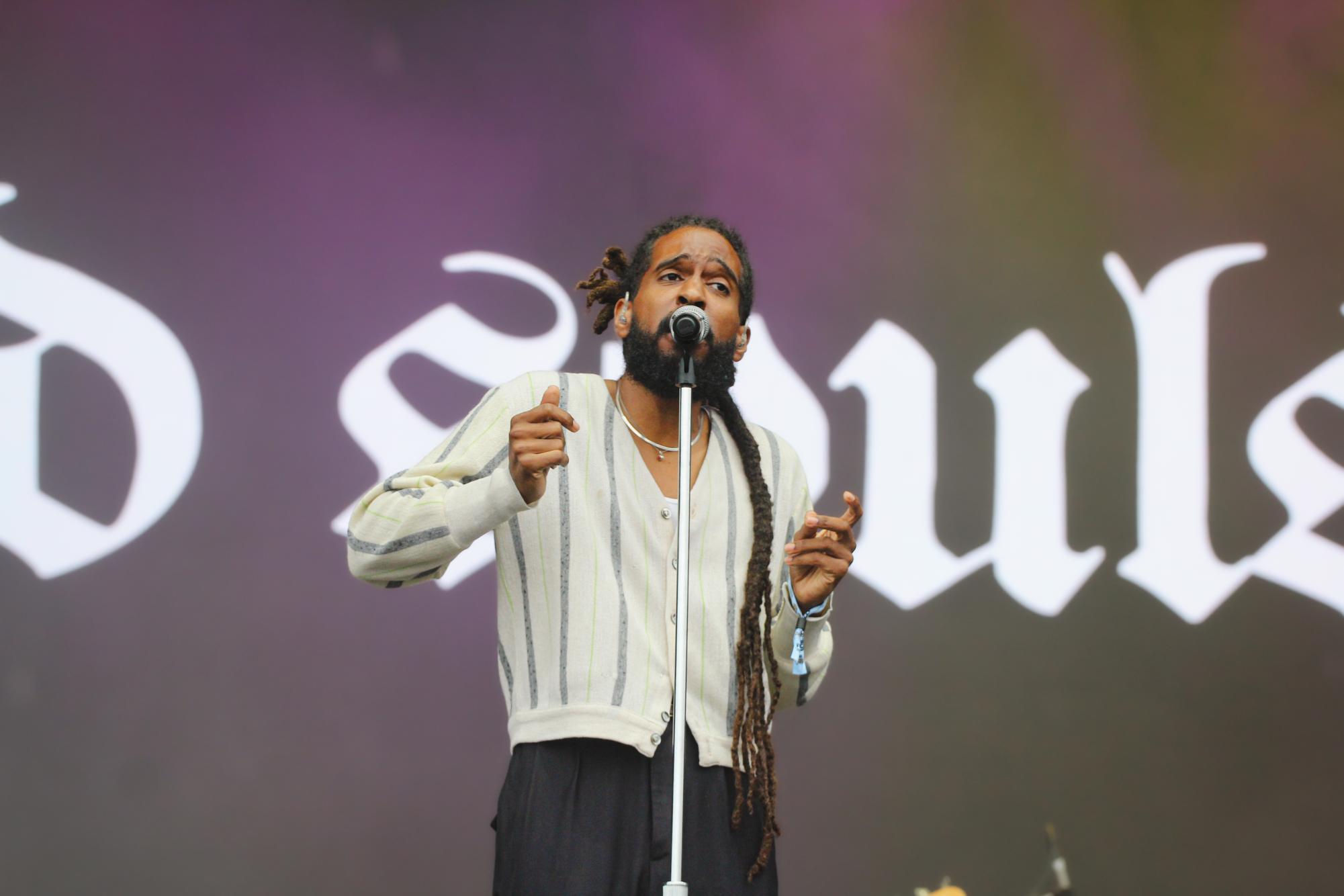 "I feel like our music is unique and yet having someone else listen to it that doesn't know, they just hear it and they end up falling in love with it," keyboardist Daniel Vaides said in an interview.
Bassist Jony Rivera Lopez said it's been exciting to have an energetic crowd and see so many people stop by their set. 
"Still seeing people come out even though it's raining, like, that's nuts to me," Lopez said.
Band members talked about what it means to create music and connect to their artistic forms by contributing their personal interests, culture and experiences. Lead singer and guitarist, Junior Ortega, said their families being from Mexico and Guatemala had a big influence on them. 
 "I think it's super important to like, you know, kind of remain with the roots and involve different influences that we've grown up with in the US," Ortega said.
Before their performance on the T-Mobile stage, Thee Sacred Souls fan Logan Mirand, from Chicago, said she was excited to see them perform, though the rain was a let down. 
"Today the rain, I'm not feeling it, but that's OK because Thee Sacred Souls, they are going to be amazing. I'm so excited," Miranda said. 
Sunday, Aug. 6, will be the last day of Lollapalooza 2023 with performances by headliners Lana Del Rey and Red Hot Chili Peppers. Rain is not in the forecast.