Manifest Creative Director hopes to make 2017 festival 'crazy'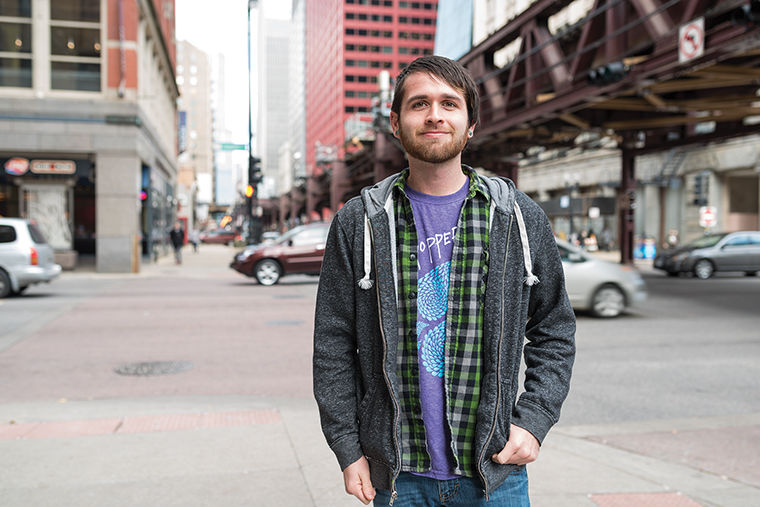 JJ McLuckie, senior design major, was announced as creative director of Manifest 2017 on Dec. 6 after Columbia faculty, staff and students voted and chose the winner from three student finalists.
Following a longstaning tradition of Manifest, the college's end-of-the-year urban arts festival that attracts creatives from across the city, Columbia has chosen a student director based on how they visually described the year's theme. McLuckie was charged with creating artwork based on the concept "emerge."
McLuckie's design depicted a person, representing Columbia students, emerging from the Manifest star, drawn in a comic style featuring heavy line work and bright colors.
Inspired by nature and the sounds around him, McLuckie's artwork can be seen scattered across Chicago with a mural on the back of Columbia's 600 S. Michigan Ave. Building as well as work featured in campus elevators, ShopColumbia and Armadillo's Pillow Inc. in Rogers Park.
The Chronicle spoke with McLuckie about his goals and his plans to put a "weird" spin on Columbia's largest annual event.
THE CHRONICLE: What made you want to be creative director?
JJ MCLUCKIE: Last year it was an illustration major, [Cassidy Kapson], and  [I'm] an illustration major, so, [I wanted to] kind of continue that. My last semester is next semester, so to end with Manifest would be really awesome. I want to be able to design [and] see how crazy I can get.
I'm most looking forward to being able to design the t-shirts because everyone loves a fun t-shirt. Being able to design the posters, and things like that [and] just being able to have more fun, [add] more unusual things. I hope to make Manifest more weird.
What was your reaction when you were chosen?
[I was] really excited because it was the perfect way to end my time at Columbia, being able to be Manifest creative director. I called my boyfriend, parents, and [Kapson] right away because she already knew all of the background stuff—the do's and don't's and things like that.
What inspired your theme for the designs you submitted?
I've been working on comics a lot more and a lot more ink work. I wanted to have something more comic-inspired and more figurative. I wanted to add more character and more abstract imagery and more conceptual stuff compared with a flat design aspect.
What inspires your artwork style? 
My biggest inspiration is music. A lot of my comics and paintings have patterns in them, and a lot of the patterns are either inspired by nature or by sound—trying to capture the sound you hear but in a visual format. So to me, even though it looks like a pattern, it's actually making a whole composition of the music I'm listening to at the time.
How long have you been working in that type of form?
I've always had my music style influenced by my art style and vice-versa. Lately, I've come to realize that more and try to pull that off as much as possible.
How long have you been interested in art?
I've always drawn a lot ever since I was in a highchair. I would draw TV show characters and Pokemon and things like that. Then, when I was little, I would draw board games and write stories, and then in middle school, that's when my drawing became a lot more often. In high school, I solidified myself in what I wanted do.
What's your first move in working with Manifest?
The things I'm working on are the promo posters and the t-shirt designs. There's always [about] seven different t-shirt designs for faculty, students, alumni, etc., so that's the next step.
What do you think the Manifest experience will be like this year? 
I hope [attendees] have a really enjoyable time, that makes them excited to go next year [and] excited to create more work once the summer starts. That's why I love Manifest. It's a big inspiration explosion at the end of the year.
Why would you encourage students to get involved in Manifest, whether by participating or just attending?
Because there's so much here. Every year at Manifest, someone's doing something that is completely unrelated to what I am interested in and yet, somehow it helps inspire me to create something. It's just a huge gathering of people, it's fun and there are all kinds of cool opportunities. It's always cool to see what everyone else around you is making  you never really get to see.