Illinois on its way to legalize civil unions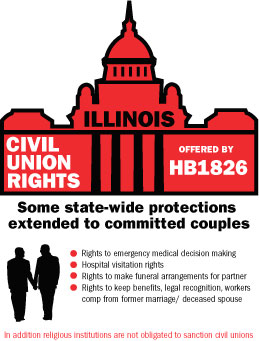 By John Lendman
October 19, 2008
While 2008 has become a landmark year for legalizing same-sex marriages from Massachusetts to California, Illinois has been struggling to pass a civil union bill more than a year and a half in the making.
Socially progressive candidates running for the Illinois General Assembly this November could be the key to approving civil unions, which would offer same-sex couples the same benefits available to married couples, according to the bill's supporters.
Rep. Greg Harris (13-D), the chief sponsor of House Bill 1826, may introduce the bill as early as November, but could also hold the proposal until January, when the newly elected General Assembly meets and he has a "much stronger hand."
"We're moving in the right direction," said Harris, the only openly gay representative in the 118-member House. "But until we have a clear majority of people to vote in favor of progressive issues, it'll always be a little tough."
The bill, known as the Illinois Religious Freedom Protection and Civil Unions Act, seeks to extend the state-level legal protections and responsibilities of marriage to not only same-sex couples, but opposite-sex couples who currently lose benefits from a deceased spouse if they remarry. Similar bills have become law in Connecticut, New Jersey and Vermont. Currently, Chicago offers domestic partnerships allowing same-sex couples to register with the Cook County Clerk's Office, but it does not convey any rights or privileges.
Getting socially progressive officials-gay or straight-elected to the state legislature has always been a challenge, said Denis Dison, vice president of communications for the Gay and Lesbian Victory Fund, a national political action committee that endorsed Harris.
Dison said based on their studies, gay and lesbian officials need to raise twice as much money as their straight colleagues in order to win elections. So, the Victory Fund seeks to get such officials elected nationwide to ensure the LGBT community has a voice in public offices.
Harris has a potential ally in Deb Mell, who, if elected, would be the first open lesbian to serve in the Illinois General Assembly.
Mell, who's also been endorsed by the Victory Fund in the 40th District race on Chicago's Northwest Side, said she's grateful to Harris, who is running unopposed in his district in Lakeview, for championing the civil union bill.
"I think society wants to recognize committed couples," Mell said. "It's about basic fairness and equality."
Gov. Rod Blagojevich, while opposed to same-sex marriage, said he has no problem signing a civil union bill if it reaches his desk, said Mell, who is also his sister-in-law.
State legislators and the Victory Fund aren't the only ones pushing the bill.
CivilUnionsIllinois.org, launched in April, is a student-inspired, grassroots effort seeking to organize support for the bill's passage in Illinois.
"We've unified all of these different groups essentially fighting for this same goal; it's not just gay social and progressive groups in universities, but groups across the state, political or not, " said Chris Jessup, a graduate student at DePaul University who runs the site.
The bill's supporters agree one of the ways voters can show support for the bill, other than contacting their state representatives, is to elect as many socially progressive officials for the Illinois legislature as possible.
"We need 21st century thinkers these days," Mell said. "We need new ideas and new programs-we just need to get a new group of people in [elected offices]."
On the other hand, Kent Redfield, professor emeritus of political science at the University of Illinois in Springfield, is less optimistic about the bill's passage.
"This is not the nature of Illinois politics," Redfield said.
Especially in terms of social issues like civil unions, he said, elected officials in Illinois would rather pay lip service to these issues than work on the nuts and bolts of it, unless it is a key part of that official's agenda and a key part of their constituency.
Candidates are sometimes fearful of showing support for an issue that may come back to haunt their political careers down the road, he said.
"Illinois politics … is very non-ideological, it's very power-oriented. The winning of elections is more important than leadership [on social issues]," he said. "Illinois will only accept civil unions when everybody else accepts civil unions."
Harris could bring the bill up for a vote in the legislature at the next meeting on Nov. 12, but he said he may hold the bill depending on the results of the Nov. 4 election. He said that while Senate President Emil Jones Jr. "has been a champion of LGBT issues," he is also retiring this year. House Speaker Michael Madigan has yet to take a stance on the bill's passage.
"I'm not sure if [Madigan] has taken a position on this particular bill, but in the past he has been supportive of the idea of civil unions," said Steve Brown, spokesman for Madigan.
Depending on how many representatives he can get on board with the bill will determine when Harris presents it for a vote, he said.
"It becomes a political analysis of where the votes are," Harris said. "We'll have to figure out what is the best way to get the most [support]."
Hang on for a minute...we're trying to find some more stories you might like.