Expect pineapples and queer discussion as August Hotel finds its musical voice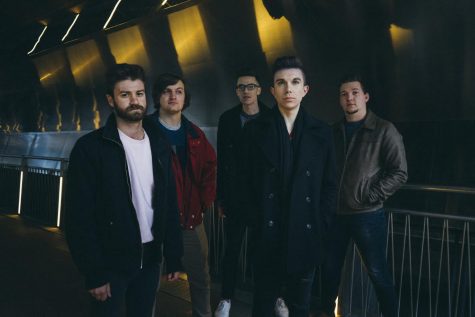 After nearly eight years of playing together, the indie-pop group August Hotel is still trying to find its niche.
"It is all learning; each show [we] learn from," drummer Dean Sinclair said.
The band has not always been able to connect with its audience. Because of that, the band is holding back its newest EP release as it attempts to narrow in on its audience and transition from one genre to another.
Lead singer Joe Padilla said a major aspect of the band's growth has been trying to figure out who its target demographic is and catering its performance toward that, which is something the band is still struggling with.
The secret to finding its niche may have been in a cover band tribute to The Cure in a Chicago pub one June night.
One of Sinclair's fondest memories of the band was its recent June 28 show at HVAC Pub, 3530 N. Clark St., where they participated in the "The Smiths vs. The Cure: Live Band Tribute." August Hotel took on the role as The Cure cover band, and Sinclair said the show made him realize how happy he is to be part of the band.
"We made people happy that night … how we performed made me really happy, and [I realized] this is what I want to do," Sinclair said.
Aside from playing covers, the band has connected with its audience on a more personal level with its original songs.
After a small show at an art installation in Elgin, someone came up to Padilla and asked if he was a queer artist, to which he said "yes." The show-goer told him their non-binary friend would connect to the band and its music.
"When I perform, as in my daily life, my gender presentation is different from what is typically associated with my at-birth gender assignment. So naturally, people tend to guess things like that," Padilla said.
A few weeks later, the band played a show at the Tonic Room, 2447 N. Halsted St., and the person's friend showed up from Madison, Wisconsin.
"In my life, I make a point of talking about queer issues, as well as oppression more generally," Padilla said. "This bleeds into our live shows, where I do not shy away from talking about my beliefs."
Some of the band's songs follow themes based off Padilla's beliefs, and at some shows he discusses how some of the band's music was inspired by the liberationist Sylvia Rivera.
"We're not necessarily a 'queer band,' but I count myself fortunate as a queer artist who has the support from my band and community to be authentic," Padilla said. "That is something I would like to see for every artist—the space and support to create in a world that can be hostile to their existence."
Padilla said he sees things getting better for the queer community, but many people still struggle with mental illness, homelessness and violence. He was overjoyed to hear the band's music helped someone.
"If our music can feel meaningful to just one person in the world, that is enough," Padilla said. "[If it] makes them feel more secure, safe or happy, that is amazing."
While still navigating through the Chicago music scene, the band is being cautious with the release of its new, yet-to-be-titled EP.
August Hotel's live performances give the audience a deeper view on the band compared to its recordings, partly due to Padilla's ability to use the stage to his advantage. Aside from eye-catching outfits and makeup, Padilla becomes part of each lyric he sings with emotion you can see in his eyes, and energy you can feel through endless movement. He also brings his own props, which, at a March 26 show at Subterranean, consisted of pineapples from Padilla's dayjob at Whole Foods.
With a new sound surfacing for the band, bassist and vocalist Cale Singleton said August Hotel's work has been a constant evolution. In the beginning, the music the band created had more of a hard rock or metal appeal, but after guitarist and vocalist Ryan Lammers wrote the song "Valentine," the band, which also includes keyboardist Craig Schwartz Jr., collectively felt a huge shift toward a more indie-pop vibe.
In the excitement for a new phase in the band's career, Singleton said there is nothing better than creating and playing music with the people who love and support him. Being in the band gives him the space to connect with others and do what he loves—create art.
"It is like these periods of change," Singleton said. "Every new song we have is kind of different, and it pushes where we are currently."
Although there is not a set release date for the EP, the band can be found at a number of July shows across Illinois.