'Enjoy this experience': At final convocation, seniors give first-year students advice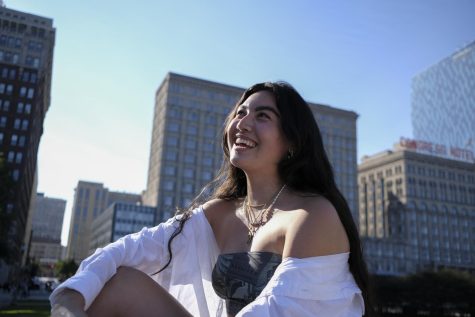 As a new group of students enters Columbia, another group is embarking on their final classes and preparing for whatever comes after walking across the stage at commencement.
During Convocation, the Chronicle interviewed senior representatives at their organizations' booths and asked what advice they had for first-year students that they wish they had received as first-years. These were their responses:
Senior film major Arianne Batang said even though she knows it can be hard, show up to class and practice self-care. Batang also advised that being involved on campus is a good way to make friends.
"If you are having trouble making friends, join an organization, join a club and really put an effort when attending meetings," Batang said.
Batang said she used to be introverted, but joined the Asian Student Organization to become a "social butterfly."
"It paid off a lot because I think I've found a really great community with everyone here," Batang said.
Batang said she took a gap year between her first-year and sophomore year of college because of the cost of classes and the far commute to campus. Batang transferred back to Columbia after a year because she felt it was the best option for her and she wanted to achieve her career goals.
"My overall career goal is to promote representation of marginalized communities, specifically Asian-American communities in film and television," Batang said. "I feel like the more I learn will help me accomplish that."
Senior television major and Call of the Cauldron's president Karel Ramirez has attended Columbia since 2019 and commutes from Lyons. Ramirez's advice on commuting to campus and taking public transportation is knowing multiple routes to get to your destination.
Ramirez said when she was a first-year student, she struggled with social anxiety, which affected her ability to work and socialize, but now has jobs and is running the club.
"Definitely try to find your place," Ramirez said when talking about getting involved on campus. "Know that the more social and outgoing you are, the more opportunities will come your way."
Ramirez's parting words of advice to incoming students is to make the most out of college by finding yourself.
"College is a horrible, terrifying, painful experience," Ramirez said. "But at the end of the day once you graduate, it will be one of the greatest things that you will ever accomplish, so try to find yourself."
Senior acting major Ariana Kanaya shared advice regarding classwork, perfectionism and navigating Chicago outside of the Loop.
Kanaya said she struggles with online classes, but is doing her best to attend class and keep up with classwork. Outside of classwork, Kanaya said an aspect of herself that she worked on at Columbia was perfectionism. Kanaya said she knows that it is hard because Columbia is an arts school, but perfectionism will only hold you back from growing.
Kanaya, who was representing the Career Center at Convocation, said exploring neighborhoods in Chicago will make newcomers feel more comfortable using public transportation. Kanaya mentioned the CTA's Harold Washington Library and Jackson stops, which can connect riders to the Orange, Brown, Pink, Purple, Red and Blue lines.
"Get out of the loop, explore all of the other neighborhoods, because each neighborhood has such character about it," Kanaya said.
Kanaya's piece of advice to first-year students as a senior who has experienced Columbia for four years is to put yourself out there and believe in your capabilities, as it is the only way you will grow.
"Don't be afraid to put yourself out there in the city. … The sooner you start believing in your capabilities, you're only going to help yourself," Kanaya said. "Most importantly, enjoy this experience. You're going to grow so much as a person, and that is so important to your development as a person."