End of the line? Video rental store 'in peril'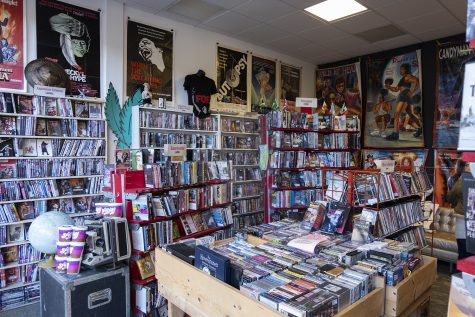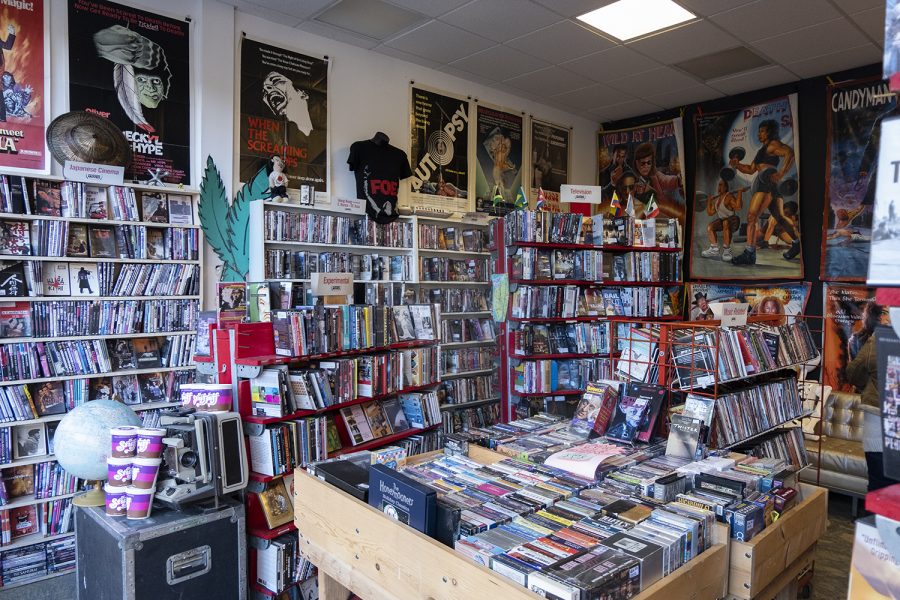 Over the faint sound of the 1950 film noir drama "No Man of Her Own" playing on a television in the corner, Dylan Kiewel sits at the cash register of a video rental store waiting to ring up customers' items.
Odd Obsession—a video rental store to some, but a video library to Joshua Brown, the store's manager—has lasted since 2004, through the age of RedBox movie rentals and into the streaming services era. The storefront, 1830 N. Milwaukee Ave., sits down the street from a realtors office and barbershop, with its front window packed full of stacked pints of  "The Stuff"—based on the yogurt-like substance from the 1985 film of the same name—and stacks of  "Jerry Maguire" VHS tapes on a gray couch.
"Odd Obsession as a name in this city has been aligned with weird, cult, strange,   odd and rare, hard to find movies," Brown said. "There are movies in this collection that you cannot find on streaming anywhere. This is a place where people can come in and explore films by director and touch the boxes and read them."
The video rental store is one of the last remaining in Chicago, along with others like Facets, 1517 W. Fullerton Ave., and Video Strip, 3307 S. Archer Ave. Since its opening, the video library has changed locations three times, from a basement space on Halsted Street that flooded; to a shop at 1822 N. Milwaukee Ave., where it stayed for a decade; and then to its current location where it has remained, with more affordable rent.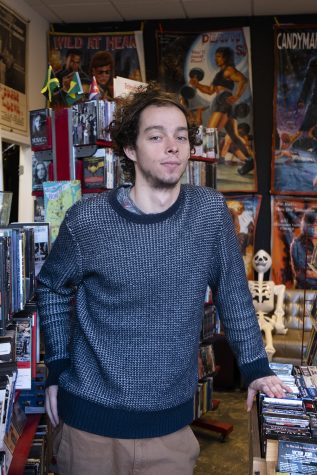 Five years ago, the shop created a membership crowdfunding campaign to bring in more customers. Using the crowdfunding website Indiegogo, Odd Obsession created something similar this year, this time with the goal to keep the store's lights on. Raising $11,473 of their $25,000 goal so far, Brown is in the process of speaking with investors to save the store from closing.
Brown said job titles are not heavily used at Odd Obsession since the work that is done is on a volunteer basis. Each of the 12 volunteers work eight to 12 hours a week. Kiewel opens the shop three days a week and has a split shift. Brown said each volunteer puts in about 600 to 700 hours annually.
"Every volunteer … [has] a relationship with this collection that inspires everything else in their lives," Brown said. "Otherwise, why the hell would they donate so much time for free?"
Kiewel said new titles are added to Odd Obsession's collection every two weeks through a partnership with a member, who is allowed to rent titles for free and bring back new titles in return.
"What is important to note is that this campaign … has been to not only save the store but as a recognition that the store needs that kind of engagement to operate," Brown said. "In the old days with the first couple generations of volunteers, it had [those kinds] of events going on constantly. And so without an annual membership drive or some sort of events, the store cannot survive."
Odd Obsession offers more than 25,000 film titles, in both DVD and VHS formats, sorted by director names. Vinyl records are also available at the store. A range of entertainment can be found on shelves along the store's walls, with TV show titles such as "Portlandia" and films such as "Fight Club."
With the fate of  Odd Obsession still up in the air, there are plans to host screenings and other events to invite the community in while the store continues talking with investors. Through updating selections biweekly and offering a rotating staff-and volunteer-picks section each month, Odd Obsession hopes to keep its customers coming back each week.
"We hope that one of these kind people will bridge the gap, and in doing so, [take over] the books," Brown said. "We are hopeful that this could actually be a blessing in disguise, but now … we are in peril."