LGBTQ students, allies cry foul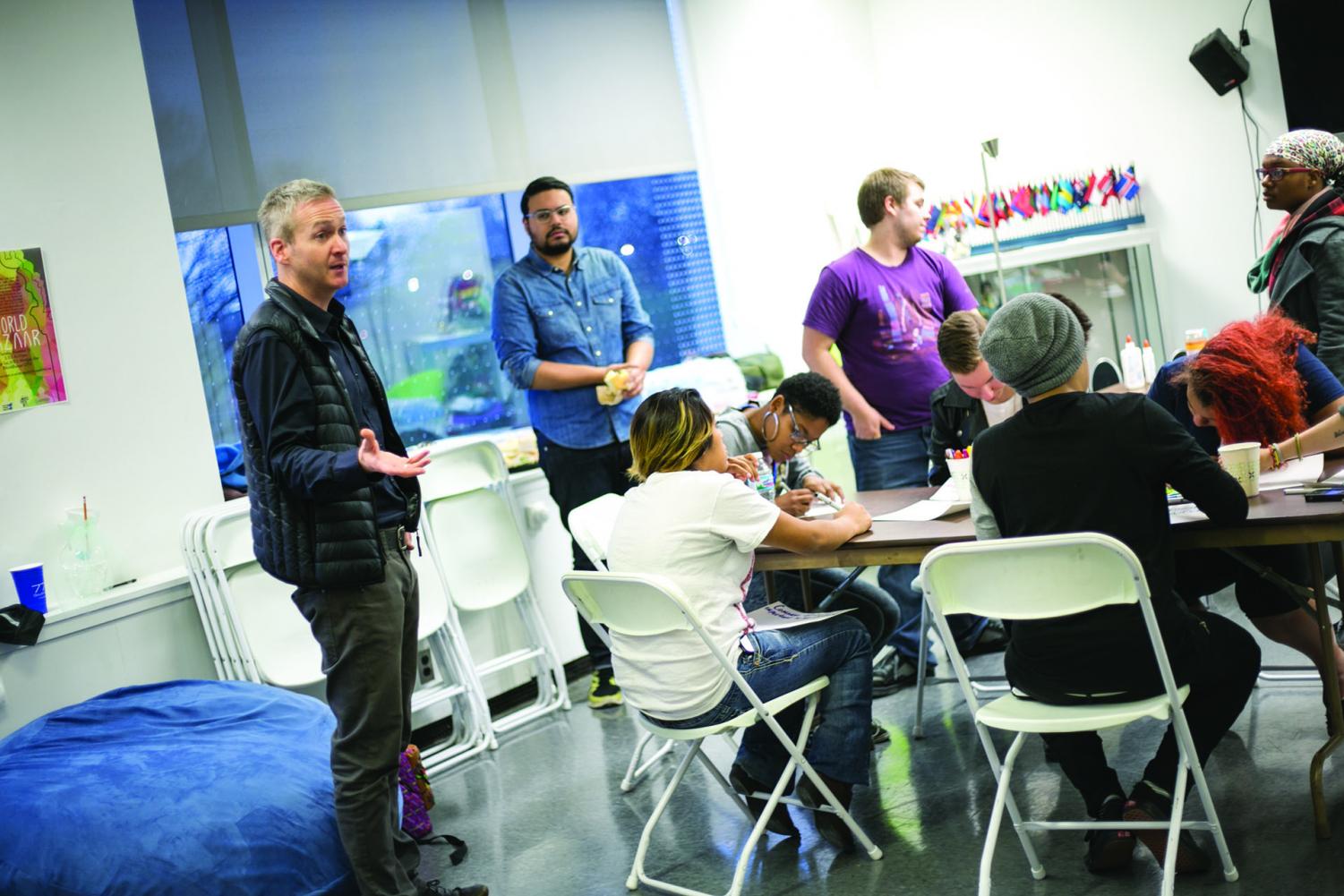 Outcry from students and faculty erupted across campus last week when the administration announced that the college would offer only one section of the Gay and Lesbian Studies I & II courses, effectively cutting the offerings in half.
Reactions claiming potential bias from campus community members prompted Stan Wearden, senior vice president and provost, to send an email to the college community Nov. 6 announcing a Nov. 18 forum on the matter, as well as stating that scheduling is based on enrollment and demand.
"Many individuals with many different kind of concerns could request that another section of a course on a particular topic be added," Wearden said in the email. "To add sections in that manner, however, would create an unsustainable cost structure for the college."
However, GALS courses have a reputation for being popular with Columbia students. Both sections have full enrollment this semester, and the class saw similar trends for the last several years, always near full enrollment if not closed, according to OASIS records.
Victoria Shannon, founder of the GALS courses and adjunct faculty in the Humanities, History & Social Sciences Department, said despite having merely posted on her Facebook about the cutting of one of her GALS I course sections, she expects to lose her job over the conflict the change has created.
"It isn't about me—this isn't about my course." Shannon said. "In the broader spectrum, this is a systemic problem that needs to be addressed at a college that considers itself progressive."
Shannon said she did not realize how much the GALS courses meant to students until she started receiving responses from current and former students.
"This class changes people's lives and, in some cases, saves their lives," Shannon said. "I try to put students in touch with the broader LGBT community. I bring visitors in from almost every part of our community to talk with them. It goes far beyond what happens in the classroom and the valuable lessons—they just can't be replicated."
The same classes were reduced to two sections a few years ago, even though she was having students tell her they could not get into her class during that time because it was always full, Shannon said. Now that the GALS classes have been cut down to one section, Shannon said there will be 50 students per semester who are deprived of the opportunity to take the courses they are interested in.
"It seems counterproductive to cancel courses that you know fill immediately and offer courses that don't," Shannon said.
Shannon said the Nov. 18 discussion forum will allow discussion about the lack of LGBT courses at the college.
"I hope enough people come to this forum so we can have a civilized discussion and give the administration some logical, practical suggestions about what students want and what would make them happy curriculum-wise," Shannon said.
Students have started a petition on Change.org, titled "Restore Diversity Courses at Columbia College" that is targeted at President Kwang-Wu Kim and Stan Wearden. The petition is circulating online and has received more than 400 signatures and many supportive comments since its Oct. 29 creation.
Diana Vallera, president of the Part-time Faculty Union and adjunct professor in the Photography Department, said P-fac has filed a grievance on the issue and plans to attend the forum and be involved.
"If there is a genuine commitment on the part of the college that supports diversity and inclusion, then that has to hold true in the status of the courses," Vallera said.
Shannon said instead of cutting these classes, the college needs to restore them to pursue its mission of diversity and inclusion.
Wearden said spring enrollment is almost always 90 percent of what fall enrollment, so the college needs to plan its schedule accordingly. Deans and department chairs collegewide were told to cut section offerings by 10 percent because that is the enrollment the college is expecting. Wearden said HHSS cut sections while trying to preserve the diversity of the departments course offerings, and department chairs have a good sense of what demand looks like for each semester.
"It's not just LGBTQ courses or gender courses," Wearden said. "It's across the whole range of what they do. In every category, it's a 10 percent cut. We have as many different LGBTQ courses coming up this spring as we had this fall. In fact, we're able to offer some courses that we haven't offered in a while."
Steven Corey, Chair of the HHSS Department, did not respond to The Chronicle's requests for comment by press time.
Wearden said he knows Shannon is popular with students, but this is not about a single section of a single class.
"[She] really deserves to be honored and respected for that popularity," Wearden said. "Clearly, it means she's doing a good job of what she does, but I don't think it's about that either because she's still going to get to teach."
Wearden said the outpouring of responses to these sections reductions is tapping into a bigger issue on campus, which was why he has chosen to hold a forum. He said LGBTQ communities need a chance to discuss concerns of which they feel people are unaware.
"There must be something just in the ethos of the LGBTQ communities," Wearden said. "It's about touching a deeper nerve. There are other kind of concerns that LGBTQ students or people with an interest in LGBTQ studies generally that have to do with the overall cultural competency of the LGBTQ issues on campus."
Wearden said the upcoming Nov. 18 forum will only discuss issues in one group of identities, so this will be the first of many discussions the college community has on issues of diversity and identities because he respects that other groups of identities—whether that be cultural, racial or based on ability—have concerns as well.
"In terms of this particular forum, I hope it's a really productive discussion about moving forward," Wearden said. "We've already identified the fact that we want to be a national leader on issues of diversity. So saying 'national leader,' that means something really powerful and strong so we need to hear from people how can we step into this leadership role nationally."
Shannon said she had a hand in creating and teaching GALS I&II, "Gay, Lesbian, Bisexual and Transgender History," "Queer Theory" and "Queer Literature" at the college and there should be more of these types of classes rather than less.
"The time is right [and] we need it. I'd like to see some basic curriculum changes, more inclusive, more diverse," Shannon said.
Jessica Paul, a sophomore creative writing major, took GALS I last semester and said she is afraid the GALS II class will be full when she registers for next semester. She said the college does not have very many LGBTQ courses or some kind of GALS major, which she would gladly pursue.
Paul said LGBTQ students want to blend in as artists but these kinds of section reductions affect the LGBTQ campus community. She said she appreciates the support Shannon and GALS classes are receiving from faculty and students.
"Who's to say that they won't keep cutting things and then use that budget money for something totally unnecessary?" Paul said. "It's troubling, and it's encouraging to see people doing something about it."
Paul said she learned a lot through Shannon's passionate teaching in her GALS I class and that the course opened up her mind to the LGBTQ community.
 "There's just so much opportunity [in GALS] for students to see you can be queer and an advocate and show your pride and your history in whatever field you go in," Paul said. "It was inspiring to me."
Terri Griffith, an adjunct professor in the HHSS Department who teaches GALS II, said unlike other LGBTQ courses, the GALS courses are open to all students and have no prerequisites. They have historically have been very successful, popular classes, Griffith said.
"This class is really powerful for people," Griffith said. "They learn very specifically about issues of concern to the LGBT community, not just what we hear in the media. People also come in this class with a lot of wrong information. It's really enlightening for people."
Griffith said her classes are diverse, with some students who identify as LGBTQ and others who do not, but most belong to the LGBTQ community in some way and go on to take more courses in the field.
"When I taught three sections a semester, they were always full," Griffith said. "It's the difference between 150 students per semester and 50. It's enough to change the culture of the school."
Elise Tanner, a 2010 photography graduate, took GALS I her first semester at Columbia in 2006 and said the class changed her life because she learned and explored things she never had previously. She said when she learned about the section reductions, she immediately felt the injustice in the decision and decided to get involved in the conversation. Tanner has solicited email responses on the issue and has received letters and emails from current students, alumni, faculty and parents.
"A couple of the letters, specifically from students are really heartfelt. You can really see where they are coming from," Tanner said. "The challenge is getting the president and provost to really listen.  At this point, there's a disconnect."