Synergy at election time
With the presidential election just a month away, student and community volunteers are beefing up voter registration efforts at Columbia. One drive last week brought representatives from both the Democratic and Republican parties together toward the common goal-getting as many Columbia students as possible ready for Election Day.
The drive, which was organized by Adrian Polk, chair of Columbia's chapter of Students for Barack Obama, was held on Sept. 24 in the Hokin Annex at the Wabash Campus Building, 623 S. Wabash Ave. Students could register as Illinois voters, or they could fill out absentee ballots so their votes can count in their home states.
Polk, who is also part of Columbia's Black Student Union, said she hoped the drive would "make an impact on campus" by making the voting process easier on students.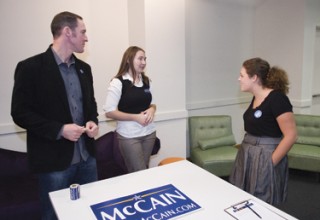 "A lot of students know the election is coming but they're not registered to vote," Polk said. "And a lot of out-of-state students have no idea what to do. This drive is to get people ready and interested in the election."
Also present at the event was Adrienne Hill, a Columbia senior and promotional representative for Atlantic Records, which is helping out at registration events on college campuses all over the country as part of rapper T.I.'s "Respect my Vote!" campaign. Those who registered at the Sept. 24 drive were entered into a drawing for autographed posters.
Each organization spoke to voters and volunteers about the platforms of the candidates, with a brief Q&A session following.
Hill, a music management major, said she was glad to see an event that represented such a variety of opinions.
"This is great," she said. "The amount of togetherness we've been seeing among student organizations, races, genders and sexual orientations has been incredible. It feels like we're all coming together for a common cause."
At least a dozen volunteers turned out to represent Students for Barack Obama and Obama for America, which was also represented at the drive. This, compared with two volunteers for McCain, didn't dissuade those who showed up to re
present the Arizona senator and Republican presidential nominee.
"Just because we're in Illinois, which is not a [swing] state, doesn't mean it's not our civic duty to show support for our candidate," said Kristin Paulson, a volunteer for Illinois Young Professionals for John McCain. "Our job is to present our side and hope that people are willing to come here with an open mind and listen."
Jason Bashou, 19, attended the Sept. 24 drive and registered to vote. He said he missed out on the primary election in March because he didn't register in time, but he didn't want to make the mistake again.
"I can't forget and procrastinate anymore," said Bashou, who doesn't attend Columbia, but whose girlfriend, sophomore Daniela Valenciana,  does. "After eight years of complaining about George W. Bush, I realized that I had no right to complain about my government if I don't do my part to change it."
"I told him he just needed to get it over with," said Valenciana, a public relations major. "It's a responsibility, but it's also a privilege. Why not do it if you can?"
Bashou said he's excited to vote for Obama because he trusts his vision will benefit Americans.
"In the long run, I believe that [Obama as president] will benefit me and people like me," he said. "He appeals more to the middle class."
Polk said she's urging students to make informed voting decisions,  despite the high glamour and publicity of this particular election.
"Don't say, 'I want to vote for Obama because he's black, or because he's young, or because he's from Chicago,'" Polk she said. "Do you know what he stands for? Do you know what he's done in the Senate?"
Paulson said she thinks voter registration drives are some of the best ways to foster this kind of important political discussion.
"It's important to get up and be active in politics, because it affects our lives so much," Paulson said. "This event is about being respectful, not on the attack. John McCain is the same way. He reaches across the aisle and says, 'We need to work together.' It's not about our party, and it's not about ourselves-it's about our country."
Anyone interested in registering as an absentee voter in a home state can do so Sept. 29-Oct. 3 in the lobby of the 1104 Center, 1104 S. Wabash Ave. Tables will be set up most of the day.