CTA shooting stirs concern, campus security confident incident was isolated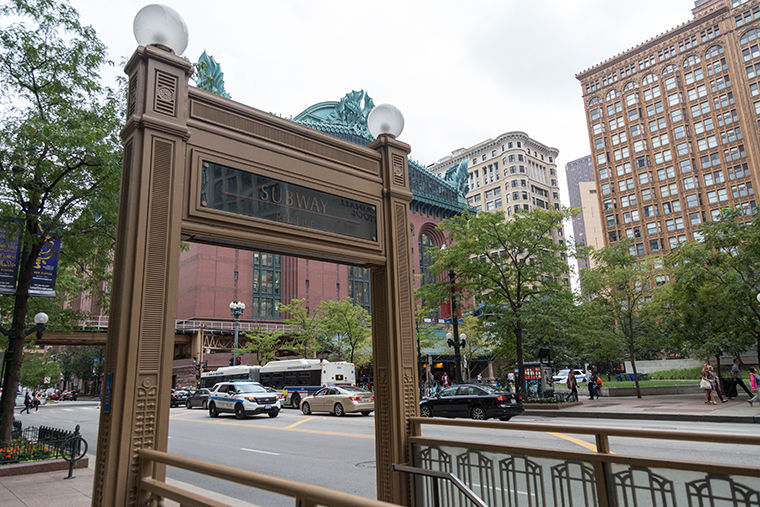 A 23-year-old man was shot twice at the Jackson Red Line station about 7:45 p.m. Aug. 17, once each in the arm and ankle. The victim was transported to Northwestern Hospital and was reported to be in stable condition.
The Chicago Police Department announced Aug. 30 that 24-year-old Kornell Strenger was charged with attempted murder in connection to the shooting.
No collegewide notification was sent by the Safety and Security Office about the shooting because it occurred off campus and did not pose an immediate threat to the Columbia community, according to Virginia Zic-Schlomas, director of Investigative Services in the Office of Safety and Security. 
On-campus locations are defined by the 1990 Jeanne Clery Disclosure of Campus Security Policy and Campus Crime Statistics Act, which was created to allow students and staff access to information about campus crime at universities across the country.
"The first deputy of the [Chicago] Police Department had said that it is not a threat to the community because [those involved in the shooting] were known individuals," Zic-Schlomas said. "It started before they got on the Red Line and it just carried through. So, it wasn't a random shooting; it was a targeted individual."
Since the Fall 2015 Semester, four campus safety alerts have been sent to students concerning crimes occurring at CTA stations, according to the Safety and Security website. All four of the notifications were sent to the Safety and Security Office by third parties and then forwarded to the college's community.
Although the shooting was startling to passengers and the community, these incidents rarely occur on public transportation, CPD Deputy Superintendent Kevin Navarro said in an Aug. 17 press conference.
Tim Martin, a junior cinema and television arts major, lives in Uptown and uses the Red Line to commute to classes in the South Loop. He said although he does not frequently use the Jackson Red Line stop, the shooting makes him want to be more cautious when traveling off campus.
Martin said he has seen posters and information around campus designed to teach students about safety in the city, which he admits he often ignores. However, the college should do more to make students aware of crimes occurring specifically in the Loop, he added.
"Columbia should [have sent a notification]," Martin said. "I believe anything between Lake and Roosevelt, if anything occurs there—even if it's not something with Columbia, I think [the college] should send something out to the students just to keep them alert and on the lookout, so it wouldn't happen to any of their students."
In accordance with the Clery Act, Columbia—along with any other institution of higher education that receives federal funding—is required to keep records of crimes listed occurring on and off campus. The act also requires institutions to issue timely notifications to their campus communities of emergency situations that pose a threat to students or staff. The act also imposes civil penalties and loss of federal funding on institutions that fail to follow these procedures.
Following the incident, DePaul University posted a public security alert to its website. Meanwhile, the School of the Art Institute of Chicago did not send an alert to students, said John Peck, the school's executive director of Campus Security. 
Incidents occurring off campus are recorded by the Safety and Security Office if reported to them, but notifications are not required to be sent to students unless incidents occur on campus or threaten the campus community, according to Zic-Schlomas.
"We would send out anything that we think would be a security risk to our student population, whether it is Clery-related or not," Zic-Schlomas said. "We are mandated to send certain ones out, but we will send above and beyond that if we find the necessity."
Maureen Froncek, director of Campus Safety and Transport -ation for Roosevelt University, said the university will help students who have been involved in off-campus crimes and file an internal report but will not always issue a campus-wide notification. Students might be less receptive to notifications if Roosevelt were to send them for every crime in the area, Froncek added.
"The school has limited control over their geography," Froncek said. "We are responsible for the school and the area maybe immediately around the school, but we can't be responsible for the city."