Drag community thrives in online setting during pandemic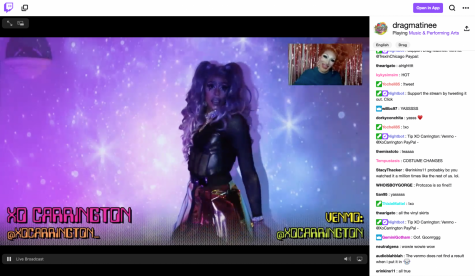 On a typical Saturday night, Benjamin Bradshaw can be found hosting the Drag Matinee show at Berlin Nightclub among a sea of strobe lights and blaring music.
But due to the pandemic, Bradshaw, a drag show host and show organizer, has been forced to change course by running his entire operation on Twitch, an online livestreaming service.
"We've had to become really tech-savvy and be equipped really quickly," said Bradshaw, whose stage name is T Rex. "It was hard at first."
Drag Matinee, usually based at 954 W. Belmont in Chicago, is now a virtual drag variety show featuring prerecorded performances from drag kings and queens across the country.
Bradshaw's latest Drag Matinee livestream on Tuesday, May 26 featured 18 drag performers who graced the virtual stage over the course of two hours with a colorful series of "music video premieres" which varied in sound, style and visual aesthetics.
Drag queens gave lip-synced performances spanning across a variety of music genres and some acted out written comedy sketches.
Others took a more satirical turn as well in addressing social issues, such as drag performer Miles Jai's video, which addressed issues of race relations as well as people not wearing masks in public in the midst of the coronavirus pandemic.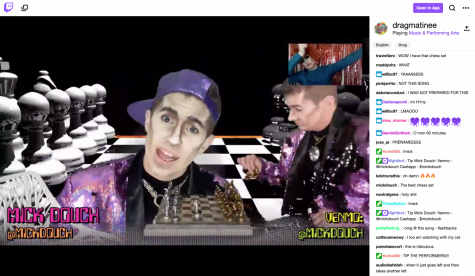 Bradshaw often finds performers on Instagram and reaches out to them two weeks before the livestream. Once they agree to join the program, drag artists record performances on their own and submit them through Google Drive, where their videos are then added to a mass playlist.
Allowing performers to prerecord their own videos has given them immense creative freedom, Bradshaw said, with some adding personal performance elements like edits featuring themselves as their own backup dancers.
For viewer donations, chosen performers submit their PayPal, Cash App and Venmo handles, which are displayed at the bottom of the screen while their music video plays.
Viewers can also take part in the performances by commenting directly on the video in real time.
Boston-based drag queen Akira Oni said one of the challenges drag queens have run into during the transition to a virtual platform is creating fresh content in order to keep audiences engaged.
The lack of in-person shows has resulted in the loss of being able to interact with a different crowd each time, Oni said.
"Making sure it's new every time for different shows is really challenging [compared to] in-person drag," Oni said. "You have to create so much more content."
Music copyright has also been tricky on a virtual stage, according to Chicago-based drag queen Andre Easton, who goes by the stage name Rachel Slurrz. Since the pandemic began, drag queens have more frequently been kicked off of Instagram Live for using songs to which they do not own the rights.
Drag queens have to remix or alter the original song in order to avoid copyright infringement on virtual platforms, Easton said.
However Pamela Escort, a Chicago-based drag queen, said virtual drag can be beneficial as it allows queens to edit any mishaps that may occur, making the performances run smoother.
While being able to edit a video before it goes live is an advantage, Bradshaw said he and other drag queens miss the in-person aspects of live performance, particularly interacting with the crowd.
"That is what keeps us going," Bradshaw said. "It definitely has had a psychological effect. A lot of us were getting paranoia, feeling separated from the community or dealing with depression."
Nikolas Hoover, a Chicago-based drag queen who performs under the stage name Narcisca Vanity, said he has the ability to perform anywhere in his apartment due its "photo-esque" look.
"My apartment is very colorfully painted, So I can [perform] wherever and have multiple shots and different backgrounds," Hoover said. "There's lots of drag queens in their bedroom and you see stuff pushed in the back corner and they're dancing around their bed … you see lots and lots of unideal performance spaces in the background."
While some receive tips from virtual shows, performers and venues alike are still struggling to make ends meet with businesses closed due to the coronavirus pandemic. Full-time drag queens who aren't featured in bigger virtual shows have a harder time when producing their own content, Oni said.
"It's really hard unless you have social media notoriety to be able to pull people that actually donate," Oni said. "You're getting your friends and fellow drag compatriots to watch your stream but none of us really have money."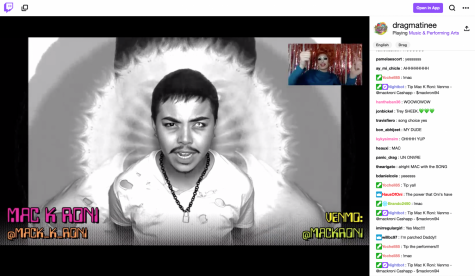 Hoover said the impact of venues shutting down goes beyond the financial ramifications.
Generations of memories within the drag community have been crushed due to LGBTQ+ establishments closing across the country, he said.
Although the drag community is navigating unexplored territory, Easton said he remains hopeful for the long-term future of drag.
"I think this is an opportunity to learn how to operate different technology and different streaming platforms," Easton said. "Once things open back up, continuing to do virtual shows is very much still an option and should be done."