DJ and producer Kooze found artistic growth and rebirth in the pandemic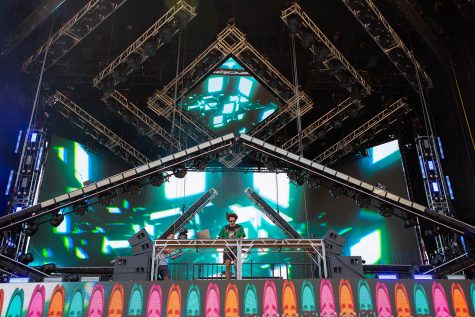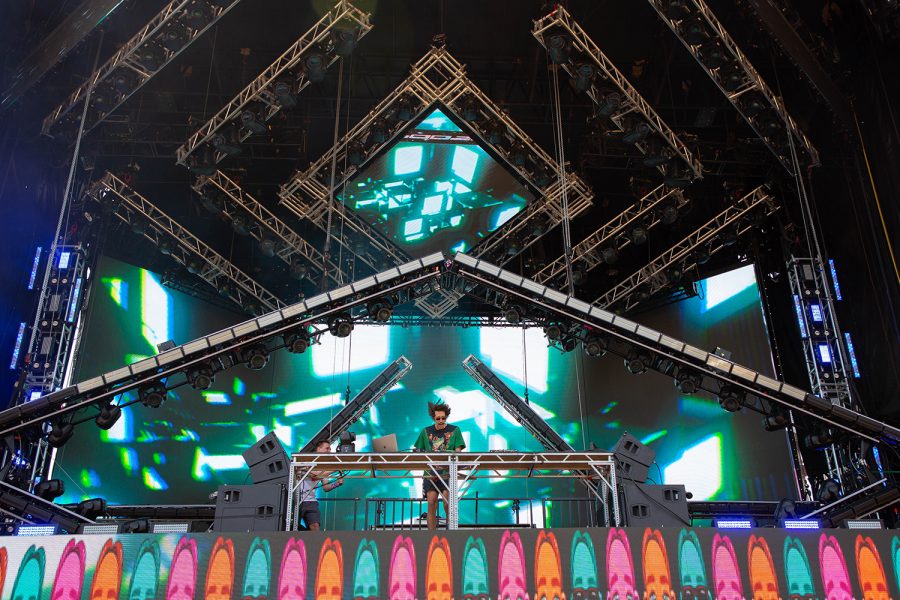 Unexpected mashups of songs across genres is what DJ and producer Kooze does best. He has received more than 4 million views on his TikTok mashup of "Say So" by Doja Cat and "Dani California" by the Red Hot Chili Peppers.
Born in Japan and based in Los Angeles, Kooze performed at Lollapalooza on the Solana X Perry Stage this summer, playing mashups like "Oops I Did it Again" by Britney Spears and "Love Lockdown" by Kanye West.
"It was kind of just cool to connect with people face to face and to see how many people actually support me, because online I can only see a number or just everyone commenting, but in real life, it's definitely different," Kooze said. "It's way more exciting, and it makes me know this is what I want to do."
Kooze had only a week to prepare for the festival after another artist canceled. The Solana X Perry Stage is known for hosting electronic music, and Kooze continued that tradition with his set, even though he likes to experiment between genres.
"Funk based" is how Kooze describes his personal music, saying his favorite sounds are '70s funk instrumentals with a modern twist. He said he plans to create more solo music in the future.
Kooze said his name is from the planet in "The Muppet Show," because he was connected to "the whole space thing and the cheesiness of it," originally going by the name of "The Koozebane Kid" before shortening it.
"I don't know how Disney hasn't or Jim Henson hasn't come after me yet," Kooze laughed.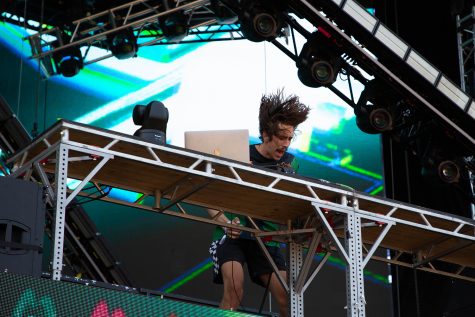 His debut album, "Love Comes to Koozebane," was released just before the COVID-19 pandemic and performed only once, at a bar called "Adults Only" in Los Angeles.
Kooze also dropped a single in 2020, "うるさい," which translates to "Shut-Up," that incorporates funk influence throughout and now has more than 379,000 streams on Spotify.
Prior to releasing his first album, Kooze had been making music for years but said the pandemic was a crucial period of growth for him and led him to pick up a DJ board again after a two-year hiatus.
The artist got his start DJing for Hillsong Los Angeles, a Christian church, every Sunday starting in 2016 and continuing for two years, but he stopped DJing for personal reasons for an extended period, until resuming last year.
Growing up Christian, Kooze attended Sunday school every week until he left the church in 2018.
"I kind of felt like the actual church has a lot of issues in it rather than the religion," Kooze said. "For me, I feel like it's more spiritual than anything. And I've always found a connection with whatever God there is. Now, I believe in the universe and what you give is what you get."
Kooze said consistency is key in his discipline, and he continues to make music every single day, simply because he loves to create. He said someone inspired him about five years ago when he was about to give up on making music.
"They said, 'Don't stop. Why would you stop? If you kept going, eventually, [maybe] not in your own time, in the universe's time, that's just going to happen,'" Kooze said. "Like, as long as you do what you love, as long as you're passionate about it, keep doing that every day."