Dave Franco and Alison Brie talk loving the skin you're in and more about their new film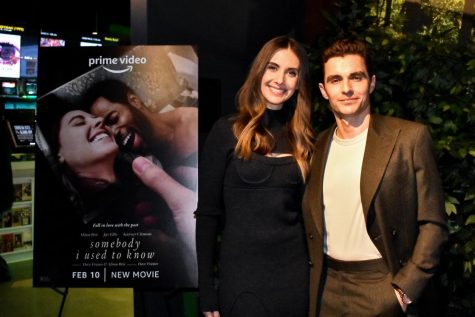 Hollywood couple Alison Brie and Dave Franco recently sat down with the Chronicle to talk about their new romantic comedy and fourth collaboration, "Somebody I Used to Know."
The film was co-written and co-executive produced by the couple and stars Brie in the lead role.
The nuanced and complex film is driven by ideas about self-reflection, acceptance, women's empowerment and personal transformation.
When the third season of her TV show is canceled, a wounded but proud Ally, played by Brie, travels to her hometown to reexamine her life choices – specifically her relationship with ex-boyfriend.
She soon discovers that her boyfriend, Sean, whom she left to pursue her career as a TV host, is now engaged to another woman, but finds they have troubles of their own, igniting a complicated and emotional struggle between the three of them.
"When we meet [Ally], we find her in this place where she's put everything into her job, but she's not really fulfilled by it," Brie said. "I can relate to that, certainly early in my career. I was much more focused on work than relationships in my life."
Still, Brie doesn't regret prioritizing her career; she feels lucky to have met her husband. Brie said their marriage allows them to integrate work into their personal relationship.
Throughout the movie, while advancing in her industry, the personal relationships Ally sacrifices are not solely romantic but also friendships and her relationship with her mother, Libby.
The addition of older women actors bookend the film, intimating the notion that complete self-acceptance and female empowerment may come with age and experience.
"We loved creating this woman of a certain age who is super sex-positive and comfortable in her own skin," said Brie. Libby represents the opposite of Ally who, at the beginning of the film, works against her innate instincts, Brie said.
As the film progresses, Ally decides to take off on a streaking episode.
Franco and Brie's use of nudity as a plot device represents Ally's gradual liberation from her professional persona. By stripping her bare, nudity communicates themes of body positivity, transparency, acceptance and vulnerability.
"From an inside-out perspective, the movie is about tapping into your truest self," Brie said. Ally's metamorphosis involves a self-assessing process that results in moving from a hardcore career mentality to a freer, self-trusting individual, she said.
Brie hopes the message audiences take with them after viewing is an inspiration to embrace their honest selves and to love who they are from within, she said.
"Somebody I Used to Know" also stars Haley Joel Osment, Danny Pudi, Julie Hagerty and Amy Sedaris. The film premieres on Amazon Prime Video on Feb. 10.