Featured Artist: Ellis Peters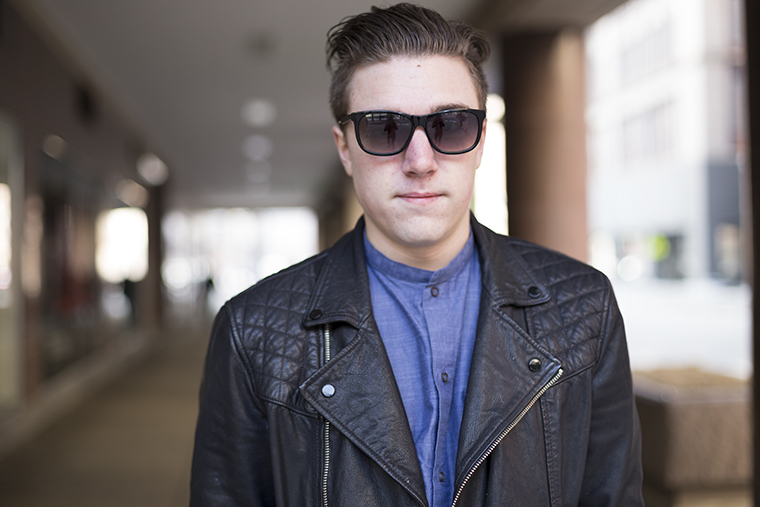 Ellis Peters, a junior marketing communication major, saw his creations paraded down the runway for the first time during a March 8 fashion show benefiting the United Nations Children's Fund at Depaul's Cortelyou Commons, 2324 N. Fremont St.
Peters' dark, urban streetwear pieces are part of his Defiant Order Clothing line, which he started out-of-pocket about a year and a half ago with financial assistance from a family friend.
Since then, Chicago DJ duo Flosstradamus and hip-hop artist Lil Debbie have rocked Peters' monochromatic, designs and logo, as well as  popular Tumblr models, such as Alysha Nett.
Although Defiant Order Clothing is not available in American stores, the brand has debuted in Radd Lounge, a steet wear clothing store in Tokyo.
As of press time, his clothing is sold out on their website.
Peters plans to design and create feminine styles for the summer season. The pieces will add to his previous collection, which was mainly unisex with a majority of the clothing purchased by men.
The Chronicle sat down with Peters to talk about his brand, inspiration and "Game of Thrones."
 THE CHRONICLE: How did you come up with Defiant Order Clothing?
ELLIS PETERS: I was just brainstorming with my friend and he referenced youth culture today rebelling. We didn't want to make it sound too cheesy in the sense of something [that would be in] a Rage Against the Machine song…. We just thought of defiant youth culture and how fashion is expressed through the youth and [the word order] makes it seem more sophisticated and medieval at the same time.
CC: What inspires you?
EP: Music or art pieces that I see. Most of the time it's probably listening to music and seeing where my brain takes me. I'm also a very big "Game of Thrones" fan and used it as an inspiration for some shirts that are coming out.
CC: How did the show "Game of Thrones" inspire you?
EP: There's so many badass characters on that show. After an episode, I'll sit there and think about it or talk about it with my roommate and a lot of times we just break down the characters. At that point, I don't know when it happens, but I'll be thinking about things characters were saying or characteristics [they have] and say, "That would be badass on a T-shirt."
CC: What is your favorite creation?
EP: I would say one of the first shirts I made. It was this bandana-type shirt with sleeves that were bandanas and the back was bandanas and most people like that one a lot, so probably that one. It's really well-made and it took a decent amount of time to make. It was also the first shirt I made, so that kind of started it all.
CC: Are you working on any new designs for the summer?
EP: I'm working on some more women's clothes for the summer, like  dresses and crop tops.
CC: Is it difficult being a man designing women's clothing?
EP: It hasn't been hard coming up with the ideas, but I've had some help with people at Columbia…. One of my friends, Kayla, is a designer and she helped me transition an idea into a realistic piece for women. I guess it's harder than just making T-shirts for men, but it hasn't been that hard. It is important to consider that I'm not making super intense dresses; it's more simple pieces.
CC: What do you look forward to for the future for your brand?
EP: [The brand is] not just mine. I've had a lot of help from friends. [Defiant Order Clothing] should be something that people pay attention to I really think that in the next year it should be even better.