Student creates Frequency TV's latest scripted sitcom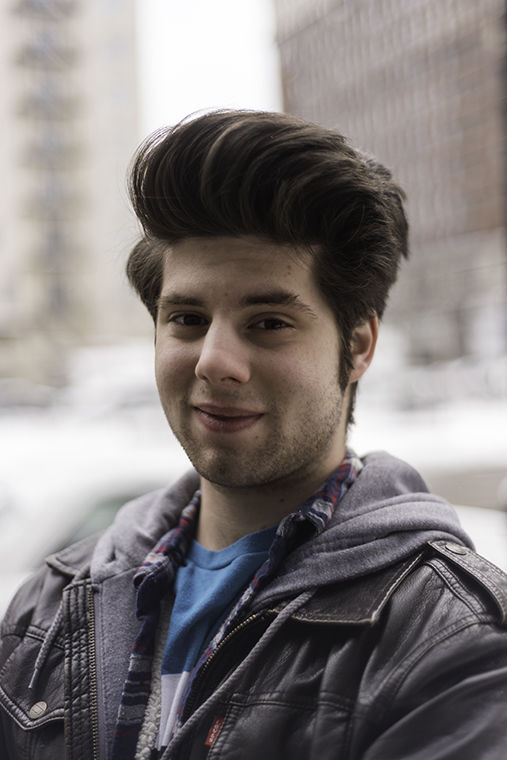 Freshman television major Johnny Cassidy came up with an idea for a short sketch about a student who attends college with his parents after coming back from a theatre performance.  After creating one sketch, Cassidy decided to develop a few more that soon developed into a fully scripted sitcom, "Jenson Goes to College."
Set to premiere March 30 on Frequency TV—Columbia's student-run station—Cassidy's show was a way to put to the test the skills he has learned in the Television Department while also showing others they can do anything they wish to achieve. 
The Chronicle spoke with Cassidy about the experience of filming the show, the characters and what the audience members can expect to see during the series.
THE CHRONICLE: What is your character Jenson like?
JOHNNY CASSIDY: He's this really unfortunate guy who is super unlucky. He gets the worst end of the bargain, and the universe I created was basically taking a normal person and putting them into my world and showing a reflection of how my world can really freak out a person, and that's what Jenson suffers with. He suffers with having to deal with nonsensical, crazy things that basically mess him around and sculpt his personality. It reflects on how the world can do that to normal people. I basically just wanted everyone to feel bad for him.
What was it like filming the show at the University Center?
Filming in the UC is really annoying, but honestly, it's a good challenge. I like the challenge of having to think of a million things before they even have to exist, that way everything can run smoothly. That proved to be a very big challenge with the entire production because I had to write it in a way that was simple and yet funny and creative. 
I feel like most people would spend their time making an idea that's pretty outlandish, spending their entire life trying to get it down, but I wanted to take an idea that was simple and make it outlandish so it could be done. I love the location because I really wanted to capture what it was like to live there. 
What was your favorite part of filming?
My favorite part of filming was definitely the atmosphere. The show may not go past this year, but I saw people connecting on ways they would have never met before this show brought them together and that meant more to me than even the show. I would think I'm doing nothing because everything is technical and people would show me that it's more than that; it's like a community. It really gives me an early idea of how I want to go into the industry and turn it upside down.
What have you learned from your experience creating this show?
What I learned is the world isn't far different from what your imagination is. I've done shows a million times before, and I thought coming to college and doing a show would be the newest thing ever, but it's something I could have done at any point in my life. It's really important for people to know you can do the biggest things as early as you can and you don't have to wait.
How has the Television Department helped you create this sitcom?
I needed to learn the things being taught to me, and I'm not a good learner; I'm a doer. I needed to take everything my teachers taught me in order to do that. That's where the show came from. I wanted to show them, "I'm listening to you. What you're saying is important, is helping me grow and I'll show you right now."
What can audience members expect to see from the first episode?
They're definitely going to get a lot of laughs. I really hope they see my heart behind it because people are going to think it's joke after joke, but I want people to respect that there is heart behind it. I created it in a way that's probably the most invisible thing you can think of while watching the show.
How do you feel now that the show is done?
I was really happy with the product, but I'm on to [new] projects. It was an accomplishment and I got to realize it as an achievement early and I got to enjoy the process in the moment and focus on my future. The show gave me the confidence to keep going that I feel like a lot of freshmen would need.
What do you hope viewers take from the show once it premieres?
I'm worried about what they won't take. I did this show back in high school and I got a lot of people saying, "This is terrible, who do you think you are?" and I feel it's going to come across a lot harsher here. Back then, nobody cared about film [and] TV, they just looked at it and kind of hated me. 
People think I'm trying to show off and it breaks my heart because I want to use it to meet people [and] find people who care, and I just want to show people you can do anything and I know people are going to think I'm just trying to show off and I just hope that some people see it's not about me. It's about the future of what we can do, what people our age can do, standing up for any kind of disadvantages people can be at. 
No matter who you are, if you work hard enough you can go above and beyond what anybody could expect.