Cupid Comedy Jam scores big turnout, leaves audience smiling and surprised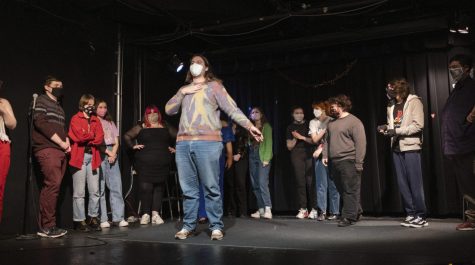 The turnout was strong earlier this month when Columbia's improv club, Columprov, hosted the Cupid's Comedy Jam, which featured performances from its executive board and members, as well as other students hoping to get the crowd laughing.
Shelby Steele, a junior comedy writing and performance major and member of the Columprov E-board, said she was thrilled with the event's turnout.
"We were warming up with the cast, [and I thought] if it's just us here, that's fine. I'd love to perform no matter the crowd," Steele said. "But seeing people come out to events is just super encouraging and very inspiring."
The event took place at Haus, 623 S. Wabash Ave., on Friday, Feb. 11.
Steele's passion for improv traces back to her freshman year of high school, when she performed competitively in an improv troupe.
"I just love creating something on the spot. It's very therapeutic for me," Steele said. "That sense of community you get for creating something with somebody else … there's no better feeling in the world to me."
Andrew Sykora, a senior animation major and member of Columprov, performed at the event and was happy with the turnout.
"[Our previous event] we had bit less of an audience. The audience was more composed of people who were in the show, but tonight was a very big success," Sykora said. "We had a ton of people come in, and every single group did very well."
Sykora is also involved in improv outside of Columbia, performing at the Comedy Shrine in Aurora, Illinois, a couple times a month.
"I started there just doing an open improv night and then immediately fell in love," Sykora said. "I started doing lights for them and started doing classes, and now that is where I perform a couple times a month, usually less than that if I'm at school, but that's my home place that I really love."
Sykora said finding a job in improv would be a dream, but he is trying to be realistic and pursue animation first, while doing improv on the side.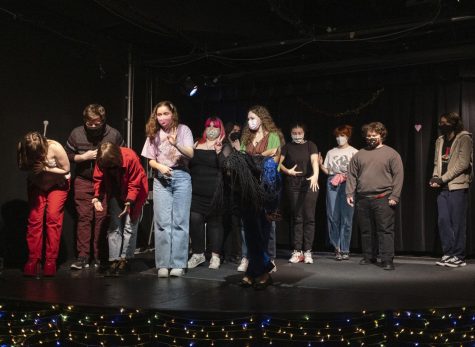 Ian Winarski, a first-year film and television major, performed at the event as a part of the group Blankity Blank. Classified as a "jumble group," Blankity Blank allowed individuals who were not a part of an improv group to participate in the show.
Winarski said his time in theatre classes helped him develop his love for improv and making people laugh.
"The first half of all those classes were always doing improv, and I just love doing improv," Winarski said. "I love making people laugh, and I was able to continue doing it here."
Patrick McArdle, a junior film and television major, attended the event because his roommate brought him along. McArdle said the event pleasantly surprised him. 
"I actually was surprised at how good it was, not that I necessarily expected them to be bad, per se. But it's a classic case of, 'We're going to improv club,'" McArdle said. "I feel like stereotypically it's done up as something that's not very good and something that gets mocked a lot in shows."
Columprov meets on Fridays at 3:30 p.m. at Hokin Hall at 623 S. Wabash Ave.