Column: My time at the Chronicle has been a 'Big Time Rush'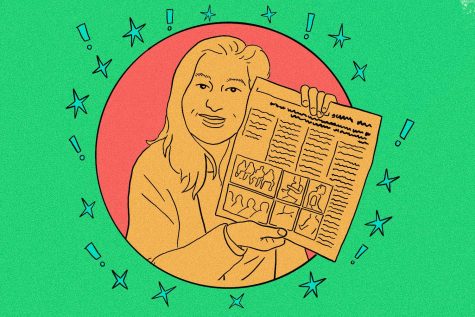 In April 2019, I took a tour of Columbia as an admitted student. I visited the 33 E. Ida B. Wells Drive building and was let inside the Chronicle office by one of the tour guides. I took one look around and told myself: "I'm going to work here someday."
Flash-forward a little over two years and a global pandemic later, I started my position as a copy editor at the Chronicle in August 2021. At that time, I was also starting another position as newsletter editor for the Communication Department, beginning leadership training with ColumbiaXA and helping to move residents into the University Center as I returned for a second year as a resident adviser.
My time at the Chronicle started in a rush, so it's fitting that one of my favorite memories while working here involves a certain band who is known for giving fans a rush themselves.
In October 2021, I had the opportunity to interview band member Kendall Schmidt to discuss the Big Time Rush reunion show that would be held in December, at the Chicago Theatre, 175 N. State St.
I started listening to BTR when I was nine years old, and over a decade later because of the Chronicle, I was professionally interviewing one of the members of the band. That interview felt like the first glimpse of what my career could look like going forward, and it took only two months into my time at the Chronicle to make it happen.
I'm so abundantly grateful to General Manager Travis Truitt, Faculty Adviser Curtis Lawrence, Co-Editors-in-Chief Noah Jennings and Camryn Cutinello, as well as the entire staff of the Chronicle for being so supportive of me as I passionately pursued this story (and made it my whole personality for several months).
I will never forget seeing the interview in the "Year In Review" issue in December and getting to share the piece with the members of Big Time Rush at the reunion show I covered for the Chronicle.
While that story is one of my proudest accomplishments during my time here, it was an exception to my work as a copy editor.
Behind the scenes, our copy desk has been competitively grabbing stories all year when they reach us to fact-check and edit before they are sent to the management team for review.
I genuinely enjoy getting to read the wonderful, award-winning work our staff put together. We have such a talented team who are so deeply passionate about the stories they publish, and it clearly shows. By getting to read their pieces, I have become a better reporter and learned so much about communities and issues I may not have even been exposed to on my own.
I am so proud of our team and the work we've done this semester. While I may have only been at the Chronicle for one academic year, my time here has been filled with so many memories I will never forget. I'm going to miss the Chronicle more than I can let myself imagine at the moment, but I know it is time to say goodbye.
I'm not exactly sure where my journey beyond Columbia will take me next, but the Chronicle has given me a firm foundation to stand upon as I take my next steps.
I'm so incredibly grateful to have joined this team when I did. They have made every moment I've been here a "Big Time Rush."