Big Time Rush's Kendall Schmidt discusses reunion, upcoming performances and new music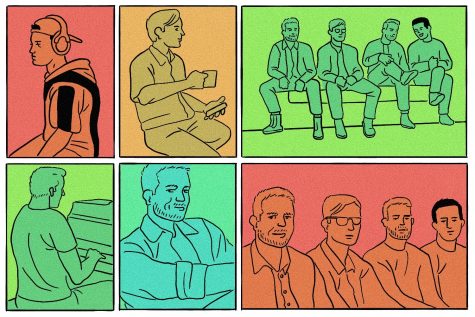 After an almost eight-year hiatus, Big Time Rush is back. Band member Kendall Schmidt said he is excited to be performing and recording new music with his bandmates again.
"That's the goal of the [reunion]," Schmidt said. "I want to be on stage with the guys again. It's been long enough."
The pop band, best known for its Nickelodeon sitcom of the same name, is reuniting for two performances — in Chicago on Dec. 15 at the Chicago Theatre, 175 N. State St., and in New York City on Dec. 18 at the Hammerstein Ballroom.
Schmidt said he started talks of a reunion with bandmates Logan Henderson, James Maslow and Carlos PenaVega at the end of 2019, but when the COVID-19 pandemic hit, they had to change their plans. Instead of performing, the band members posted several videos to their social media pages filmed remotely in the second half of 2020 to reach out to fans: "A Message from Big Time Rush," an acoustic cover of their song "Worldwide" and a Christmas video that featured one of their holiday singles, "Beautiful Christmas."
"We knew how dark of a time it was for people in general," Schmidt said. "We figured if it could bring anybody joy, it would be nice to do those video[s]."
On July 19, the band was finally able to announce their reunion through an Instagram video, which poked fun at the band members with lighthearted references to the Nickelodeon TV show.
At one point, Maslow is referred to as "Bandana Man," his character's superhero alter ego who makes repeat appearances on the show. His response: "What did you call me?"
Schmidt said the bandmates wrote the script for the comeback video together with the intention of making a distinction between the band's music and the television show.
"We weren't really talking about doing a [TV] show again. We were talking about doing music. We wanted to make it clear that the band aspect of Big Time Rush was coming back," Schmidt said. "We didn't want anyone to get confused about that, so it seemed like a funny way to do it."
Tickets for both dates went on sale on July 21. Both performances sold out within minutes of release on Ticketmaster. The current resale ticket prices for the Chicago date range anywhere from $350 to more than $2,300 for pit seats.
In the time since the announcement, Big Time Rush has been working on new music. On Sept. 22, the band shared a 28-second snippet of a new song on their social media platforms.
According to Schmidt, this time around, they have "100% creative control" of their sound — even if they are still trying to figure out what that means in 2021.
"Now, we have to make all the decisions. 'Does this song encompass what the new Big Time Rush sounds like?'" Schmidt said. "'What does that sound like?' 'What does that sound like in 2021, compared to what did that sound like in 2010?'"
With the performances less than six weeks away, Schmidt is gearing up for a hectic month.
"There's a lot of busy days coming up. It's been very relaxed so far, besides working very hard on the music," Schmidt said. "I'm curious to see what the next month is going to be like. It's going to be very interesting."
Schmidt could not reveal much about what rehearsals for the month leading up to the concert will look like. However, the band plans to expand beyond the choreography, costumes and set design from their previous tours to create a new look and feel for Big Time Rush.
"We need to advance. We have to advance," Schmidt said. "We want to be more exciting than just, 'It's good to see Big Time Rush again.'"
The members of the band have discussed possible setlist ideas for the performances, but Schmidt said there may be room for some improvisation, as well.
"It would be fun to have a few audible songs. If it's like, 'Hey, let's play this [song,]' let's switch it up. Let's decide to do something different," Schmidt said.
While much may change for Big Time Rush in the next few months, one thing has always remained consistent in their 12 years together: their love and appreciation for their fans.
"I can only speak for myself, but I know this about the guys: Everybody in the band is so grateful for the response, grateful for all of the stories that people have told us and grateful for the fact that people even still care," Schmidt said.
To stay up to date with all things Big Time Rush, follow them on Instagram and Twitter and visit their website.