Columbia's windows have been 'yarn bombed' by Chicago's knifty knitters
By Paige Barnes, Audience Engagement Editor
December 10, 2020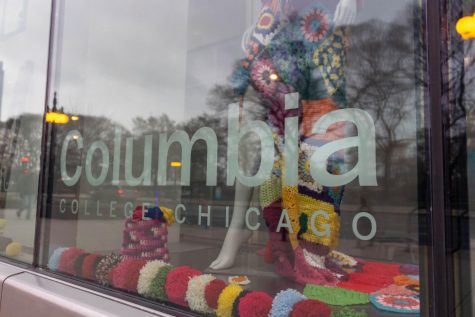 A pair of soft chopsticks in a fuzzy bowl containing wooly sushi, a snuggly bicycle perched on its kickstand and a pair of fibrous golf clubs. Everything has been covered in yarn.
Beneath layers of colorfully woven yarn are everyday items.
What started out as street art—"yarn bombing" anything from bicycle racks to trees—is now a crafty display in the window front of 618 S. Michigan Ave.
"Yarn bombing" or "kniffiti" incorporates knitted or crocheted patterns that are fitted and sewn onto an object.
Valerie Sherman and Ann Cibulskis, two of the South Loop's yarn bombers, along with Yesenia Juarez, founder of the Little Village Busy Bees, a club of knitters and crocheters, came together to transform outdoor objects into "soft, welcoming" items.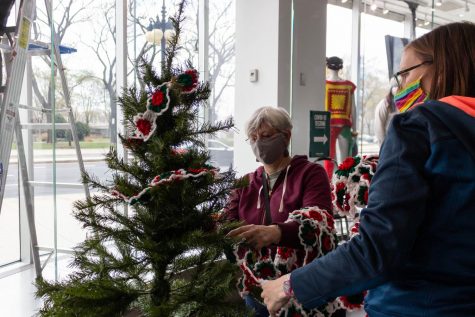 Sherman, who now works on commissioned projects for various buildings and businesses in Chicago, such as the rainbow pride flag at the Roosevelt Collection, is expanding her talents to an art gallery.
Kate Schaefer, the exhibit manager for Columbia's properties at 618 S. Michigan Ave., 33 E. Ida B. Wells Drive and 623 S. Wabash Ave., learned of Sherman's work after seeing some of her past projects around the South Loop.
"It caught my eye just because it's bright and colorful and whimsical [and] something unexpected in a really urban location," said Schaefer, who is also an associate professor of instruction in the Fashion Studies Department.
Schaefer and Sherman have been planning the window display since the summer and thought the winter season would be a good time for the exhibit since it fits with a "warm" and "cozy" winter aesthetic, Schaefer said.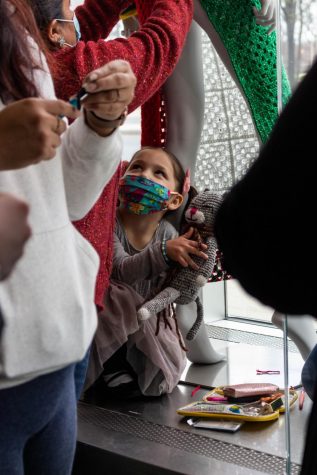 On the far left side of the window sit household items including tables, books and silverware, which then lead to lifestyle items, sports equipment, Mexican heritage clothing and Christmas decorations like a tree and mistletoe all covered in yarn.
Sherman said she knew this project was too big to do alone, so she invited Cibulskis, Juarez and the Little Village Busy Bees to help.
"When Valerie brought the idea of … yarn bombing everyday objects … I thought, 'OK, this is not something that you would ever think of putting yarn on,'" Cibulskis said.
Cibulskis said she covered various kitchen items like chopsticks sitting on a bowl of crocheted sushi, a juice pitcher and a butter dish.
Several objects on display were intended to raise awareness for gun violence in Chicago.
Knitted book spines throughout the exhibit have names of Chicagoans killed due to gun violence. Cibulskis said there are not nearly enough names to represent all who have been killed on the shelf, but it is a small tribute that she hopes will shed light on the issue.
Her larger projects, such as creating a sleeve for the trunk of a tree, take 10 hours, but smaller items like the red telephone only take two hours.
"The reason I could do so many small things is that it really makes your watching television time seem so productive, like, 'Oh, I'm watching TV, but I made something. Look, I covered a red telephone,'" Cibulskis said.
Juarez said she and Sherman met after Sherman read about Juarez's yarn bombing in Little Village. It was exciting to meet others who did the same thing as her, Juarez said.
The window front required a lot of help, so Juarez said she gathered her "bees" and invited anyone from the club to help out however they could, no matter what their skill level was.
Juarez made a Frida Kahlo-inspired outfit, from her hair to her earrings to a crocheted unibrow, after learning there would be mannequins to work with. Juarez said she wanted to represent Little Village and her New Mexican heritage.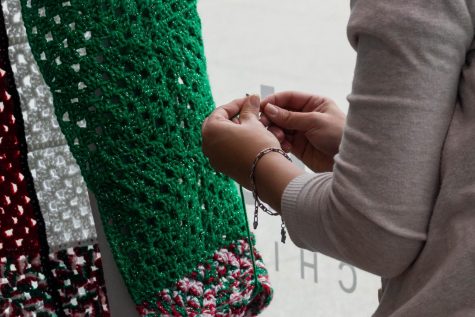 "For me, yarn bombing [is a] really nice way to bring others joy," she said. "If anybody could take away [anything] from this, it's try to give back to your community. … Now's a great time to give back to other people and to just help spread a little joy."
The window display will be at 618 S. Michigan Ave. until Jan 11, 2021.