Editorial: Columbia's study abroad programs lack diversity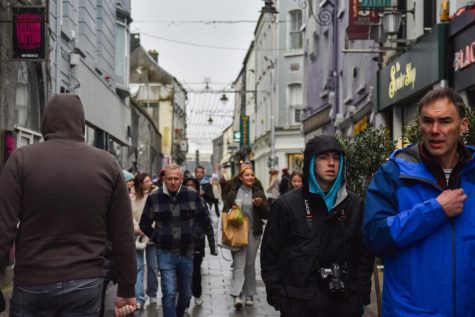 Each year, the college supports students studying abroad in a range of programs, including those led by faculty.
For next school year, the college is offering faculty-led programs overseas in Edinburgh, Prague, Greece, Germany, Florence, Spain, London, Paris, Ireland, Argentina and Rome.
What do nearly all of these places have in common? Whiteness.
Argentina may seem like an outlier on the list, but a cultural understanding of Latin America would showcase that many South Americans consider the country to be the most European on the continent.
As a school that touts its commitment to DEI, the lack of diversity present in the study abroad options is embarrassing and, quite frankly, disheartening. BIPOC students who want to travel to non-white countries are most impacted by the absence of more diverse study abroad options.
The Chronicle recently reported that "students studying abroad can use the DEI lens to explore other cultures instead of focusing on power and privilege in the United States."
While this is mostly true, the study abroad programs are still limited to seeing the world through a western lens.
Franz Kafka, a Czech novelist and short story writer, gives students the opportunity to analyze his fantastical, realist, and surrealist writing style during the Creative Writing Summer in Prague program. According to the organizers, Prague's location is considered ideal as it is at the center of Europe, making it easy for people who have never traveled abroad.
Prague is undoubtedly a wonderful program for many students, especially for those interested in European literature.
But the Creative Writing programs have not changed year after year. The time to expand is now.
Students deserve an opportunity to explore genres that dabble in surrealism throughout the entirety of Latin America–the birthplace of magical realism.
Countries such as Colombia, Chile, Mexico, Brazil and Argentina have respectively showcased writers such as Gabriel Garcia Marquez, Isabel Allende, Laura Esquivel, Jorge Amado and Jorge Luis Borges.
That is not including the rich histories that make up those countries. There are plenty of other opportunities to explore the fine arts, design, business, marketing and many more subjects that could cater to plenty of majors within the college.
Unlike Columbia, which is offering no faculty-led programs to Africa next year, neighboring DePaul University gives students opportunities to study the environment and social issues in Tanzania, apartheid in South Africa and culture and spirituality in Ghana. Loyola University offers faculty-led programs in Europe but also in Belize, Peru and Ecuador.
Faculty-led international programs tend to give students the most flexibility for their tuition dollars and are run for several weeks in J-term or summer term. They don't require the commitment of a semester-long exchange program. Students also are excited when they get a chance to travel and study with Columbia faculty whose interests are aligned with their own.
As it works to diversify the study abroad options, the college needs to offer more support for faculty responsible for proposing, planning and executing the college-led study abroad program. It falls entirely on them to volunteer their time and expertise.
With the search of global education advisor still underway, the opportunity to expand and improve the study abroad program is very much possible.
The world outside of Europe is not unreachable. It all comes down to making the effort and commitment of expanding the boundaries in a program where there should have never been any in the first place.
The Chronicle Editorial Board is comprised of staff members who are independent of most news production. It has the same standards of fact and after debate among its members, presents the viewpoint of the Chronicle on issues of importance to the Columbia community.